Winter camping may be challenging but it is a very rewarding experience that very few brave souls venture to gain. Yet, with the proper gear and mental preparedness it can be done.
In our post here we have covered those essentials with which most beginner winter campers struggle: the tent and the sleeping system.
Ready to sleep under the stars?
Gearing Up: What Is the Best Tent for Winter Camping?
When preparing for winter camping, it is best investing in a quality 3 season. If the temperatures are expected to be frigid and/ or you anticipate stormy conditions, go for a 4 season tent as winter camping leaves very little margin of error if your main gear fails.
A 4-season tent is heavier than a 3 season because of all the extra polls and thick materials but it is a fortress that will withstand most of what mother nature decides to throw at it, including heavy snowfall and strong gusts of wind.
Four-season tents are also less ventilated than their 3-season peers as manufacturers ditch most of the mesh to help them retain warmth in very cold conditions. Winter tents also have sturdier stakes, which will be handy if the ground is frozen solid. Look for stakes made of either reinforced aluminum (such as the 7075) or its more expensive cousin, titanium.
Look for a dome tent as domes have the perfect architecture to prevent snow buildup. They are also easier to set up than their classic counterparts. If you have money to spare and enjoy ultralight backpacking invest in a so-called pyramid tent.
Pyramid tents are high wind and bad weather resistant, they set up quickly, and they can accommodate a stove, which is a huge plus in extreme winter camping.
Also, make sure that the tent is not too large, as it will be harder to keep warm, but not too tight either. If you plan to take a companion with you skip the 2-person tent. Get a 3-person tent instead, as you'll need the extra room for your gear too.
As a general rule – this one applies to all winter camping gear, before going out into the wilderness, field test the tent in your backyard or some place really close to a warm home to see if it holds up. You wouldn't want it to fail you in the middle of nowhere.
Setting Up Camp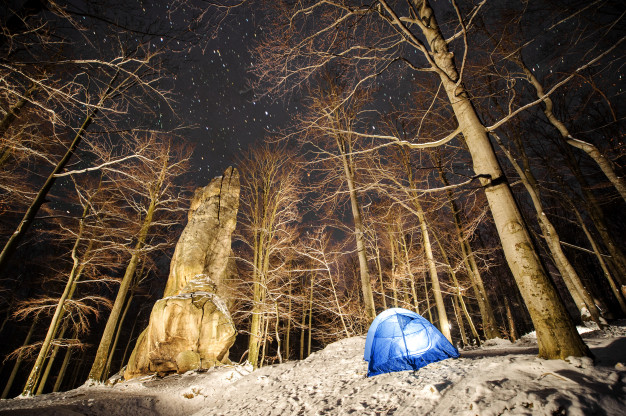 Setting up camp the right way is just as important as a good tent when winter camping. Scour the site for a spot that:
Offers enough wind protection
Is close enough to a water source (this one is optional as it is very hard to achieve in the dead of the winter)
And has minimum avalanche risk – stay away from slopes even from those that may look harmless).
If you have no natural wind protection, such as trees, you can always dig a wind barrier or build a snow wall around your tent but leave some wiggling room as you may need the extra space later on in prolonged expeditions. The water source, like we've said is optional as you can always melt snow and drink it.
However, to stay on the safe side boil the water obtained from snow melt especially if it was taken from high traffic or relatively polluted areas.
What's more when looking for the perfect spot to install the tent, don't camp on patches of vegetation. Set the tent either on the bare ground or snow. Also, prepare in advance the site your tent will be standing on. Level the snow and dutifully pack it down as it is easier to manipulate it now that it would be if it has already melted from the heat in your tent and frozen again.
Use your skis, snowboard, and even your boots or hands to level everything nicely. Once the spot is sufficiently flat, install the tent.
During this stage, waterproof overmitts will come extremely handy when handling snow as you'll prevent your gloves from getting damp. The overmitts can be later used for cleaning dishes without getting wet or a frostbite.
Two more tips on winter tents:
Keep the tent ventilated and don't let condensation build up inside the tent; the extra moisture may freeze, thaw, and ruin your gear
Tap the walls to prevent snow buildups on nights with heavy snow; take turns for the task if you have a companion as otherwise the tent might collapse if the snow gets too heavy.
Keeping Warm in Your Tent
This one is an art and a science. There are no set rules, but there are some guidelines generously shared by winter hiking enthusiasts that you should keep in mind.
The secret to staying warm on a campground in winter is layering up. This applies to both your apparel and your sleeping system.
Let's start with the sleeping system.
Best Sleeping System while Winter Camping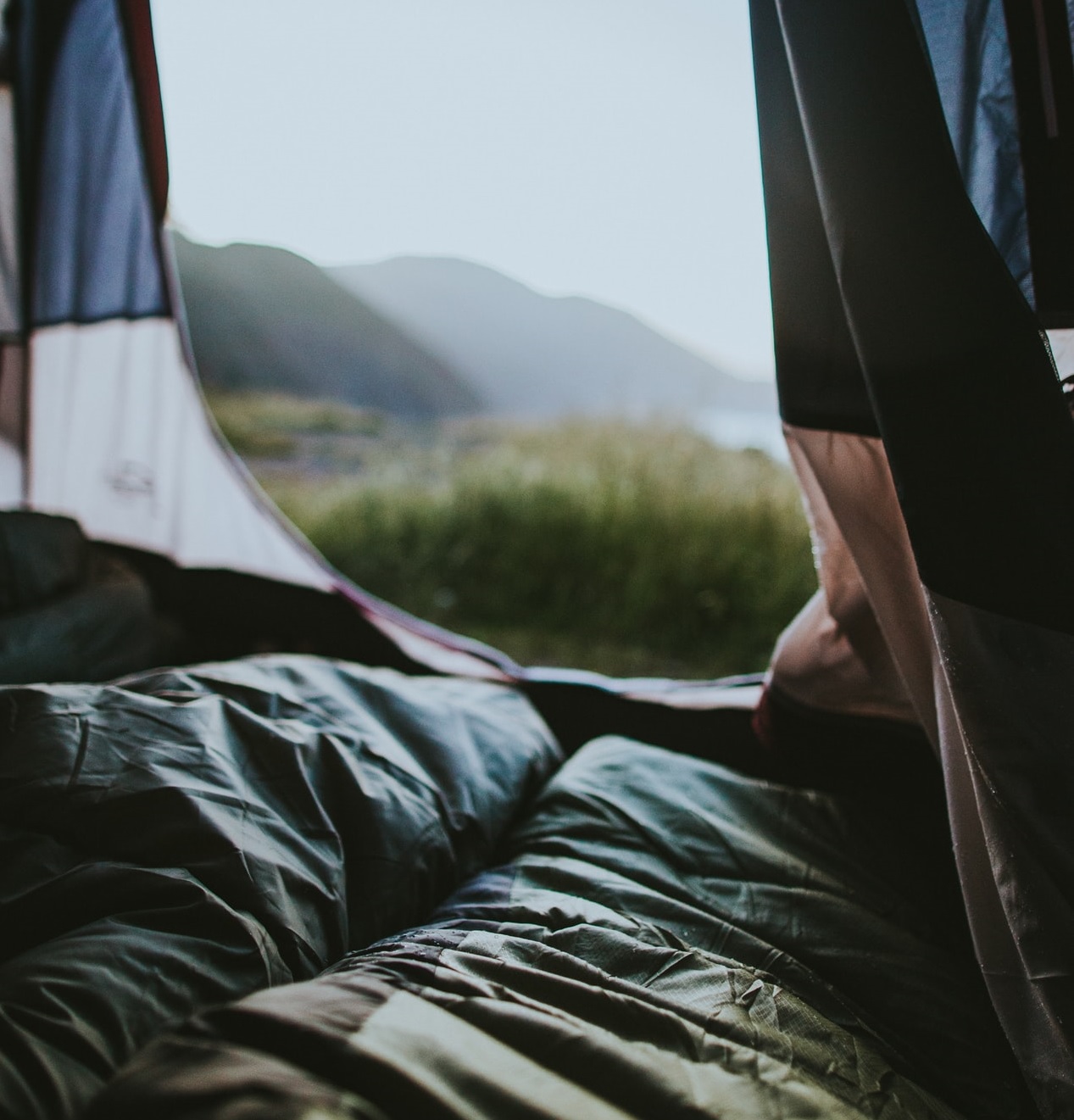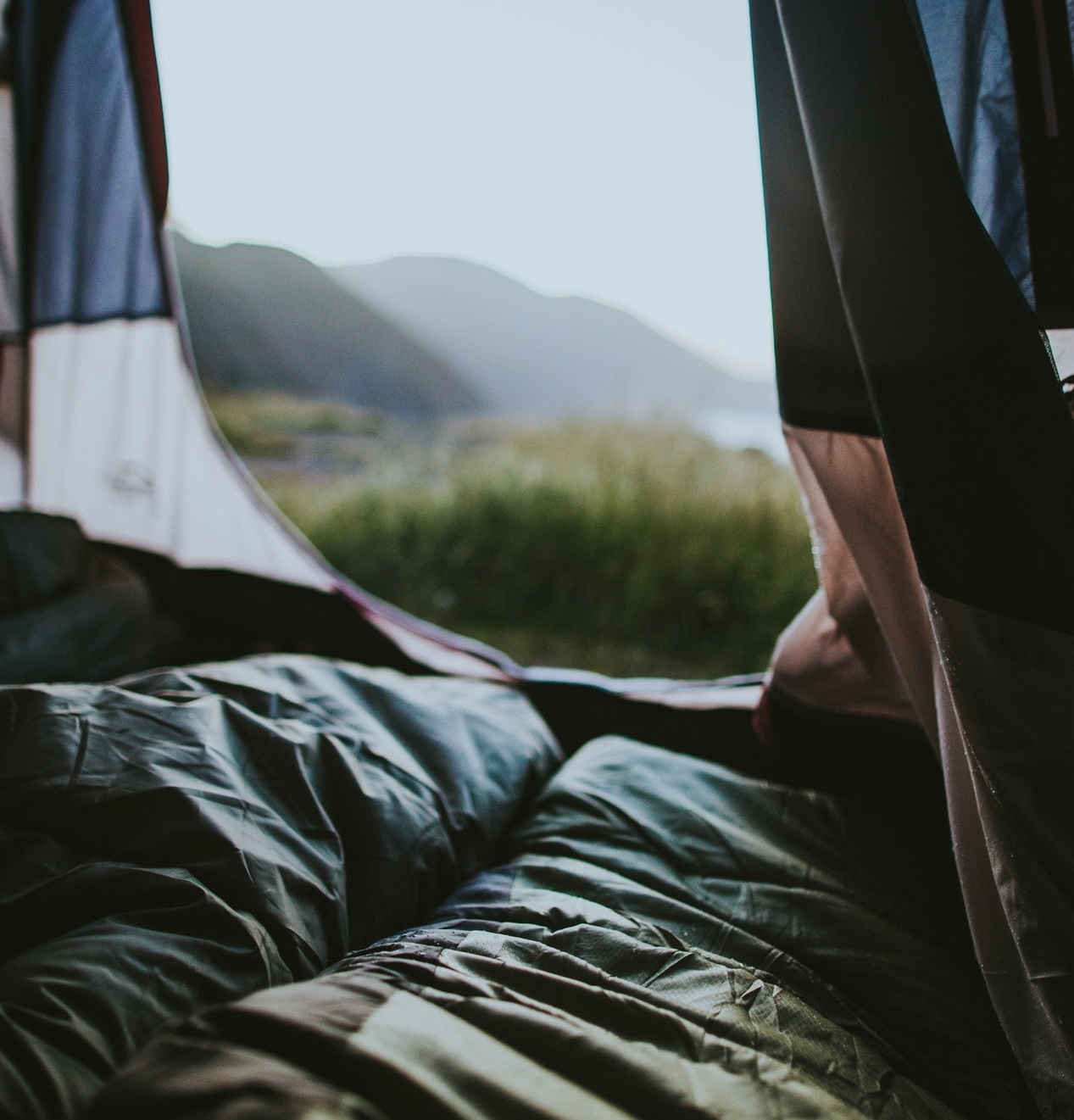 You'll need a cold weather sleeping bag (don't skimp on the quality when buying one as you'll surely regret later),  a camping cot or  a self-inflating mat (SIM), and a closed-cell foam (CCF) pad. These are the shouldn't get withouts.
As extras, if the temperatures are really extreme, you may also need a sleeping bag liner, an insulated comforter or extra blankets, and/ or a tent heater.
Bottom Layers Are Critical
Nevertheless, the bottom layers are the most critical part of a cold weather sleeping system as your body loses heat in a cold tent mainly through conduction. This means that your body heat just seeps through the cold ground away from you and your comfy sleeping bag.
Without solid insulation underneath your sleeping bag, you will be miserably cold all night long even if your sleeping gear is one of the best in its class. That's why it is important to use an airbed or a SIM and a CCF pad as bottom layers.
Just make sure to position the CCF pad on top of the SIM, as inflatable pads have the nasty habit of absorbing cold air from all sides and they are usually persistently cool even in more forgiving weather conditions.
When choosing the pads look for a R value between 4 and 8.
What Sleeping Bag Should I Get
When winter camping, invest in a quality sleeping bag that is especially designed for the season. Go for a mummy sleeping bag made of goose down even if it's more expensive as it has the best weight-to-warmth performance in its class.
There are also synthetic sleeping bags that mimic the down ones, but they are not as long lasting. With proper maintenance, you could pass down a quality down sleeping bag to your offspring.
Another way to avoid nasty heat loss through conduction would be a hammock tent. You'll be able to ditch the sleeping bag and SIM altogether with a hammock tent, as the upper and lower layers will do all the hard work at keeping you warm.
The concept of hammock camping is relatively new but is quite revolutionary and worth considering when it comes to all-season camping.
Winter Camping Sleeping Bag Extras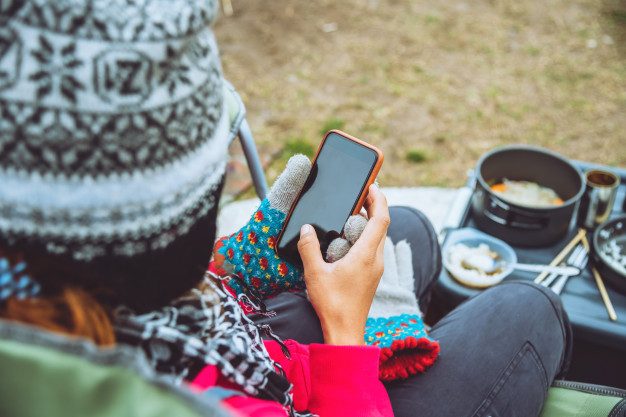 If you plan to camp for several days or weeks you need to bring some extras. Get a sleeping bag liner for additional warmth. Also look for a vapor-barrier-liner (VBL) if you plan to camp for more than a week. A VBL will prevent grease and condensation coming from your body from ruining your down sleeping bag.
The only mortal enemy of a down sleeping bag is moisture. VBLs are handy in really extreme temperatures, as well, such as those experienced during polar expedition as they will prevent moisture in your sleeping bag from freezing solid.
Additional gear to keep you warm include:
Hand warmers (pop one of these in the dead of a freakishly cold night for instant relief)
Water bottle – This one is very versatile as it warms your body up almost instantly and can be filled with hot cocoa or tea, which you can safely drink as soon as they cool down a bit for a much-needed warmth boost.
Thermals – These might conflict with your carefully chiseled sense of fashion, but they work wonders in a cold tent if you wear them as a base layer.
Tent heater – This one is a gift from heaven, but make sure that you read the instructions carefully, keep the tent ventilated and know what you are doing.
Extra fuel – Don't underestimate the among of fuel you'll need while winter camping; you'll need that stove running a lot more than in the warm season, especially if you plan to melt snow as well.
Related: The 10 Best Fleece Jackets for Women to Brave the Cold! 
To Wrap it Up
Winter camping is not for the faint-hearted. Beside top-of-the-line gear, you'll also need to be mentally prepared for the experience.
And don't forget to field test every piece of equipment you plan on bringing with you beforehand as you wouldn't want a critical part of your equipment to give up the ghost in the middle of nowhere, and hellishly cold temperatures, and with no living soul around to help.
You Might Also Like: