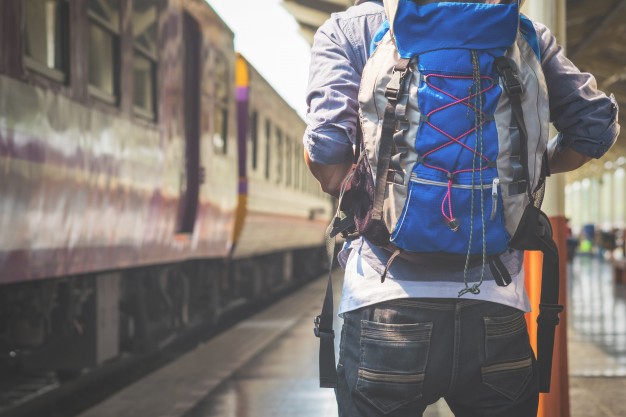 You don't have to break the bank to build an ultralight backpacking setup. While high-end ultralight gear made of titanium or carbon fiber is usually running into the thousand of dollar range, our ultralight backpacking gear list contains cheaper items that are just as light and performant.
With just a few exceptions, we have added only alternatives to brand name ultralight equipment to our list and still managed to keep the base weight under the dreaded 9 – 10 lbs. Also, keep in mind that the cooking system is purely optional as many ultralighters would rather not cook their food while on the trail.
What makes the bear necessities on a backpacking trip is up to you as those greatly differ from one hiker to another and their level of commitment to the ultralight lifestyle.
What is Ultralight (UL) Backpacking?
Ultralight backpacking means that the base weight of your fully loaded backpack is no larger than 10 (ten) pounds.
The base weight consists of all of the gear you'll ABSOLUTELY need on your hiking adventure for as long as you decide, minus the consumables: food, water, and fuel. Plus, everything that you can wear in your pockets or on you doesn't count.
A seasoned ultralight backpacker has an established mindset that he has formed over the years through trial and error. But when it comes to packing ultra-light it all boils down to one question:
Do I really need that?"
Ultralight (UL) Backpacking Tips: Getting Started
1. Before you start your journey toward shaving off as many ounces of your pack as humanly possible, you'll need a precision scale. Get an inexpensive digital scale which can accurately weigh your gear down to a fraction of an ounce. There are inexpensive but reliable options on Amazon, such as the Ozeri ZK14-AB Pronto Digital  (it is less than $15 and can weigh items up to 11.24 ponds and down to 0.05 oz)
2. For each and every item you want to toss in your backpack, pause a bit, weigh it, assess its utility in the great outdoors and whether there's another item in your pack that might fulfill that item's purpose. Also always ask yourself:
Do I really need it or do I only want it?"
Being able to the difference between your needs and wants is an invaluable life skill as well.
3. Always look for multiuse items, which can perform several functions, and we're not talking only about the Swiss Army knife here (that's a good start too). We're talking about less fancy items, like a trekking pole that can double as a tent pole (more on that in a bit) or a bandana that can double as a tea towel and triple as an impromptu water filter.
4. Don't exaggerate from the get-go. In your pursuit toward the lightest hiking backpack imaginable in the human history, you may fall into the trap of taking things to the extremes, like cutting your toothbrush's handle, ditching your trusty camping knife for a razor, or leaving that pouch of coffee at home just to save a few more ounces. While these practices are very common among the more advanced UL hikers, those few ounces of java could help save your sanity as a UL beginner at some point. You can strive toward more gear efficiency as your ultralight mentality improves.
5. Ultralight doesn't have to be expensive. If you do your research well, you can keep your base weight under 10 lbs with less pricey gear alternatives to what you can get from big box outdoor equipment manufacturers for a fraction of the price. There is also the DIY option as some items are just not worth shelling out the extra $$.
6. Don't cling onto items that bring psychological comfort. If you've always carried a specific item with you just for the peace of mind of knowing that it is there, start questioning that item's place in your ultralight backpack. "Do I really need it?" For an ultralight backpacker, there is only one answer to this question: Yes or No. No grey area allowed here. And to further failproof your decision, ask yourself "Why do I need it?" If you cannot come up with an answer, leave the thing at home.
7. Trim off unnecessary details from your gear such as your pack's heavily cushioned waist belt, if your pack is so light you no longer need it for weight distribution or excessively long straps on your gear.
Every ounce counts."
8. An ultralight backpacking gear setup is an investment no matter how you're looking at it, but it will pay off dividends on many future adventures. So, don't wait for disposable income to become available to build your gear, unless you can wait ages to improve your UL mindset and setup. Shop around, shop smart, and don't miss a deal on one of your favorite UL items when you see it.
Ultralight Backpacking Gear List
We have included the Big 3 and the cooking system every ultralighter should take into consideration. We have added only the least expensive items we could find but whose performance closely matches that offered by the bigger (and a lot more expensive) brands.
The Big 3 (~$450, 6.5 lbs)
The pieces of gear ceremoniously referred to as The Big 3 are the shelter, the backpack, and the sleeping system. These three are the heaviest items you'll have to carry on your back. Don't let their combined weight to get past 6 pounds for a truly ultralight experience. Here's our list of the best ultralight backpacking gear to keep the base weight under 9 pounds.
1. The Shelter (~$170, 2.57 lbs)
Really advanced ultralighters have ditched the tent for a tent tarp since it is the lightest and most compact shelter a backpacker could ever get. However, not everyone can ditch the comfort of a tent and can sleep directly onto the ground with no privacy but full exposure to the elements and critters.
Plus, it takes experience and dedication to properly set up a tarp in ugly weather conditions. For the start, an inexpensive UL 3 season tent like this MIER model for one person (which weighs just 1.7 lbs, trekking poles not included) is a great compromise.
MIER Ultralight 3-Season Backpacking Tent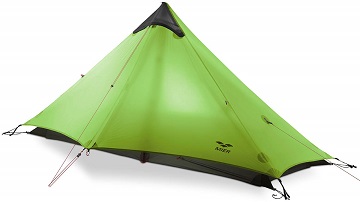 Carbon Fiber trekking poles for your tent: Get the lightest but sturdiest carbon fiber trekking poles that you can find. These poles by Foxelli weigh just 7 oz each and can double as your tent's poles when setting up camp. And for the price, they are a steal.
Foxelli Trekking Poles (0.7 oz each)
2. The Backpack (~$100, 1.2 lbs)
Look for top loading backpack, i.e. a pack that is loaded from the top and has no unnecessary compartments. The minimum capacity should stand around 40 liters. The maximum capacity should not go over 65 liters. Also, ditch the frame, choose a frameless backpack as you'll be able to shave off critical ounces.
Also, we recommend starting off with a small backpack such as the 3F UL Tutor 38 UL Backpack (1.2 lbs, ~40 L fully extended), as you'll be forced to reconsider every item you want to put in it. Also bear in mind that this pack, just like other UL backpacks, lacks a frame, so use an ultralight sleeping pad for cushioning, such as the Therm-a-Rest Z Lite Sol Ultralight Foam Backpacking Mattress.
3F UL Tutor 38 UL Backpack (1.2 lbs)
3. The Sleeping System (~$170, ~2.5 lbs)
a) The Sleeping Pad
When picking an ultralight sleeping bag look for one made of down goose that has received hydrophobic treatment. Down is the lightest and warmest material that can be used in a sleeping bag, but it is more expensive than plastic alternatives and can lose its insulating properties lightning fast if it gets into contact with water (condensation included).
Also, get and envelope sleeping bag since it is more versatile than a mummy bag and roomier. It can also be easily lined with a sleeping bag liner or quilt. Make sure that the sleeping bag doesn't exceed 2 lb. even if it is designed for 3 seasons, like the AEGISMAX UL envelope sleeping bag (1.6 lbs/1.74 lbs, depending on the size).
For extreme temperatures, though, get a mummy bag with hood, like the AEGISMAX G1 (1.6 lbs/ 1.71 lbs)
AEGISMAX G1 Series UL Sleeping Bag (30F)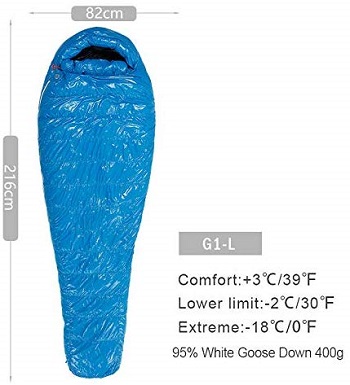 b) The Sleeping Pad
As an ultralighter, it is best to use a light closed cell foam pad which can double as a makeshift frame for your frameless pack. We do not recommend getting an inflatable sleeping pad, as this type of pads are usually heavier than the foam ones.
What's more, a foam pad can be customized to fit your ultralight needs, as it can be cut down to ¾ of its length and used for protecting the upper portion of your body. For the lower portion, use your empty backpack as a pad. At just 0.8 lbs, the Therm-a-Rest Z Lite Sol Ultralight Backpacking Mattress is a popular sleeping pad among die-hard ultralighters.
Therm-a-Rest Z Lite Sol Sleeping Pad
Add-Ons to the Big 3 (Optional but Highly Recommended)
Tent footprint. To prevent the tent's bottom from wearing off too soon when in direct contact with the ground, get a tent footprint (like this one for the Mier UL tent mentioned earlier). It weighs 5.3 oz. But if you want to up your ultralight game a bit more, replace the tent footprint with thick 2mm polycro sheet. It is not as puncture-resistant as a genuine tent footprint, but it is much lighter (1.6 to 1.8 oz versus 5 to 16 oz) and can be easily rolled and tossed into a pocket.
Tent repair kit: Take a high-adhesion PVC waterproof glue with you like the liquid PVC Stitch below. It dries in less than an hour, needs no extra materials for the job (it works as a patch on its own) and it maintains its elasticity while keeping water at bay. Some duct tape for punctures in your gear would be also recommended.
PVC Stitch Waterproof Repair Kit (2.4 oz)
3. A Dry Pack Liner – this one is essential for your sleeping system and clothing. We do recommend getting a waterproof UL backpack to steer clear of the extra weight a pack cover would imply, but a waterproof pack sack like the SnugPak's Dri Sak bag (4.6 oz) is that safety net when everything else fails. Plus, a dry sack can be filled with soft stuff at night to double as a pillow.
SnugPak's Dri Sak bag (4.6 oz)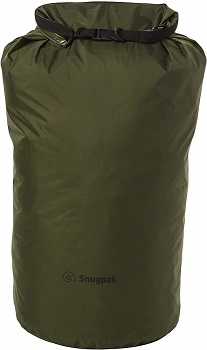 The Cooking System ( ~$100, ~1 lb)
1. The Stove
There are three main types of camping stoves:
1.       Canister stoves
2.       Liquid fuel stoves
3.       Alternative camping stoves: denaturated alcohol stoves, solid fuel camping stoves, wood burning stoves, etc.
A nice all rounder that is extremely easy on your back (and wallet) is an alcohol stove. It is ultralight (1 to 2 oz), has few to no moving parts, it is reliable, and user-friendly. Also, denaturated alcohol is extremely cheap and can be found in most gas stations. So, if you plan on boiling water or engage in light cooking while on the trail, this option is for you.
For a workhorse that will last you a lifetime, get one of those Trangia alcohol stoves. The firm has been producing them since 1925. Plus, you can make your own alcohol stove from soda/ dog food cans (check tutorials on the internet), but you'll need a pot stand. Get an ultralight one that can double as a windscreen for maximum fuel efficiency, like the Vargo Triad aluminum windscreen (1.3 oz).
Trangia Spirit Stove (2.4 oz)
(pot stand included)
A solid fuel camping stove (around 3 oz) like the Esbit Ultralight Folding Pocket Stove (6.3 oz with six fuel tablets) is for the ultralight backpacker that needs the stove just to warm a dehydrated meal or bring a cup of water to roiling boil in less than 10 minutes (1 solid fuel tablet is enough to bring 2 cups of water to a boiling point in 8 minutes). Solid fuel tablets, however, are not recommended for making water safe to drink as it takes too much to reach boiling point and are quite pricey.
Esbit Ultralight Folding Pocket Stove (6.3 oz)

Liquid fuel stoves with white gas are the only feasible options for high altitudes and/or winter camping, but they are heavier than all other options listed here and not a genuine ultralighter's cup of tea.
Canister stoves are convenient and have a high heat output for long cooking sessions. The canister, however, might depressurize at high altitudes or even explode if not handled correctly. Plus, canisters are expensive and leave a lot of waste.
2. Matches & Lighter
Get a pack of waterproof matches, like the Titanium Stormproof Matches (4 oz), which can lit up even after getting wet, and a windproof lighter (1 oz) to stay on the safe side. Yet, stormproof matches are quite expensive. You can make them yourself (see instructions in the video below.)
3. Pots/Mugs
Look for a wide and short pot to maximize fuel efficiency. The taller and narrow mugs currently being marketed as a lightweight and versatile alternative to classic camping pots can easily tip over and foods need ages to cook. Buy pots made of lightweight materials like aluminum (cheap, but not so healthy) or titanium (very expensive, might bend). A one-quart mug is great for a single camper; double or triple the amount depending on the number of hikers.
TOAKS Titanium 1100ml Pot with Pan (5.6 oz)
To further boost fuel efficiency, some ultralight backpackers replace lids with tin foil. If you plan on more elaborate cooking (like pancakes), get a pot with a lid that can double as a frying pan with a non-stick surface.
Warning: Strong cooking smells, such as those coming from fried food, can lure in wildlife, so make sure that you prepare your meals away from your camp site (a distance of 100 yards should be enough).
4. Cutlery
You can invest in an ultralight titanium spork which can be used as a spoon and fork, or just get a Japanese-style long handle wooden spoon (it's around 0.5 oz and won't cost you an arm and a leg). Nevertheless,  make sure that you keep it away from open flame. For the knife, we recommend an ultralight EDC piece like the Gerber LST Ultralight Knife, which weighs just 0.65 oz. and is currently on sale on Amazon for $10.8 (!)
Gerber LST Ultralight Knife (0.65 oz)


Final Thoughts
There are a lot more items to add to your ultralight backpack, such as spare clothing and the water system. Our ultralight backpacking gear list is designed to be a starting point to building that featherlight base weight from scratch while not having to shell out thousands of hard-earned dollars while at it.
You might have noticed that for the cooking system we have picked some big brands, like Esbit and Trangia, which are not exactly cheap. However, we do believe that there is no point on skimping on a critical piece of equipment like the stove when going into the great outdoors. Plus, we couldn't find any satisfactory alternatives, either.
If you have any other UL piece of equipment on your mind that is both light and inexpensive and it hasn't made it to our list, drop us a line in the comments below.
You Might Also Like: