Camping and hiking under the stars will leave you breathless.
Still, when it's time for bed, you need somewhere comfortable to sleep.
A good sleeping pad will give you enough insulation to keep you warm.
It should also be thick enough to keep you comfortable.
If you want to shed the ounces, you may need to sacrifice warmth, comfort, or affordability.
So here are our favorite sleeping pads with the best combinations of weight, price, comfort, and warmth!
Scroll and discover them all!
Our Top Picks – Carley's Comparison Table
These choices are arranged by weights, R-value, and style to make it easier for you to compare them!
R-value refers to the insulative properties of a pad.
R-2 to R-3.5 are best for two or three-season use.
Higher R-value should be adequate for four-season, and lower for warm weather only.
If the R-values weren't provided by the manufacturers, we've labeled them as summer or 2-season.
You can get more information on factors to consider when shopping for a sleeping pad here.

| Product Name | Weight | R-Value | Get It AT  |
| --- | --- | --- | --- |
| Xped SynMat 7 Sleeping Pad | 1.8 lb | 4.9 | |
| EcoTek Outdoors Hybern8 Ultralight Sleeping Pad | 1 lb | 1.8-2.3 | |
| Therm-a-Rest Z Lite Sol Sleeping Pad | 14 oz | 2.6 | |
| Therm-a-Rest Neoair XLite Sleeping Pad | 12 oz | 3.8 | |
| Klymit Insulated Static V2 Inflatable Sleeping Pad | 1.5 lb | 4.4 | |
10. Camp Solutions 
Self Inflating 

Sleeping Pad
Ideal for:
Car camping

Short backpacking trips

People on a budget
This is one of the most affordable self-inflating mats on the market.
The material is abrasion-resistant so you don't have to worry about leaks every time it brushes against a rock.
The outer fabric is also nonabsorbent, so condensation and dew won't soak in as you sleep.
Heights:
Great price point
Built-in pillow
Plains:
Pads aren't very thick
Can self-inflate poorly
Suggested: For a great camping experience, you can pair up this sleeping pad with a great instant tent.
9. Intex 
Inflatable 

Fabric Camping Mattress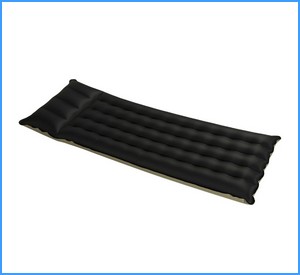 Ideal for:
Summer car camping

Canoeing

Kayaking

Letting your buddy crash on your living room floor
While you may not want to haul this around on your back, it is an affordable option for those who want to let a boat or a car do the carrying.
It's also great for having around the house when you have more house guests than beds.
This sleeping pad is easy to fold and store.
It is covered by a soft fabric.
It inflates for a comfortable sleeping surface and has a special wave beam construction to support you during the night.
A pump is recommended for blowing it up, so keep that in mind as well!
Heights:
Excellent price point
Comfortable materials
Durable construction
Plains:
Heavy
Takes a while to blow up
8. KLYMIT INERTIA X-FRAME ULTRALIGHT 
Backpacking 

Pad
Ideal for: Ultralight backpacking in the summer
This incredible light and innovative design by Klymit has cut off every possible unnecessary bit of weight.
The holes in the frame will fill up with the loft of your sleeping bag and provide insulation.
Padding is provided at the head, shoulder, hips, and feet.
Also, it only takes 3-5 breathes to inflate.
Unfortunately, this amazing ultralight design comes at the cost of comfort.
Heights:
Very lightweight
Inflates quickly
Good value
Plains:
Not very warm
Not very comfortable for side sleepers and squirmy sleepers
7. Therm-A-Rest Trail Scout
Sleeping Pad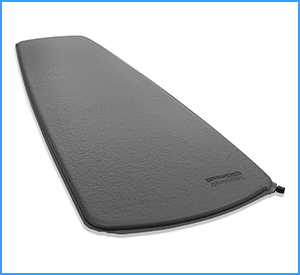 Ideal for: Backpacking in summer and shoulder seasons
Therm-a-Rest invented the self-inflating pad and they continue to be a major player in the sleeping pad industry.
The Trail Scout is also among the most affordable pads you could get.
And while it wasn't as cheap as Camp Solutions pad, it weighs significantly less and you get a clear R-value.
Therm-a-rest also offers a lifetime warranty on all their pads.
If you are on a budget but still want a good pad that will last, this is a great option.
Heights:
Durable construction
Reputable company
Affordable
Plains:
Not particularly comfortable
Not particularly light
6. Therm-a-Rest Prolite
Sleeping 

Pad
Ideal for: Summer and shoulder season backpacking
The ProLite has been a favorite of self-inflating pad users for over a decade.
Its semi-rectangular shape shaves of corners to cut down on unnecessary weight.
Lightweight materials make it one of the lightest and most compact self-inflating pads on the market.
Its impervious layer sheds condensation and makes for easy cleaning.
Still, with an R-value of 2.4 and a 1-inch thickness, don't expect the warmest or the comfiest of sleep.
Heights:
Lighter and more compact than other self-inflating pads
Easy to pack and unpack
Has been on the market for a long time and is still popular
Plains:
Not particularly comfortable
Not suitable for colder weather
5. Exped Synmat 7 Sleeping Pad
Ideal for: 4-season backpacking
This air pad is insulated with microfibre Texpedloft.
This means it will offer you excellent protection from the cold ground.
While it's heavier than other air pads, ExPed says it'll keep you warm down to temperatures of 1˚ F.
It also comes with a built-in pump, so you won't be left huffing and puffing into your pad at the end of a long day of hiking.
Heights:
Built-in pump
Insulated
Warm
Plains:
Heavier than other air pads
Pricey
4. EcoTek Outdoors 
Hybern8 Ultralight Inflatable 

Sleeping Pad
Ideal for:
Backpacking in summer and shoulder season
Hammock campers
If you are looking for one of the best air mattresses, the Hyber8 is one oft them. Its innovative cellular supports the body while trapping air in individual cells to keep you warm.
The cellular design also allows the pad to bend laterally and fit inside a hammock.
This pad relies on its cellular design rather than insulative materials.
So you will be saving weight and won't have to worry about materials inside being damaged by moisture.
Ecotek provides a lifetime warranty and promises to help forest restoration by planting a tree with each purchase.
Heights:
Excellent Value
Lightweight material
Comfortable construction
Compact design
Plains:
The material is not insulated
Might not offer much support for side/front sleeping
3. Therm-a-Rest Z Lite Sol 
Foam 

Sleeping Pad
Ideal for:
Summer backpacking
Long-distance backpacking
Aside from the X-Frame, the Z Lite one of the best closed cell foam pads as it is the lightest pad on the list.
And because its closed foam, you don't have to worry about punctures or ripped seams.
The combination of durability and weight make it a favorite for long-distance hikers, especially ones on a budget.
It's dimpled trap air to keep you warm and add a little extra padding for comfort.
Its ThermoCapture technology radiates your body heat, making this sleeping mat significantly warmer than cheaper closed foam pads. It easily folds up for easy packing and unpacking.
Pros:
Excellent value
Durable
Light
Very easy to pack and unpack
Cons:
Bulky
Not as warm or as comfortable as inflatable pads
Recommended Read: This sleeping pad is a great piece of equipment for those of us into the ultralight lifestyle. If you want a list with the essential ultralight backpacking gear that won't break the bank, check out  Ultralight Backpacking Gear List: Getting UL on a Tight Budget
2. Therm-a-Rest NeoAir Xlite Inflatable Sleeping Pad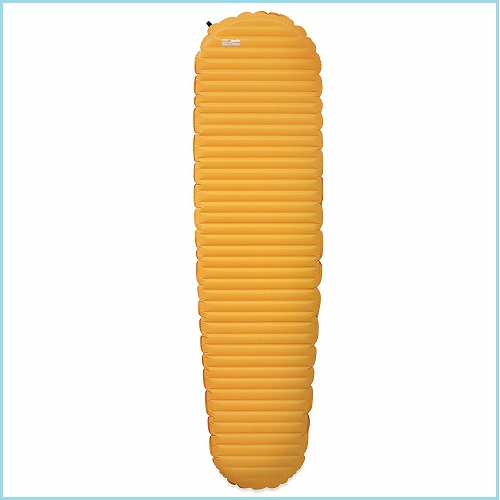 Ideal for: 4-season backpacking
Just like its predecessor the NeoAir XTherm, the NeoAir XLite is an ultralight inflatable air mattress that provides warmth by reducing weight using many reflective ThermaCapture™ layers to capture heat. Think of it as a network of mylar emergency blankets.
This technology allows the XLite an R-value of 3.8. With a good sleeping bag, it could keep you warm down to -40° F! The NeoAir XLite gives the best R-value to weight ratio on the market, so it is great for winter camping as well.
Unfortunately, it comes with a hefty price tag.
Heights:
Excellent warmth to weight ratio
Comfortable and compact design
Stuff sack and repair kit included
Light (12 oz)
Plains:
The crinkling ThermaCapture™ layers can get pretty loud
Slippery surface and narrow design can cause you to slide off the pad
1. KLYMIT INSULATED STATIC V LITE
INFLATABLE 

Sleeping Pad
Ideal for: 4-season backpacking
The Insulated Static V Lite is equipped with synthetic insulation that gives this pad an R-value of 4.4.
The special v-chamber design keeps the heat in.
It provides a comfortable sleeping surface, regardless of whether you are a side sleeper, a back sleeper, or a stomach sleeper. Subtle side rails help prevent from sliding off in the night, making it ideal for people who toss and turn.
It is also wider than other air pads.
The pad earns its No. 1 place for its comfort and excellent value.
Heights:
Great price point
Warm
Comfortable and compact design
Plains:
Heavier than some air pads
Can be difficult to deflate
Suggested: Match up this pad with one of our backpacking tents recommendations.
Conclusion
Your next hiking trip or camping trip can be even more exciting with a new sleeping pad.
While you could easily spend hundreds of dollars on a pad, there are some great options for adventurers on a budget.
We hope this list has helped you find the one that's right for you!
Have you tried any of these sleeping pads? Did we miss your favorite? Let us know how it went in a comment below!
Recommended Read: The 9 Best Outdoor Blankets to Keep You Warm