… and Be More Eco-Conscious
I think it's safe to say we're all nature and outdoors lovers here. It's also probably safe to assume that we all spend time preparing for our next adventure in the wilderness, checking off gear and changing it with the latest and best.
But how much time do we actually spend thinking about what we're leaving behind us in our adventures?
I like to think that we are all at least responsible hikers/backpackers/campers here, and we don't leave that much of a mess after us.
Even so, there are still some things you can do to reduce your impact on the environment and lower, if not even minimize, the marks of your passing through during your next adventure.
There are many ways to reduce garbage during your trips, but for now, we'll be focusing on how to reduce waste in the backcountry.
After all, as nature lovers, we should take care of it as best we can!
Without further ado, let's see the 10 simple things you can do reduce your impact in the backcountry and be more eco-friendly!
1. Make Your Own Food from Scratch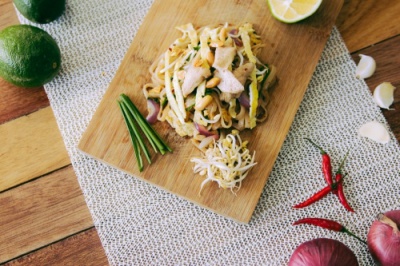 This one is pretty self-explanatory and good for both yourself and nature.
Making your own food means you get control over the packaging. It also means you know what exactly you are eating, so it's a case of clean living all the way.
2. Pack Your Food in Reusable Containers
Reusable containers are a great way of transporting your food, and you can use them for both homemade and store-bought nourishment.
Simply unwrap the store-bought packaged food once you get home, and put it into the reusable containers of your choice/need. This allows you to shop in bulk, so you'll generate less garbage in the long run.
Using reusable containers will also make it easier for you to plan and organize your meals, should you go for this option (and this applies to both outdoor adventures and day-to-day living too). Planning just the right amount of food per meal equals less food waste.
Choose nesting containers so they won't take up the extra room once they're empty. It's also useful having them ready and at hand in case you end up with leftovers or want to soak a dehydrated meal before cooking it (to save fuel).
3. Reuse Resealable Bags
This ties in with I said a little bit earlier, but I'll stress its importance:
Reuse as much as you can!
Resealable bags are amongst the most simple things to reuse, so instead of throwing them away, think of new uses for them. If you are on the trail, keep them close at hand and use them to pack any garbage you might be producing.
Alternatively, you could also put them away, then wash them out, and reuse them later on. If you want to take this one step further, you can invest in some silicone resealable bags that will last you more than a few uses.
It'll be a lot easier to reuse bags that have only been used to pack dry goods, so try to give the job of carrying dry food to the new bags, and give the dirtier jobs to the older bags.
4. Try to Keep the Packaging in One Piece as You Unwrap
You know how some people positively tear up their gift-wrapped presents? Don't be THAT person! At least, not in the backcountry or on your outdoor adventures.
It's very easy to drop small pieces of "micro-trash".
Keeping the wrapper all in one piece means no micro-trash, so less pollution that you might not even be conscious that you were making, to begin with.
You can find out more about micro-trash or microplastics from this article or from this initiative.
(For even more on microplastics, their impact, and consequences, take a look at the additional sources cited at the end of this article).
5. Don't Leave Food Scraps Behind to Decompose
Chances are, the food scraps will decompose a lot slower than you think they will.
Meanwhile, these same food scraps will likely attract wild animals to what can only be called 'unnatural' food sources.  Not only can this do some damage to the critter's digestive system and get them to depend on human food, but it also invites them into camp to beg for more.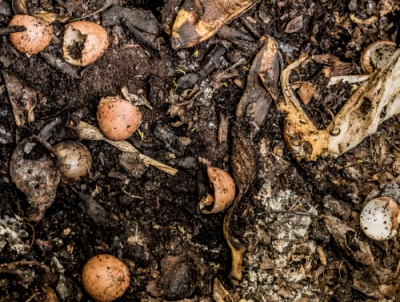 It may be cute to have a squirrel hanging around hoping for crumbs, but when you wake up with a hole chewed through your shoelaces and your favorite sock stollen, you might think again.
You would probably not have to argue too hard that you don't want something larger like, say, a bear, stopping by for a snack.
On the topic of food scraps, be careful with them as you wash your dishes.
Either eat all the scraps or pack them out.
Strain any solid out of the water and dispose of it by broadcasting it over a wide area away from the water. It seems elaborate, but I've seen little bits of noodles at pristine streamsides one too many times.
While not exactly a damaging effect, but still very much unpleasant: decomposing food scraps are an eyesore to other adventure seekers.
Don't make others see what you yourself wouldn't want to witness!
6. Pack Out Your Toilet Paper
Once again, this point ties in with its predecessor. It's important to know that toilet paper also decomposes very slowly.
Instead of abandoning it to decompose, use one of the resealable bags I mentioned above or use a dirty reusable bag (See Tips 2 and 3) to pack out your toilet paper.
Especially if it's a short trip or not much of an emergency, try to wait until you get to an outhouse (it's simpler for you too).
If you can't wait and can't (or won't) pack out the toilet paper, bury it 6-8 inches deep along with your waste. If you really want to take this waste reduction thing seriously, consider using leaves (if you know they aren't stinging or poisonous) or bring a small squeeze bottle to make a "backcountry bidet."
Learning how to reduce waste in the great outdoors is important, but so is keeping safe, so double-check any leaves you might be thinking of using!
Remember what I said about the food scraps, no one wants to see your traces!
7. Do a Final Sweep
Before heading on, don't forget to throw one last look at your campsite or picnic area.
This is double handy, as while you are checking out to make sure that did not leave any garbage behind, you are also making sure that you haven't forgotten any equipment or something of importance behind either.
8. Don't Leave Garbage or Things in the Fire Pit…
… not even on the basis that other people will burn it!
Nobody wants to be left to burn your snotty tissue.
Nor do they want to see what your sandwich looked like. Or other things that should find their way into a garbage bag or recycling bin. You get the picture.
They also don't want to deal with any animals that the garbage in the fire pit might have attracted while it [the waste] was waiting for some else to come along and burn it.
9. Don't Leave Burned Cans or Tin Foil in the Fire Pit
For some reason, people seem to think that burned metal left in the campsite will just disappear. It doesn't. It's metal, after all.
If few enough people have fires, it will probably still be there when your grandkids take their kids on their first camping trip.
Also as with the food throwaways, wild animals will likely be attracted by their smell, and in other cases, by the shiny metal.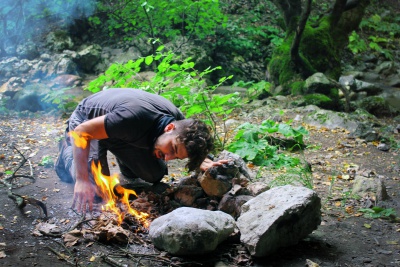 You risk exposing the same fauna that you have come to admire to things that they shouldn't ingest. I'm not gonna even go into all the choking hazards (or worse) brought on by tin foil.
10. Pack Out Other People's Garbage
You might not like it, nobody does, but someone's got to break the circle. People are more likely to litter if they see other people have done it already.
Break the cycle and pack out the rubbish you might come across.
At the risk of sounding like a cliche, be the change you want to see, and start cleaning the world one stray piece of garbage at a time.
Other people might see you doing it and join in, and step-by-step, we could bring nature back to its pristine state.
Mother Nature does what she can, but we should help her up too, however we can!
We can easily reduce garbage by being more careful ourselves, as a first thing to do. A second would be to clean after others. After all, you already have reusable and resealable bags at hand, so it's not that hard to do it.
A third useful thing would be to educate those around us by setting an example on how they should behave when going on an outdoors adventure (and why not, even in day-to-day living).
People have recently taken a very obvious step in this direction, made especially obvious by the #trashbagchallenge that spread and became viral across various social media platforms in 2019.
This is just one of the many ways you can help keep nature clean. Plus, now that you've gotten some tips on how to reduce waste in the backcountry, you can use them to reduce your waste production in your day-to-day life too.
How Are YOU Being More Eco-Conscious and Minimizing Your Impact on Nature, Especially During Your Adventures?
More Information on Microplastics At:
Various Organizations or Associations or Movements that Are Trying to Clean the Planet:
Last but definitely not least, don't forget about the Leave No Trace Principles!
Leave a Comment with Tips and Advice, We All Can't Wait to Hear Them!