I curse as my leg breaks through the snow crust and I sink to my thigh in snow. A branch below scrapes my leg from ankle to knee. I hadn't donned my snowshoes yet, and I probably wouldn't.
The extra weight on my feet was a pain at the best of time, and the heavy spring snow would pile on top of them making them even heavier.
Most steps did not break through the crust – just a few painful ones.
I had merrily said goodbye to the snow weeks before and had happily been completing low elevation hikes.
It wasn't until my husband, thoroughly addicted to submitting mountains, looked at me with big puppy dog eyes that I begrudgingly set out to battle the spring mountain conditions.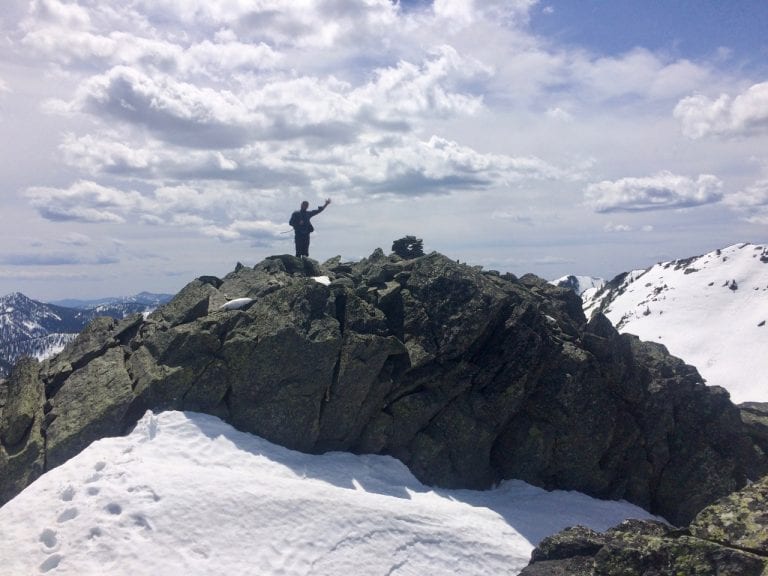 Okay, I'm a tad jaded. I'm not a fan of winter and have adopted my winter sports a hint of disdain.
In all but the best powder, I spend my backcountry ski outings wishing away the dead weight on my feet and the biting wind on whatever poor skin I've left exposed.
I think even less of snowshoes.  
By spring, however, I'm torn.I still begrudge the snow – now more than other – but the warm weather and emerging greenery call to me, as I'm sure it does to many.
So, WHY Hike in Spring?
I think the first reason is the same reason you'd want to hike without snow.
You know, things like spectacular views, exercise, challenge, solitude, and enjoying nature.
You can still get all that stuff on a spring hike, sometimes in even higher doses.  
It being spring and all, you also get to observe nature as it wakes up after a winter's slumber. 
I mean, you get to do that lower down, but the mountain landscape can change astoundingly fast in the spring. 
One warn day will melt huge portions of the snowpack, and it doesn't take long for plants to emerge thereafter.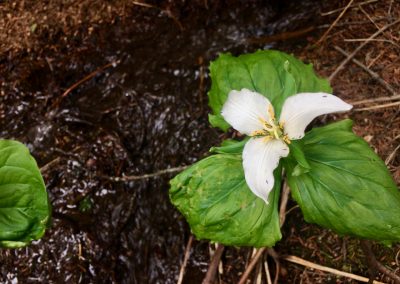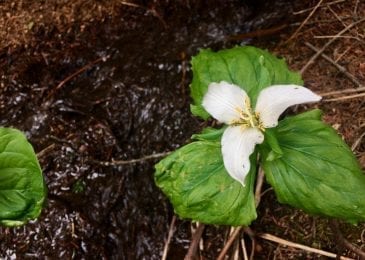 I've seen flowers emerging in crevices directly next to three-foot walls of snow. 
You may hike your way up in a barren landscape in the morning and find yourself amongst emerging leaves on your way down a few hours later.
You also have the benefit of an empty trail.  There are plenty of people who share my skepticism of spring hiking and opt for sticking to the lower elevations.
It's not really so bad, and it's never long before the annoyance of the snow wears off and I'm happy to just be outside.  
Springmountaining Conditions 
So I've mentioned that they are sloppy and generally unpleasant, and that comes not only with inconveniences but also with certain dangers. 
They change quite dramatically between early spring and late spring, so perhaps I'll break it up.
It's important to note that early spring in the mountains is different than early spring in the towns below.
If things are starting to warm up, but there's still snow around in the lower elevations, you're still likely to find total winter in full swing in the mountains. 
It may be a bit warmer, but the heavy snow and poor avalanche conditions make up for it.  
It's all relative to where you live, but in my parts, the mountains start to hint at spring around April.
That's when only a few patches of snow linger in shadowy parts of my yard. 
Early spring conditions in the mountains are still rather wintery, especially on north facing slopes. 
You'll almost definitely need snowshoes or skis.  
Early Spring Hiking How-Tos:
1. The biggest danger in the mountains during this time of year are avalanches.

 
If you are headed to avalanche terrain, get trained on avalanche safety and bring avalanche rescue gear.
Between the warming sun, the freezing nights, and heavy snow or rain, spring can produce some pretty unstable snow packs. 
!Always check the avalanche rating. If you're in the US, you can do this at avalanche.org.! 
2. Choose your travel method with care.
I'm not a skilled skier, so crusty snow is a nightmare to me.  
Wet or icy snow isn't much better. 
Despite my disdain for snowshoes, they are the most practical choice for me in spring.    
3. Don't let snow free trailheads fool you.
Unless you are pretty sure the snow is gone higher up, pack in some snowshoes.
If you are headed for steeper slopes, and you have one, than an ice ax can be a handy addition.
Just don't go beyond your fitness or skill limits.
The top of a snowy mountain is a bad place to get stuck.
4. Okay, it's not all bad.

 
It is getting warmer, and the days are getting longer, so you can spend a bit more time out. 
Still, bring a warm coat in your backpack. 
Temperatures can still dip quite low, especially if you get held up and end up out in the dark.  
5. Plus, you may get lucky. 
We squeezed in a hike in Kananaskis country, on the East side of the Canadian Rockies last April and didn't need snowshoes at all!
When we looked across the highway from the summit, we saw skiers at the ski resort across the highway.
Our route was the lucky recipient of the evening sun and a lot of wind, so it was nearly snow-free.
Naturally, more arid areas with a smaller snowpack will become available a lot faster.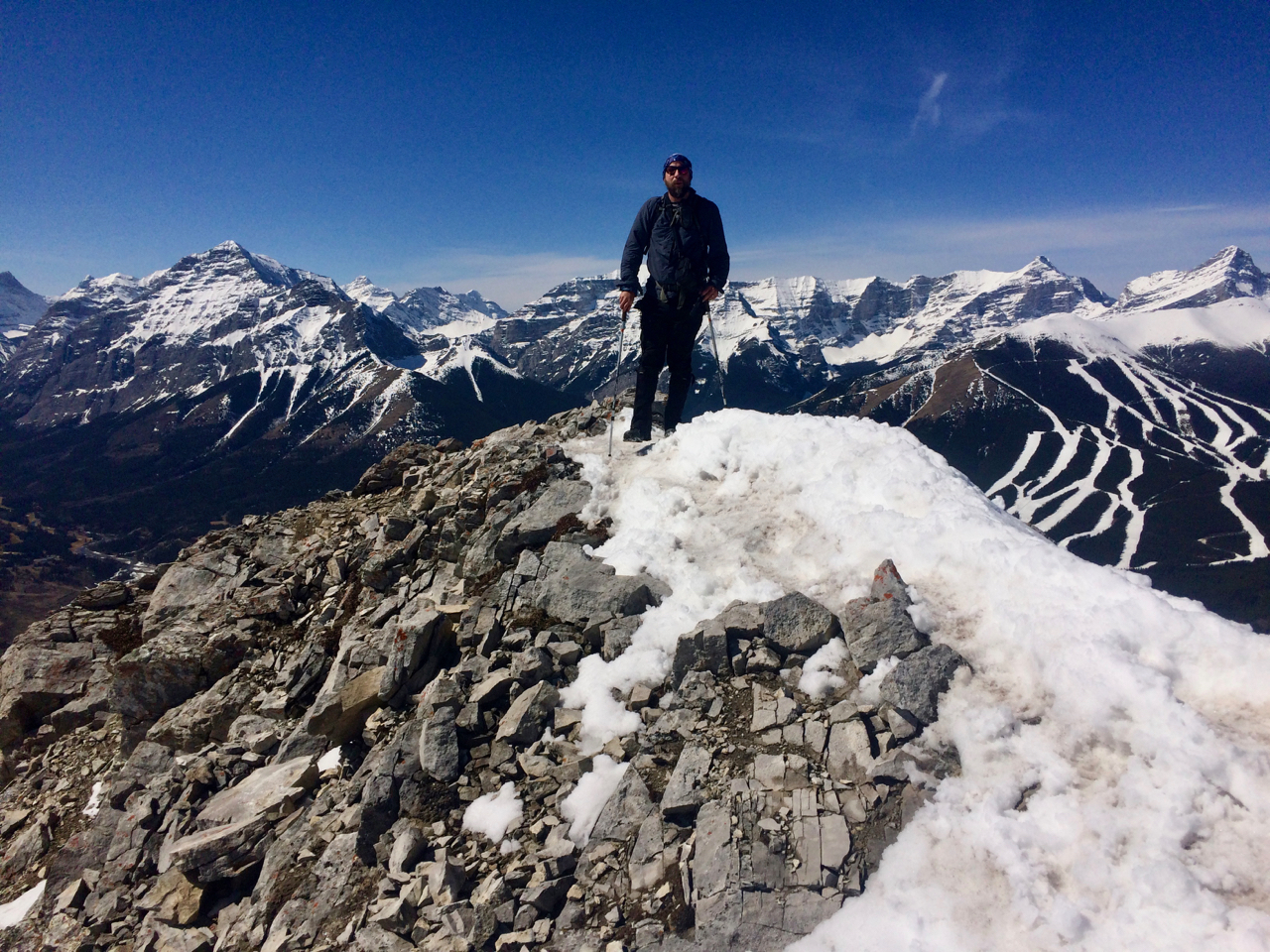 This is when I finally emerge (at least without ample bribery). 
At home, I'm starting to plant the garden, but the mountain tops are still covered with a few feet of snow. 
You'll probably get to hike a large portion on solid ground, and if you're lucky, the snow will be covered with a solid crust. 
Isolated patches of snow can linger well into July in the alpine areas, and can make your travels tricky if you are unprepared (although with this hiking checklist, you won't be).  
Things to Know about Late Spring Hiking:
1. Actually, that snow crust can be a big help.
If your route involves a bushwack, the snow will allow you to walk over a lot of shrubs. 
It can save a lot of energy.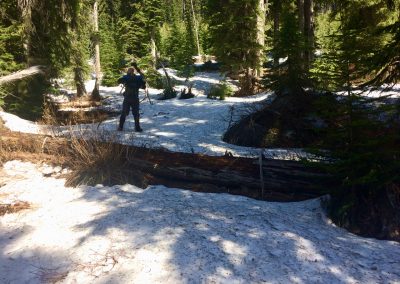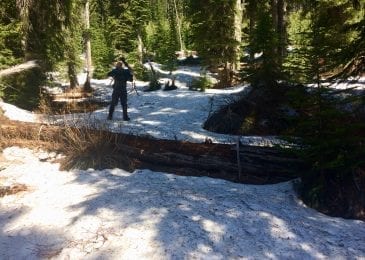 Even if the crust isn't holding up and you need snowshoes, it can be easier than working your way through dense bushes.
2. Avalanches are starting to ease off in late spring, but can still be a problem.
North facing slopes are still likely to have a lot of (possibly unstable) snow. 
Check the avalanche conditions and come prepared if there is a chance of one happening.  
3. Microspikes also make a fabulous, and possibly essential, piece of gear for late spring hiking.
They are especially handy on trails that have been trampled into compact ice over the winter.  
All that compacted snow can make for some mean ice. 
Steeper slopes may require an ice ax and crampons – maybe even rope if you know what to do with it.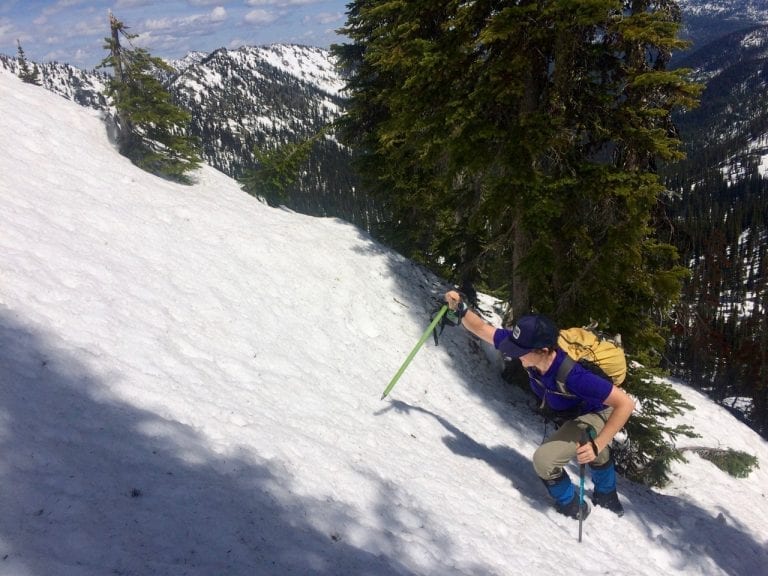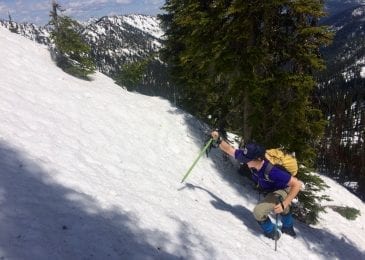 4. On a warm day, you might get to see the snow retreat a few yards in just a couple hours.
All that makes for lots of meltwater. 
With the meltwater coming from the snowpack, gaiters can save you some wet feet and muddy legs.
5. The days are longer, so you can get in more miles.
Still, expect things to take twice as long with all the snow slowing you down. 
The temperature can be quite variable.  
The weather may be so warm that you hike in a t-shirt, but the wind at the summit or an evening chill will make you happy you packed a coat.  
So Just STOP WAITING!
I felt compelled to write this last weekend as I realized that I was actually enjoying last week's spring hike (despite the ugly bruises and scraps).  
The thing is, I know that's how every spring hike will end. 
I start off silently cursing the lingering snow, then end it exhausted, but elated to have gotten a whole day outside. 
I need something to remind me that it's actually not that bad. 
So

I figured, I might as well try to convince a few of you while I'm at it.

 

While spring hiking may be a bit of a slog and require a few extra safety precautions, it's not a total write off of a hiking season. 

You can get into some great places and sometimes, a thick snow crust and lack of bushes make hikes easier. 
The temperature is often pleasant, the bugs are scarce, and the days are long, and I'm suddenly wondering why I was so hesitant to go climb a mountain last week.
Editor's Note: These are Carley's reasons why spring hiking can be an excellent thing. But have you tried it too and have anything to say about it? 
Recommended: Also take a look at Carley's related article, A Beginner's Guide to Scrambling.