Our next stop on our roundup of the world's most famous outdoors bloggers is Fi Darby of TwoBlondesWalking.com. Together with her partner Lucy, aka Blonde One, they run a website dedicated to Dartmoor walking (but not only).
For those of our readers who don't know, Dartmoor is a superb national park toward the southwest part of England, in Devon. Besides running their blog, Fi also works as a copywriter on FiDarby.co.uk while Lucy works as an outdoor educator at the Trinity School in Teignmouth. Now that the introductions are done, read on to find out more about the two blondes!
1
So I'm not going to ask you what your story is. But I will ask you: what do you think people who are interested in you would be most fascinated to hear first?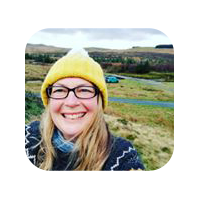 They might be interested to hear that we have been writing daily blog posts for Two Blondes Walking for over six years now. Amazing on its own, but when you realise that Lucy (Blonde One) and I both have full time jobs (Lucy is a teacher and I am a freelance copywriter) as well as all of our commitments to outdoor education and navigation training for ladies, you can see how much work we put into our outdoor lives.
2
It's probably safe to assume you weren't born ready for this. What's the single most important piece of advice you got that put you on the right path to success?
Work hard… and then work hard some more. Its the only way to achieve a goal, even if you don't know what the exact goal is when you start. Two Blondes Walking has changed so many times over the years but we have stayed true to our mission, to enjoy the outdoors and encourage other people to do the same.
3
How do you normally go about your trips? Do you prefer traveling alone, with one other person, or as an adventuring party?
Lucy is my business partner so, as well as travelling together, we do undertake trips with our husbands and families. Lucy is no stranger to taking groups of youngsters to overseas locations such as Morocco and I love campervan road trips.
4
What's the most common thought you go to for motivation when you're feeling particularly down during a difficult trail, workout, or sports session?
Our stock answer to the question, 'How far is it?', is 'Five minutes, just around the corner'. That works just as well on a long trail, climbing a hill, or when life becomes tricky and you feel that you are banging your head against a brick wall.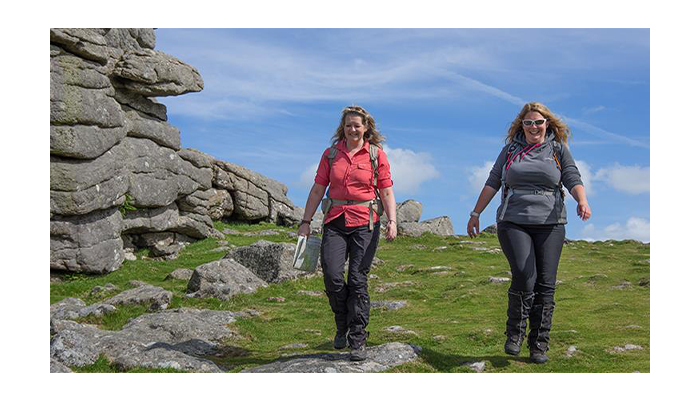 5
Here's a tough one: give us an UNcommon reason why people should visit your favorite place!
On some boggy sections of Dartmoor National Park, the ground wobbles as you walk across it.
6
Traveling, hiking, adventuring – it's something anyone can do. I've seen thoroughly equipped hikers going up trails at the same pace as grandmas wearing slippers. What do you think is the correct amount of equipment for a trail?
For any trek you need enough food, clothing, and shelter to keep you warm overnight should something happen. And you should take a map and compass… always!
7
Since we've mentioned grandmas wearing slippers: what do you often see travelers do on your trips that really grinds your gears?
I dislike rudeness and the assumption that someone has more of a right to be somewhere than the next person. A bit of acceptance, understanding and a few manners go a long way.
8
First time you went on an adventure: how did it feel then, how do you look back at it now, and what's a particular thing you remember?
My first solo adventure was a wild camp onto Dartmoor. I was fine in the wilderness until a helicopter flew overhead and then, once I realized that someone knew where I was, I hid in my tent until it got light.
9
If you could place down a small cabin anywhere in the world, where would you like to settle down for a vacation home away from home?
Mine would have to be a mobile cabin as I love to wander, but there are some stunning spots on Dartmoor that really call you to stay there forever.
10
Top three outdoors activities you've practiced – go!
Hill walking and leading
Navigation training
Outdoor swimming
11
Now for the end: what's the next challenge on your list and how are you preparing for it? Mentally and physically.
I've just completed a 50 nights outdoor challenge for 2018 to celebrate my 50th birthday in January. We Blondes never know which adventure is going to come along next. We recently filmed for a major UK TV channel so I am preparing my BAFTA award speech!
Summing Up
Are you convinced to visit Dartmoor already? Well, that sure gave us a lot to think about! Thanks for stopping by and if you've been to Dartmoor or know the two blondes, let us know!