Choosing the fastest compound bow helps promote an efficient pull that generates sufficient force needed to launch arrows precisely and correctly. When trying to choose the best compound bow many factors and features should be considered, such as the draw weight, length, dominant hand, dominant eye, speed, noise, and budget. We kept these features in mind when we chose the ten best bows available below. You will also see a short description for each of them that will help you to choose the right one for you.
Top 5 Fastest Compound Bows – Editor's Pick
Here is a quick overview of five of the best products of the year and some information that you can compare.
| | | | | |
| --- | --- | --- | --- | --- |
| Product Name | Draw Length  | Draw Weight | Color | Editor's Rating |
| Predator Archery Raptor Compound Hunting Bow Kit | 24.5"–31" | 30–70lbs | G3 Camo | 4.3 |
| AW Junior Compound Bow Kit | 26″ | 20 lbs | Camo | 4.3 |
| Genesis Bows Original Bow | 15″-30″ | 20 lbs | Blue | 4.5 |
| Southwest Archery Tigershark Takedown Recurve Bow | 62″ | 25-60 lbs | Tigershark Right Hand | 4.7 |
| Diamond Archery Edge SB-1 Bow | 15″ | 7-63 lbs | Camo | 4.9 |
10. Leader Accessories Compound Bow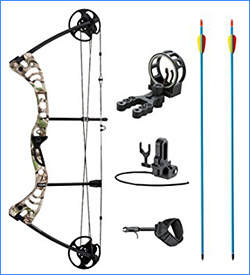 Ideal for: Beginner and intermediate users
The first on our fastest compound bow list is this compound bow from Leader Accessories that was designed to offer you safety and enjoyment in your hunting experience. This compound bow is made of quality materials and will last you a long time. It is lightweight and is powerful enough to take down the prey you are after. This compound bow weighs only 3.3 pounds, and it has a maximum speed rated of 296 fps. It has a draw weight of 30 to 55 lbs, while the draw length is between 19″ and 29″.
Pros
It is reliable
Easy to set up and maintain
Has an aluminum riser
Great customer service
Cons
Arrows are not very good quality
Cam module screw can come loose
The string is known to break after limited use
9. Southland Archery Supply SAS Rage Compound Bow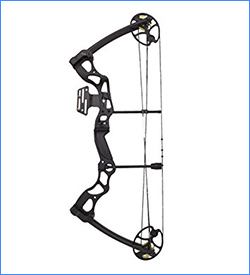 Ideal for: Intermediate users
The SAS Rage compound bow is a bow for someone wanting to develop their skills in archery. It is made to be durable with high-quality materials and artistry. Moreover, it is a good mix of balance, strength, and weight to provide a great learning tool for someone newer to the sport. It has a 25″ to 31″ draw length and can shoot an arrow at 270 fps. It has a draw weight between 55 and 70 lbs. and weighs only 4.4 lbs.
Pros
Provides a draw weight that is adjustable
Very accurate
Good quality and solid construction
Cons
Screws can come loose
The string can snap in the bottom loop after a few shots
It does not come with accessories
8. FBA Compound Bow Package
Ideal for: Expert users
The FBA compound bow package is a great value for all that it includes. Along with a compound bow built with high-quality materials you get $200 in accessories allowing you to do more with it. It also comes with a 2-year warranty covering problems with quality. The draw length is adjustable from 19" to 30", and the draw weight from 19 to 70 lbs. This compound bow weighs only 3.3 lbs and shoots arrows up to 320 fps.
Pros
High-quality CNC machining
Has a rich accessories set
Good quality built
Cons
Might break easily
Known to come with paint chips
Knots might come loose and unravel
7. iGlow Camo Archery Hunting Compound Bow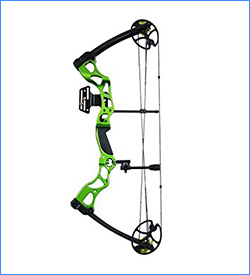 Ideal for: Expert users
Next one on our fastest compound bow list is the iGlow compound crossbow that has a very polished look and offers great performance. It features an adjustable draw weight and high arrow speeds. You will hit your target with great precision and accuracy. The adjustable draw weight is between 40 and 70lbs and it weighs only 4.4lbs, while the draw length is between 25" and 31".
Pros
Precision accuracy to hit your target
Polished look
Offers excellent performance
Cons
The string will need replacing right away
Might not come with all the necessary screws
No information on obtaining replacement parts
6. Diamond Archery Infinite Edge Pro Bow Package
Ideal for: Intermediate users
The Diamond Archery Infinite Edge Pro bow package includes many extras that will save you money if you were to buy them separately. It has an extended draw length for archers with a longer draw, and plenty of draw settings. This compound bow is more suited as a practice bow or for shooting small game.
Pros
Solid back wall
Package includes many extras for its low price
It is a multi-shooter bow
Cons
The bowstring can snap even on the first draw
Will need to make upgrades for extended use
Screws will strip
5. Predator Archery Raptor Compound Hunting Bow Kit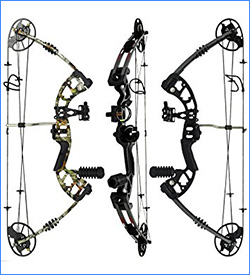 Ideal for: Beginner and intermediate users
The RAPTOR Compound bow kit is a great contender for the fastest compound bow top, and a great option with many adjustable features. There are quality accessories included for the same price. The design allows for a 70lbs pull while you only have to hold 17.5 lbs. Has fully machined aluminum cams, while the limbs are made in the USA and are made of fiberglass.
Pros
Good quality accessories included
Allows for precise adjustments for proper arrow flight
Cons
Doesn't perform as well as it should
Too many pins in the sight
The string is cheap and needs to be replaced
4. AW Junior Compound Bow Kit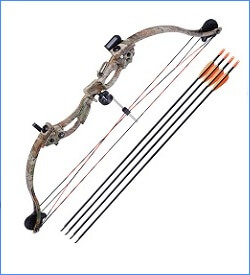 Ideal for: Kids over 15 years old
If you want your kid to learn how to use a compound bow, this is definitely a great product to help with that. Onee of the fastest bows in the kids' category, this product has durable composite limbs and riser. It's ideal for practicing and just for fun, as well as the best gift for juniors. The axle to axle length is 34″ and the arrow length is 28″. While the weight is 2 lbs and the draw weight is 20 lbs, and draw length is 26″.
Pros
Easy to learn and operate
Comes with complete set of bow kit
Great quality
Cons
The screw that mounts the sight does not come mounted
Only for right-handed shooters
3. Genesis Bows Original Bow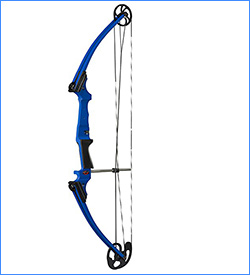 Ideal for: Beginner users
The Genesis Original Bow is the official bow of the National Archery in the Schools Program. It's great for starters, it offers less recoil and noise and is a more accurate shot. It is great for starters of all sizes and ages and has no specific draw length This product was originally made in the USA.
Pros
No tuning issues
Little recoil or noise
Very accurate shot
Cons
Poorly put together
Handle breaks easily
The string can fly off of the wheels
Does not come with arrows
2. Southwest Archery TigerShark Takedown Recurve Bow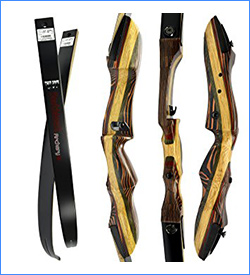 Ideal for: Expert users
The TigerShark Takedown recurve bow combines four high strength kinds of wood. It is beautiful and should last you a lifetime. You can think of the TigerSharck recurve bow as being the fastest compound bow on the market. It is made with extraordinary quality and comes with an industry-leading warranty.
Pros
Superior quality at a great price
Durable and very well made
Beautiful look
Cons
Doesn't fit everyone perfectly
The finish should be better
The serial number should be hidden
1. Diamond Archery Edge SB-1 Bow
Ideal for: Expert users
The Diamond Archery 2016 Edge SB-1 compound bow includes cutting-edge innovation. You can make many adjustments for a better shot. The cam system provides unmatched accuracy and makes it the fastest compound bow available. It is extremely versatile and adjustable, has a binary cam system and includes a package of accessories: rest, quiver, sight, stabilizer, sling, peep, and d-loop.
Pros
Very accurate and reliable
Easy to adjust both poundages and draw length
Easy to use and versatile
Cons
Conclusion
The market is full of compound bows, therefore, in choosing the fastest compound bow suitable for you, our list is sure to come in handy. We recommend, of course, the Diamond Archery Edge SB-1 bow, because it is sturdy, reliable, and it is for both right and left-handed people. If you prefer a more dynamic sport, such as skiing, here are our recommendations of the best skis for beginners. If you have any suggestions, questions, or other compound bows that you think would fit this list, leave your comments below. We're eager to hear from you!