When you aren't sure whether to wear a jacket or shorts, you might be inclined to run outside and check for yourself. However, having a thermometer on hand can be a better way to check for the exact temperature. The best weather thermometer works to measure the outdoor temperature, humidity, time, and more. You can even find them to measure temperature in both Fahrenheit and Celsius. Below you can find more information about our favorite weather thermometers.
Top 5 Best Weather Thermometers – Editor's Pick
In this section, you will find the top five best weather thermometer brands, their styles, ratings, and more to help you decide which product is the right one for your needs.

| Product Name | Style | Features | Color | Editor's Rating |
| --- | --- | --- | --- | --- |
| Ambient Weather Wireless Thermometer | Digital | Indoor and Outdoor temperature | Black | 4.3 |
| AcuRite Wireless Weather Station | Digital | Time, temperature, weather forecasting | Gray | 4.4 |
| AcuRite Galileo Thermometer | Glass | Barometer, colorful, glass | Multi | 4.5 |
| Bjerg Instruments Decorative Patio Thermometer | Analog | Fahrenheit and Celsius temperature | Gray | 4.5 |
| ThermoPro TP60 Digital Hygrometer Thermometer |  Digital | Humidity monitor, hygrometer | White | 4.8 |
10. Springfield Vertical Thermometer
Ideal for: Outdoor use
If you like the classic look for your outdoor thermometer, then this is the brand for you. With such a classic design, it's no wonder that is is on the list of the best weather thermometer brands. This low profile display is made with both Fahrenheit and Celsius scales, so you have the option for both depending on your preferences. The construction is even made with fade resistant graphics, shatter-resistant tubing, and weather resistant materials.
This thermometer is built to last, and with the easy to read numbers, you can easily tell what the temperature is without having to guess. The white framing makes the black lettering stand out for easy reading from a distance. The thermometer also measures humidity at the bottom.
Pros:
Classic design
Gauge doesn't melt in extreme heat
When hung correctly, it measures the temperature well
Easy to read and use
Cons:
Requires certain hanging position for accurate reading,
Mercury makes the thermometer readings off slightly,
Constant extreme heat can cause the outer casing to become dry and brittle
9. La Crosse Technology Wireless Temperature Station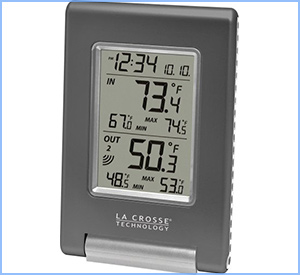 Ideal for: Indoor and outdoor use
For a wireless monitoring option, you might be more inclined to choose this weather thermometer. The display, since it is wireless, requires two AAA batteries, while the sensor requires two AA batteries. The temperature range outdoors goes from -39.8-degrees Fahrenheit to 157.8-degrees Fahrenheit. Your sensor will even transmit up to 330 feet of range.
This thermometer also includes a clock which automatically adjusts for Daylight Saving time. It also runs on either a 12 hour or 24 hour time. If you choose to add more sensors, you can add up to three different channels to keep watch on different parts of your yard.
Pros:
Shows both indoor and outdoor temperatures at the same time
The display is easy to read
Does not use up much battery life
You can either set the display on the table or mount it on a wall
Cons:
Readings tend to be off
Additional sensors not included
Often has trouble syncing
8. AcuRite Digital Weather Center
Ideal for: Indoor and outdoor use
The display on this weather thermometer is one of the best. It is an illuminated display that makes it easy to read the indoor and outdoor temperatures, humidity, and forecast. Since this weather thermometer works through an outdoor sensor, you can easily read the outdoor temperature from the comfort of your home.
The outdoor sensor can work up to 330 feet of range, which makes it ideal for backyards. The display is easy to read, and it is stylish in design as well. The barometer self-calibrates for a superior accuracy. You can also get the daily highs and lows. What also works great for your backyard is a rain gauge.
Pros:
The display has a battery pack for power outages
Forecast feature lets you see a general idea of the day
Compact construction
Cons:
The sensor must be in the shade
Does not forecast wind speeds
Backlight on the display is extremely bright
7. La Crosse Technology Digital Thermometer
Ideal for: Indoor and outdoor use
One of the best weather thermometer brands, this product has both a clock and a wireless remote for easy usage. Not only does it tell the time, but it also tells the indoor and outdoor temperatures any time of the day. You can also choose between Fahrenheit or Celsius depending on your preference in data output.
Your display gets its data from three different sensors that you place outside around your home. The outdoor sensor takes AA batteries to run, and the indoor display is compact enough to set on a desk or tabletop without taking up too much space.
Pros:
Wireless technologies work great
Excellent range
Uses batteries in case of power outages
Cons:
Instructions are a bit daunting
The connection doesn't work if the sensors are too far away
Finding sensors can be difficult
6. AcuRite Color Weather Station
Ideal for: Indoor and outdoor use
This self-calibrating forecasting system works to pull data from a special sensor that you can place outside of your home. On the display, which is in the dark theme, reads the high and low temperatures for the day.  The high and low records for the day with a time stamp, the indoor and outdoor temperatures and the time are also displayed. The product even has a weather station to help you keep up with the weather in your area.
With all of the features of this weather thermometer, let's not forget the stylish display that is compact enough to sit on a tabletop should you need it there. The clock on the thermometer even adjusts automatically to Daylight Saving time.
Pros:
The display is easy to read
Battery operated for use during power outages
Works in high heat and extreme cold
Reads many different things like temperature, moon phases, and forecast
Cons:
The sensor must be close and in shade to work properly
Indoor monitor can show inaccurate readings
Instructions for repair are not clear
5. Ambient Weather Wireless Thermometer
Ideal for: Indoor and outdoor use
Next on our best weather thermometer list is this compact thermometer that is ideal for use inside. Also, it has an outdoor sensor that can help you easily read the temperature from outside on your indoor display. This product also comes in several different colors with several different consoles so you can customize your thermometer the way you want it. The console and remote are both wireless, and you can easily mount both objects where you want.
Also included with the thermometer is a one year warranty from the manufacturer so you can be sure that you are satisfied with your purchase. On the console, you can find both the indoor temperature and the outdoor temperature in Fahrenheit.
Pros:
Ideal for use beside the bed or on the desk
Easy setup
Wireless units
Cons:
Requires 24 hours to orient to the temperature
Battery connectors tend to be poor
Direct sunlight alters the temperature reading
4. AcuRite 
Wireless 
Weather 
Station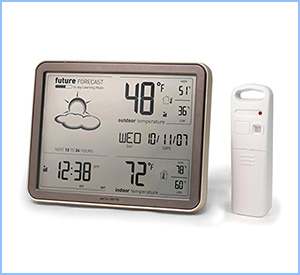 Ideal for: Indoor use
Though the main display is used indoors, this incredible thermometer has an outdoor sensor to give you the most accurate reading no matter your location. You even have the chance to have a 12 to 24-hour forecasting option so you can see what the weather is like in your area in real time. There are many features on this thermometer, making it great for your home or office.
The display is huge so you can easily read the temperature for both the high and the low for the day and the temperature in real time. This thermometer also has a clock, day, and date so you know all the information you need throughout the day.
Pros:
The not backlit display is great for use in a bedroom
Stylish design
Easy installation
Instructions are clear and easy to understand
Cons:
Temperatures are three degrees off
Must be eye level to read the display
Must plug the thermometer into an outlet
3. AcuRite Galileo Thermometer
Ideal for: Indoor use
If you are looking for something a little more unique and creative to tell you the temperature, then the Galileo thermometer is the best weather thermometer to get the creative look you're going for. This thermometer comes with a separate barometer, and both are made from solid glass. The thermometer uses spheres filled with liquid, and they interpret the weather and temperature based on buoyancy and air pressure principles.
The barometer is made with a world map etched into the glass for a stylish flavor, and both the thermometer and the barometer are situated on a wooden base. The entire set is based and inspired by the instruments used by Galileo. It sits eight inches high and eight inches long.
Pros:
Entertaining to watch
Colorful and stylish design
Great quality for a great price
The thermometer is accurate
Cons:
Filling the globe is difficult
Fragile construction because of the glass
Can be confusing
2. Bjerg Instruments Decorative Patio Thermometer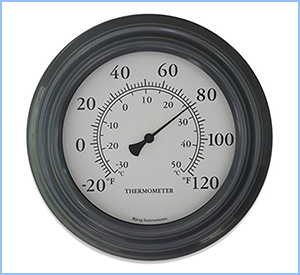 Ideal for: Indoor and outdoor use
Coming in a variety of colors, you can choose the best weather thermometer color from this brand to match your home décor. Aside from the wonderful color options, you can also easily see the display on the face in both Fahrenheit and Celsius. The analog display is easy to read as well. The lens is even made of real glass, and the circular display is made to look similar to a clock.
You can easily check the temperature of either indoors or outdoors depending on the place where you decide to mount the thermometer. This thermometer is made from a steel construction so it is durable, and the powder-coated gray finish eliminates rust or other issues with the color. Sitting at a diameter of eight inches, this thermometer is ideal for use in the home or outdoors.
Pros:
High-quality construction
Reads both Fahrenheit and Celsius
Stylish design
Sturdy construction
Cons:
Difficult to adjust
Direct sunlight can alter the reading
Difficult to read from a distance
1. ThermoPro TP60 
Digital Hygrometer 

Thermometer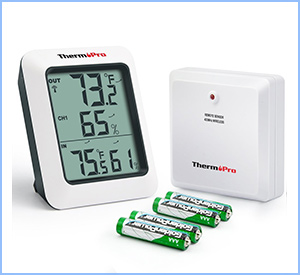 Ideal for: Indoor and outdoor use
With a five-year replacement warranty and money back guarantee, you won't regret giving this thermometer a shot. The humidity feature allows you to measure the humidity in the air outside through a wireless meter. The thermometer also keeps you informed of the temperature in both Fahrenheit and Celsius.
This thermometer also comes with a wireless remote control with a strong signal to keep control of the humidity monitor. You can put it on your tabletop or you can mount it to the wall. This thermometer is ideal for the basement, greenhouse, home, cellar, or garage. The ability to monitor the temperature and humidity at all hours of the day and show the trends is the main reason why this is the number one best weather thermometer on our list.
Pros:
Easy setup
Small size for small spaces
Works with batteries for power outages
Digital faces are easy to read
Mountable or tabletop friendly
Cons:
Reads high by 2 degrees in Fahrenheit scale
Remote sensor has no read
Outside and inside units will not stay synced
Conclusion
When you aren't sure of the weather, figuring out the temperature before you head outdoors is always ideal. Luckily, with both indoor and outdoor thermometers, you can easily check the temperature, check the humidity, and even check the forecast for the day. When you begin looking for the best weather thermometer for your needs, you must consider our first picks, the ThermoPro TP60 and the Bjerg Instruments Patio Thermometer. Which thermometer have you tried?