When you're tracking your fitness, you need a reliable gadget that can withstand sweat, rain, and maybe even a dip in the pool.
They're not always easy to find, so to help you with your search, we've put together a countdown to find the best waterproof fitness tracker on the market today.
In order for a fitness tracker to make our list, they needed to, of course, have good water resistant or waterproof capabilities.
We also focused on decent battery life, ease of wearing, and how well it tracks your fitness overall.
Top 3 Best Waterproof Fitness Trackers – Editor's Pick
To find the best waterproof fitness tracker, we broke down the main features of our top 3 picks in the table below:
| | | | |
| --- | --- | --- | --- |
| Product Name | Display Type | Battery Life | Get It AT  |
| Garmin vívoactive Black | Color LCD | 3 weeks/10 hours with GPS | |
| Polar V800 GPS Sports Watch | Monochrome LCD | 50 hours/13 hours with GPS | |
| Garmin Fenix 3 HR | Color LCD | 2 weeks/16 hours with GPS | |
7. Samsung Gear Fit2 Pro Smart Fitness Band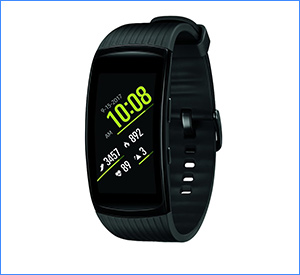 Ideal for: Casual recreational use, everyday wear
The Gear Fit2 Pro from Samsung offers the ability to track a number of different activities.
Compatible with both Android and iOS devices, this fitness band can go with you when you run, climb the stairs, hit the gym, or dive in the pool, being water resistant up to 50M.
Beyond being a fitness tracker, this also serves as a music player, GPS map, Bluetooth calling, and text messenger.
Though the battery can last for a few days, it may need frequent recharging if using some of the additional features.
Heights:
Feels well secured
Starts tracking automatically
Plains:
The sensor can sometimes fail
The screen can go out
6. Withings/Nokia Steel HR Hybrid Smartwatch
Ideal for: Everyday use, casual recreation, light/medium use
The Withings/Nokia Steel HR Hybrid Smartwatch is the best waterproof fitness tracker when you want something with a more classic watch look.
It doesn't stand out so you can use it as an everyday watch without it clashing with anything.
Also, it comes in multiple colors and band styles.
It features a long battery life of up to 25 days, and you can even get an extra 20 days if the watch is kept in a lower power mode.
This is water resistant up to 50M, has quality activity tracking for multiple sports, and does well at sleep and heart monitoring.
Heights:
Sleek appearance
Fast pairing/syncing
Plains:
Sleep tracking not accurate
Somewhat difficult to remove/apply band
Suggested: If you are looking for a device specialized only in heart monitoring, you can look at our best heart rate monitors list.
5. Fitbit Ionic Smartwatch
Ideal for: Variety of activities, everyday use
A great smartwatch for your fitness needs is the Fitbit Ionic.
It is ideal for swimming as it does well tracking your underwater progress.
This can last more than four days as well, especially if you aren't using the built-in GPS system.
It features real-time guidance to help you on your fitness path.
In addition, it stores and plays more than 300 songs. However, it can take a good deal of time to transfer music.
For tracking purposes, it performs well, alerting you of your pace, distance, calories burned, and more.
Heights:
Bright, easy to read screen
Sturdy band
Plains:
Some apps can crash
Syncing issues
4. Motiv Ring Fitness Tracker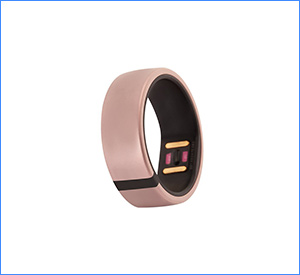 Ideal for: Everyday wear, casual to recreational use
The Motiv Ring is the best waterproof fitness tracker not styled in the shape of watch or band.
It fits easily on the finger, and it's unobtrusive as to not interfere with anything else you're wearing.
This puts out regular updates to keep it working properly, and it features a decent, 3-day battery life.
It has 24/7 activity monitoring from sleep to counting your steps.
The ring is durable and made from lightweight titanium that can withstand showering and swimming.
Heights:
Good sleep tracking
Lightweight and secure
Plains:
3. Garmin vívoactive Black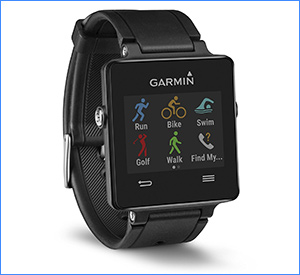 Ideal for: Casual/medium recreational use, multiple sports
The Garmin vívoactive is a simple fitness tracker that can handle a variety of outdoor activities.
It's ultrathin, and it features a color touchscreen display.
For how well it handles in the water, it has a 5 ATM water rating to hold up against sweat, shower, rain, and underwater while swimming.
This has numerous built-in sports apps as well as an onboard GPS.
A good charge without using GPS can last you up to three weeks.
Moreover, you can customize the watch face to suit your preference.
Heights:
Good display
Can charge fast
Plains:
Can't use multiple apps simultaneously
Bluetooth drains quickly
2. Polar V800 GPS Sports Watch
Ideal for: Casual to heavy recreational use, multiple sports
This advanced training watch is seen by many as the best waterproof fitness tracker for triathlon athletes.
It's compatible with Bluetooth running and cycling, and the watch is waterproof up to 30M.
The sports watch can monitor your heartbeat while you run, walk, cycle, and even swim.
Sometimes, however, the heart monitoring can have trouble connecting underwater.
You can customize profiles for each of your activities so that you can get the proper guidance for each individual activity.
The built-in GPS helps you keep track of everything along the way.
Heights:
Easy setup
Rugged, sturdy build
Plains:
Charging can get difficult
Can lose connectivity
1. Garmin Fenix 3 HR
Ideal for: Average to heavy use, multiple activities
The Garmin Fenix 3 HR can look good worn by the casual wearer to the more active, everyday user.
It features a soft, flexible and silicone band that resists any discoloration.
The watch features a chroma display that has a good resolution to be seen under sunlight.
For its water rating, it's rated up to 10ATM/100M.
This makes it incredibly suitable for longtime swimming use.
It has good heart rate monitoring that's wrist-based to eliminate the need for a chest strap.
Heights:
Good selection of activities
Nice amount of giving in the band
Plains:
Lacks a touchscreen feature
Slight delay in data
Conclusion
If you're looking to do water activities or just have your tech survive an unexpected downpour, the best waterproof fitness tracker will benefit you in the long run.
If you have any thoughts about the products on our list, feel free to share them in the comment section.
Recommended Read: The Best Waterproof Hiking Shoes to Keep Water Away!