Travel and adventures to exotic locales still top most people's bucket lists, but getting to those far-flung paradise islands or rugged mountains can literally be a pain in the neck. That's were the best travel pillow comes in!
Long haul flights, train rides, and even road trips usually mean trying to sleep or relax in an upright position for hours, forcing your head and neck to droop into cramping positions.
While we can't help you with crowded flights or long hours on a hard surface, we can help you find the best travel pillows to help ease your discomfort!
Just like anything, not every travel neck pillow is created equally.
When it comes to choosing which pillow is best for that long haul, consider factors like how easy it is to transport, how comfortable it makes you feel, and how much support it offers.
We've scoured what travelers like you and I are saying, and found the best travel pillow picks.
6. Lucear Twist Memory Foam Travel Pillow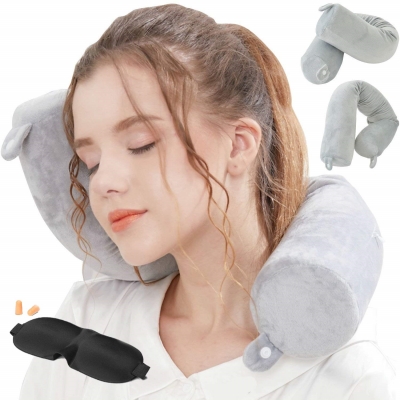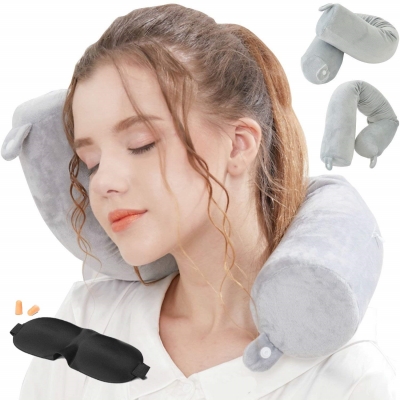 This may look like a twisty pool noodle, but this memory foam pillow is designed to support your neck, chin, lumbar area, and legs while sitting for long flights or train rides.
Unlike many travel pillows, the Lucear Twist lets you twist your travel pillow to contour to almost any shape and position you want.
You can twist it into all kinds of positions in order to cushion your body or painful pressure points.
Even better, you don't have the lean the pillow on anything in order to support your neck.
The pillow, according to its fans, can also be used at home to support your head, back, shoulder or cervical spine during a nap, when relaxing or reading on the bed or couch.
The pillow is easy to carry too. It has a snap closure that easily connects to your carryon luggage or backpack
The removable machine-washable cotton cover makes it easy to clean as well.
Heights:
Easy to carry
Comes with a removable machine-washable cover
Contours to the body
Plains: 
Some users said they could feel the moldable wire within the pillow, but that it wasn't a big enough discomfort to return.
5. HappyLuxe Travel Pillow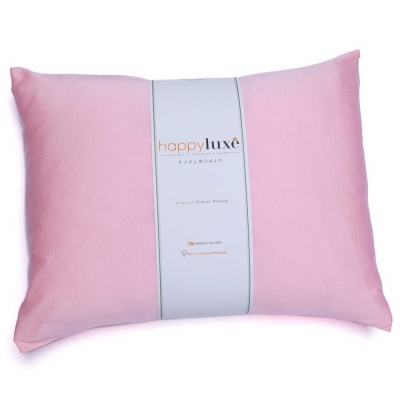 Along with its eco-friendly accessories, this may still be a small pillow, but it's bigger than its counterparts. Measuring at 18″ x 13″, the pillow is great for supporting your neck or lower back on planes, trains or in hotel rooms.
While it can't be attached to your luggage, it easily compresses to fit into a carry-on bag or backpack.
The cushion is also machine washable and hypoallergenic.
Made from 95% MicroModal and 5%Spandex.
Heights: 
Machine-washable cushion
Eco-friendly and hypoallergenic
Great for use on the go and even at home
Plains: 
Some users found the pillow too soft to use as a bed pillow
It ranked a little pricey for a few people's tastes
4. Travelrest Ultimate Inflatable Travel and Neck Pillow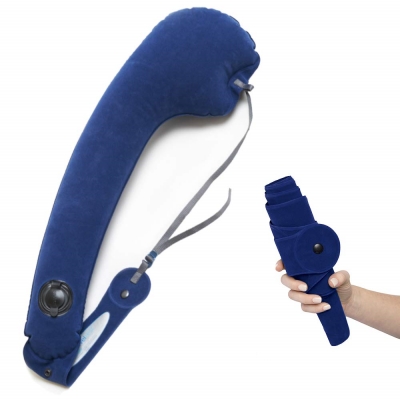 This product claims to be the only pillow that offers full lateral support for the upper body.
It also maintains that it can keep the head from falling forward while you sleep.
You can inflate it with just a few breaths and rolls easily when deflated to pack smart.
The pillow claims to use a patented design that provides enough support to prevent neck strain and tension because it can be positioned across the torso or down the side.
You can wear it like a messenger bag or tether the pillow to an airline seat by looping it over the headrest.
Heights: 
Multiple uses and ways to carry it
Simple and fast to inflate
Adjustable and washable
Plains:
Some users complained that the pillow grabbed at beard hair
Others consider that it is simply too complicated to be comfortable
3.
Trtl Pillow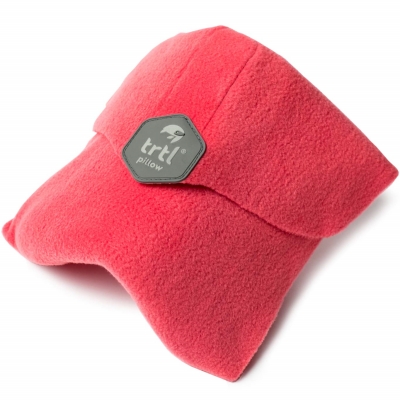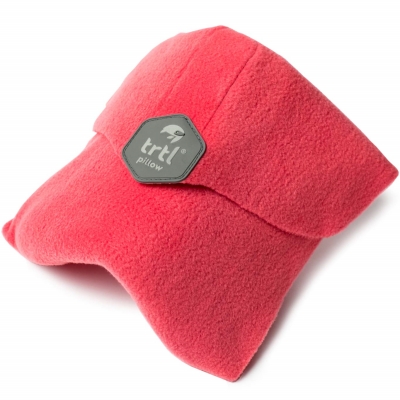 The Trtl Pillow — pronounced "turtle" has a strengthened inner rib to help with a custom fit for your neck, jaw, or shoulder shape.
Machine-washable for those sleepy drool moments, it's also smaller than most travel pillow.
Designed to look like a scarf, the pillow is covered in super-soft fleece.
You can attach it to your backpack or luggage handle.
It's pretty light too! This pillow weighs in at about a half a pound.
Heights:
Machine-washable
Made with super soft fleece and extra soft cushioning
Lightweight to carry and simple to attach to other gear
Plains:
Some users claim it does not support the neck as well as it claims
2. ComfoArray Head Support Travel Pillow
This pillow got high marks for its 100% memory foam design with front and side supports.
Designed specifically for airplane seats, the pillow doesn't push the head forward and can be adjusted to the neck size and angle using a side velcro strap.
You can roll up the ComfoArray inside a carryon or easily snap it to a backpack.
It also comes with a complimentary eye mask and ear plugs.
Heights: 
Ergonomic design and adjustable to the neck size
Lifetime warranty from the manufacturer
Comes with two accessories included
Plains:
A small number of complains that it was itchy or uncomfortable
1. Huzi Infinity Pillow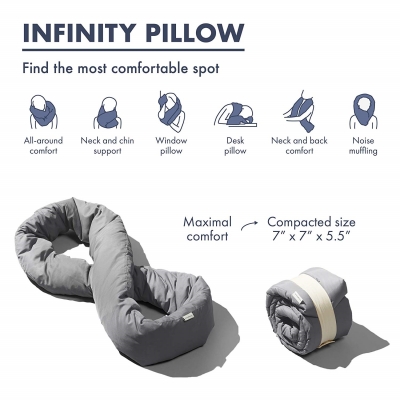 This Huzi pillow is getting a lot of attention and fans for its scarf-like Mobius-shaped design that promises the perfect balance of softness and support.
You can wrap and wear this pillow in a multitude of ways. Made of bamboo fabric and microfiber.
The machine washable pillow is also breathable, so you don't have to worry about your neck and face getting too hot.
Heights:
Made with high-quality, super soft materials
Innovative and supportive design
Adjustable and varied ways to use/wear it
Plains:
Conclusion
Travel pillows are mostly designed to support your upper spinal area and lower lumbar on flights and rides, and they come in a multitude of different designs and shapes.
Some are made from memory foam while others are stuffed with microbeads.
It's bad enough to sit upright or sleep on the ground, but it can be worse if you don't have the right comfort and support.
While it seems there are as many travel pillows out there as there are destinations to travel to, these top products we presented are traveler-tested and approved. Good luck, sleep well and travel on!
What is the best travel pillow you've used so far? Let us know in the comments!
Recommended: Don't forget to take a water bottle and even a blanket with you!