Your feet go through a lot, especially when running on uneven, rocky surfaces.
Still getting some quality trail running socks will grant you the protection and comfort you so much need on your adventures.
As they flood the market though, finding a valuable pair is tough so to take away some of your planning burdens, we've done some extensive research and have come up with a list of the best trail running socks!
Several points were considered before placing a pair of socks on our list.
We weighed their features (if they have moisture-wicking, their breathability, etc) and also took a look at other user opinions.
Also, our review breaks down their Heights (Pros) and Plains (Cons) of all the socks, so let's see how well they fit!
Top 5 Best Trail Running Socks – Editor's Pick
| | | | | |
| --- | --- | --- | --- | --- |
| Product Name | Length  | Fit | Compression | Get it At  |
| innotree Men's Hiking Socks | Micro Crew | Men (L) | No | |
| Swiftwick-Aspire FOUR | Quarter crew | Women/Men (S/M/L/XL) | Full | |
| Injinji Original Weight | Crew | Unisex (S/M/L/XL) | No | |
| MudGear Compression Socks | Full/below the knee | Men/Women (S/M/L) | Full | |
| MudGear Trail Running Socks | Ankle | Men/Women (S/M/L) | Ankle | |
9. RANDY SUN Unisex Hiking Socks
Ideal for: Light/Heavy recreation or moderate conditions
For the best trail running socks to meet your all-around outdoor activity needs, it doesn't get much better than this.
These trail socks use a special 3-layer design to form a waterproofing barrier.
Don't fear any puddles, mud, or rain on your trail as these socks can handle quite a lot, keeping your feet nice and dry.
An unfortunate thing about them is that they run big, which can cause bunching in the shoes.
Heights:
Waterproof
Ideal cushioning
Breathable material
Plains:
May run big – so they might bunch inside the shoe too
Poor antibacterial layer
8. Thirty 48 – Low Cut Running Socks for Men/Women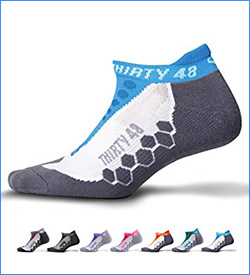 Ideal for: Light/Heavy recreation or moderate cold conditions
These running socks feature remarkable padding with an instep in addition to extra cushioning in the heel.
These features make them perfect for absorbing the shock so you can run longer.
The arch support is pretty good as well.
But, on the other hand, it can make it non-flexible and hard to just slip on quickly and go.
Also, though they keep you warm, they can also cause you to sweat too much in warmer weather.
Heights:
No slippage
Good arch support
Moisture-wicking & CoolMax fabric
Plains:
Stitching can come apart
Can be tough to put on
Minimal ventilation
7. YUEDGE Multi-Performance Socks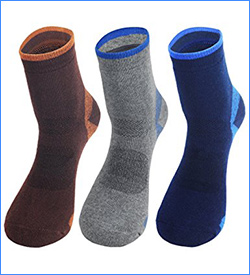 Ideal for: Light/Heavy recreation or moderate conditions
Easy to slide on, the YUEDGE socks are designed to prevent any pain or blisters.
The cotton keeps warm without causing your feet to sweat, while the moisture-wicking properties help you stay dry no matter what.
Continued wear may stretch them out, however, while washing them can accidentally cause shrinkage, so you should take good care of them.
Nonetheless, they are good all-seasons socks.
Heights:
Reduce pain/blisters
Optimal arch support
Variety season use
Plains:
Need more cushion
Elastic can get too tight
6. Drymax Trail Run w/ Turndown Socks
Ideal for: Light/Heavy recreation or moderate/extreme cold conditions
When shopping for the socks for trail running that can adequately keep dirt and such out, this is near the top of the list.
The turndown style fights off dirt so you can brave more on the trail.
If you happen to run into a large puddle or two, you should be dry in moments.
It's thick to keep you warm in cold conditions, but too much so that you'll be sweating in the summer.
Heights:
Dual layer moisture eliminator
Turndown style
Prevent blisters
Plains:
A little too thick
Could be softer
5. innotree Men's Hiking Socks for Outdoor Sports
Ideal for: Moderate Recreation/Moderate Conditions
Contenders for best trail running socks for all-around use, these socks are made using fine gauge knitting for prime comfort.
They are breathable and do a good job of keeping away moisture.
You should pay close attention to size though, as they tend to run rather small and can be too tight.
Heights:
Super-comfortable
No bunching or slippage
Good thickness
Plains:
May need more padding
Not as high as expected
4. Swiftwick – Aspire FOUR Compression Socks
Ideal for: Moderate/Heavy Recreation/Mild Conditions
With managed compression throughout, these socks regulate blood flow while you run and provide better support for short to moderate distances.
The Swiftwick socks are contoured as well for additional support, and they feature moisture-wicking properties.
With it being made for compression, the fit can be too small sometimes, making it a pain to put these socks on.
Heights:
Comfortable fit around the ankles
Good compression qualities
Stop foot pain
Plains:
The top can be too tight and tough to slip on
Questionable durability, according to some
3. Injinji Outdoor Original Weight Crew Socks
Ideal for: Mild/Moderate recreation or mild conditions
One of the best trail running socks with the five-toe design, these Injinji socks conform well to the shape of your feet.
With a comfortable, soft fit, they save you from blisters to allow you to run longer and pain-free.
They are rather lightweight though, so they may not work great in too cold of a weather.
Heights:
Perfect for stopping blisters/hotspots
Conform to your foot
High-quality moisture-wicking
Plains:
Too lightweight
Tend to snag or might be too snug
2. MudGear Compression Socks – Men & Women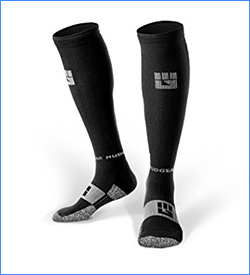 Ideal for: Heavy recreation or moderate/heavy conditions
True to their name, these compression socks will fight off muscle fatigue, pushing you to run harder and longer.
It holds to your legs and feet well enough to keep dirt and mud out, while the padding provides support against the harshest of surfaces.
The main downside is the fact that washing can potentially damage them.
Heights:
Designed for long distances
Extra padding
Don't hold water
Plains:
Heels can wear or they might run small
Washing may damage the elastic
1. MudGear Trail Running Socks – Women & Men
Ideal for: Heavy recreation or moderate/heavy conditions
As one of the best trail running socks, this is also one of the more durable ones.
Its sturdy construction makes it perfect for a variety of outdoor use.
Feel free to put these MudGear socks through their paces as they are built to keep your feet free from chaffing and forming blisters.
The compression isn't as much as anticipated though.
Heights:
Prevent blisters/chafing
Great durability
No sliding
Plains:
May not dry fast enough
Can stretch out
Conclusion
We researched dozens of products in our hunt to find what we consider to be the best trail running socks, evaluating hundreds of consumer opinions while weighing features that ranged from moisture-wicking to comfort.
Have you tried some of these or know some that didn't make the cut? We'd love to hear about your experiences with trail running socks!
Recommended Read: One last question: what pairs perfectly with trail running socks? You guessed it, trail running shoes!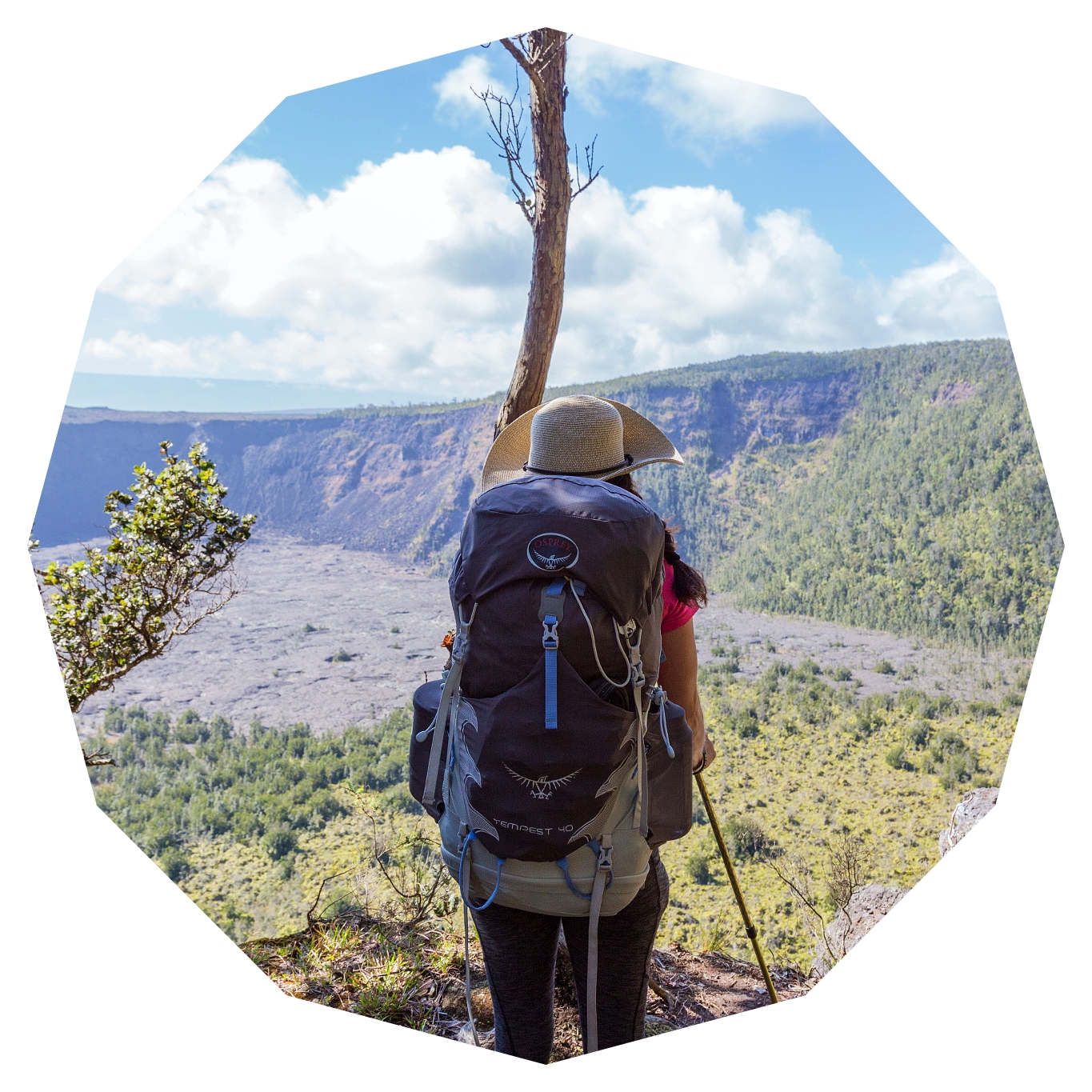 I haven't hiked every mile, seen all there is to see of nature, yet, but I'm working towards it. And while I do this, I can also suggest and recommend useful gear and accessories that will help you in the great outdoors.