Wearing sunscreen is essential for hikers, campers, and everyone going outdoors, in general.
Protecting your skin from harmful, potentially dangerous ultraviolet sun rays shouldn't be viewed as an option, but as a must.
This is especially true if you want to continue your hiking career well into the future.
Knowing what to look for and what to buy can be overwhelming, as so many products offer the same benefits.
But fear not fellow nature lovers, below you'll find the best tips and the best eco-friendly sunscreen products for your face and body.
I hope you take full advantage of these suggestions and take the tips and products on your next hiking adventure!
(You can find the full list of tips on how to choose sunscreen at the end of the article).
Here are some tried and true sunscreens that I have used during hikes all over the world: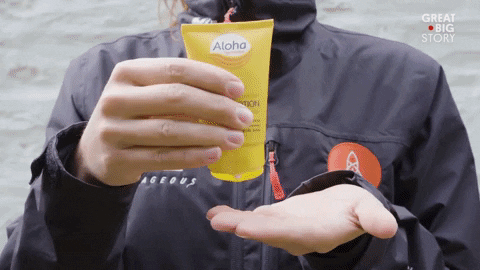 The 7 Best Sunscreens – Shay's Picks
7. La Roche-Posay, Anthelios 60 Melt-in Sunscreen Milk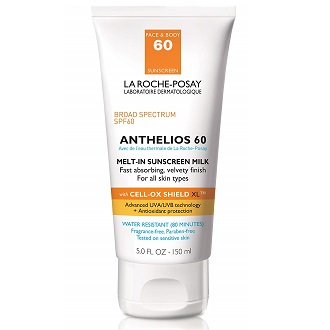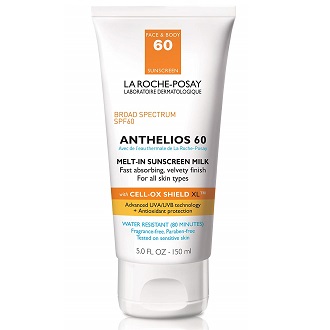 According to the 2019 Consumers' Report (CR), La Roche-Posay was among the highest-rated sunscreens among over 80 sunscreens ranked.
The sunscreen received an Excellent rating in three categories, including SPF, UVA and UVB, and water-resistant ratings.
Tests were conducted using a model similar to what the FDA requires companies to use.
According to those tests, La Roche-Posay's SPF rating ranked Excellent, closely matching the SPF grading on the bottle.
The screen also proved effective against water immersion and graded excellent against protecting skin from cancer-causing ultraviolet rays.
Heights: 
Dermatologist-recommended sunscreen
It is non-greasy and fast-absorbing
Easy to apply and water-resistant
Fragrance-, Paraben-, Oil-free
Plains: 
Several users complained that it is greasier than it claims to be
6. BullFrog, Land Sport Quik Gel
Bullfrog Land Sport Quik Gel was also right up there in the rating.
It received Excellent scores in SPF, UV, and water-resistant rating.
This makes it one of the best and one of the cheapest options for any purchaser.
Heights: 
Has a long-lasting sweat resistance (approx 80 minutes)
Oil-free
Non-greasy and ultralight feel
Plains: 
Some users complain that this sunscreen did not absorb instead got clumped on the skin
5. Walgreens Hydrating Lotion SPF 50 Sunscreen (Eco-Friendly)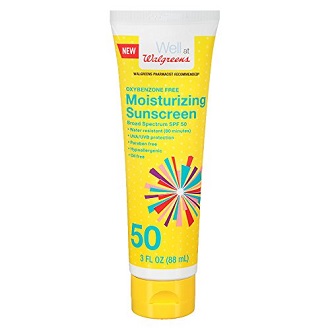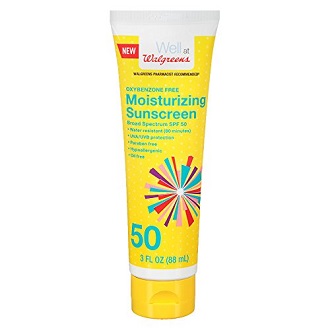 The Walgreens brand sunscreen was also among the highest-rated, according to CR results.
The brand received Very Good scores in all three areas.
It also does not contain the potentially harmful oxybenzone ingredient.
The FDA highlighted it as being potentially dangerous to people and coral reefs.
Until further tests are concluded, products not containing oxybenzone would be best for children and young adults.
Heights: 
Water-resistant (approx. 80 minutes)
PABA-free
Quickly absorbed and non-greasy
Plains: 
May stain or damage fabrics or surfaces
Must be reapplied after towel drying or at least every 2 hours
4. Hawaiian Tropic Sheer Touch Ultra Radiance Lotion SPF 50 Sunscreen (Eco-Friendly)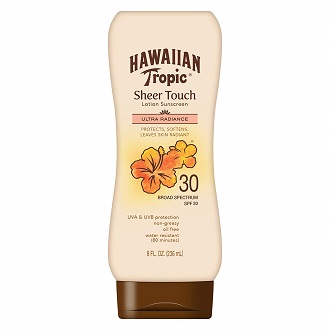 Hawaiian Tropic's sunscreen is also among the top sunscreen products that does not contain octocrylene.
It also received Very Good scores in all three categories.
It is made with shea butter, vitamin E, and mango fruit extract.
Besides protecting it, this sunscreen also softens your skin and should give it a radiant look.
Heights: 
Non-greasy and simple to apply
Oil-free
Skin nourishing and with a tropical fragrance
Plains: 
Must be reapplied at least every 2 hours
Some issues with the packaging (holes in the cap, bottle half empty)
3. Trader Joe's Spray SPF 50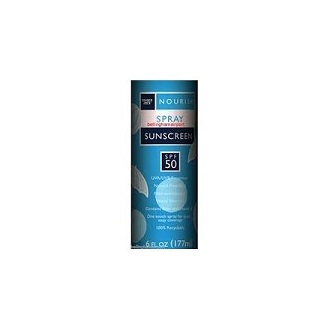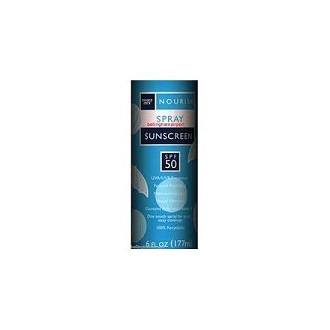 Along with La Roche Posay, Trader Joe's SPF 50 sunscreen received a top score from the CR publication.
It was the fourth year in a row, and it rated perfectly in each category during all these years.
Heights: 
Minimum water resistance of 80 minutes
Not-oily and stays well on the skin
Plains: 
A small number of complaints that it leaves the skin feeling sticky or that it's not that effective
2. Badger SPF 30 Active Mineral Sunscreen Cream for Face and Body (Eco-Friendly)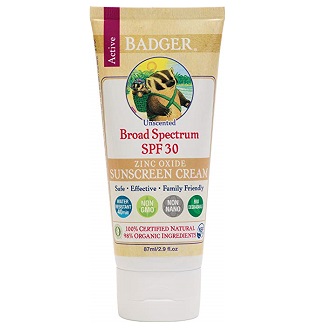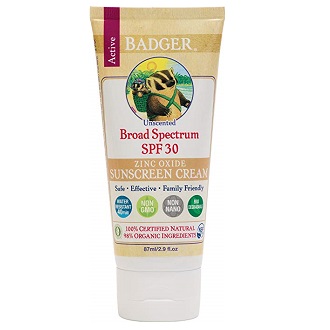 This Badger sunscreen doesn't use oxybenzone and octinoxate.
These are two eco-damaging ingredients commonly found in sunscreens.
This sunscreen claims to be water-resistant for 80 minutes.
It also does not use GMOs and is biodegradable.
The active ingredient in the product is Zinc Oxide – this protects from both UVA and UVB rays.
Heights: 
It is safe and 98% certified organic
Non-GMO
Marked as being reef-safe, biodegradable, and environmentally friendly
Protects and hydrates the skin
Plains: 
Quite thick, so it might stay on the skin or stain surfaces
Several users complained that it did nothing to protect them from the sun
1. All Good Sport Sunscreen Lotion (Eco-Friendly)
All Good is a broad-spectrum sunscreen with an SPF level of 30.
This sunscreen also claims to be environmentally friendly, as it uses natural minerals to physically protect the skin from the sun.
It does so instead of using chemicals that could be potentially damaging to the environment.
It claims to be water-resistant for 80 minutes as well!
Heights: 
Vegan, Gluten-, and Oxybenzone-Free
Non-greasy, lightweight formula
Made of organic components
Help protect and repair damaged skin
Plains: 
Might not work that well for all users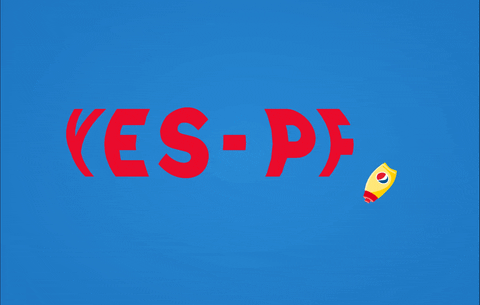 Reason to Wear Sunscreen
Not only can UV rays cause sunburn, skin aging, and cancer, but they can also cause cataracts and suppress the body's immune system.
This also makes it more likely that you'll fall ill with other symptoms.
Nobody wants that to happen, especially if you're on a long hike in the Alps or trekking through the woods, or just in your backyard.
What's worse, some sunscreens only protect from UVA but not UVB rays.
Or vice versa.
Tips on How to Choose the Best Sunscreens for you!
#1. Buy broad-spectrum sunscreen
First things first, when buying sunscreens, be sure to check whether or not the product offers protection from UVA and UVB rays.
Longwave ultraviolet (UVA) rays penetrate deep into the skin and are responsible for causing premature skin aging, including wrinkles.
According to several studies, up to 90% of skin aging is due to sun exposure.
Short wave ultraviolet (UVB) rays, on the other hand, burn the outermost layers of the skin.
This is not fun in any situation, especially when hiking.
Not only can sunburn cause immediate damage, but it can also cause permanent damage that can lead to even worse health problems.
Buying sunscreens labeled with "broad spectrum" (which protects against both UVA and UVB rays) is the best way to ensure that your skin is thoroughly protected.
#2. Wear 'water-resistant' not 'waterproof' sunscreen
Major changes have occurred concerning how companies can label their sunscreen products.
No longer can companies label their products with "sweat-proof," "waterproof," and "sunblock," because, as the FDA puts it, they're impossible claims.
"Water resistance claims on the product's front label must tell how much time a user can expect to get the declared SPF level of protection while swimming or sweating," the FDA said.
Now, companies are only allowed to claim that products are "water-resistant" for either 40 or 80 minutes, based on standard testing.
While this might be older information, I've found that people still search for waterproof instead of water-resistant sunscreens.
So, if you're one of these people, know that companies are no longer legally able to sell these products in the US.
#3. Use SPF 30 (and don't worry about buying anything higher)
There's a reason you see so many SPF (sun protection factor) products on the shelves at your local department store.
Higher SPF products don't offer any more protection than SPF 30 products.
According to several studies, SPF protection does not increase proportionately with its SPF number, meaning that SPF 30 is almost as protective as SPF 50.
So, save your money on the so-called more protective products and buy SPF 30 for all your skin-saving needs!
#4. Use sunscreen lotion not sunscreen sprays
Dermatologists have long encouraged people to apply sunscreen liberally, at least 1 ounce of it on every part of your exposed skin.
There's even the handy teaspoon and shot glass rule.
This states that you should apply a teaspoon to your face and neck and a shot glass worth of sunscreen to other parts of your body.
The reason for this: simple. Missing a spot here or there leaves that area unprotected from harmful, cancer-causing rays.
To avoid this, consider using lotions instead of sprays.
Sprays simply don't get as absorbed into your skin as lotions do.
Many people only spray and don't spread, which isn't a winning formula!
Remember!
Please apply sunscreen 30 minutes before going outside, and remember to reapply every 2 hours.
#5. Wear protective clothing (if sunscreen isn't your thing)
Last but certainly not least, wearing protective clothing that blocks harmful rays is another great way to protect your skin.
Shirts, pants, hats, sunglasses, and even gloves can be skin-saving items if you do choose not to wear sunscreen.
They are also great if you're afraid that you'll be exposed for far too long in the sun.
Consider buying clothes with a good ultraviolet protective rating (UPV).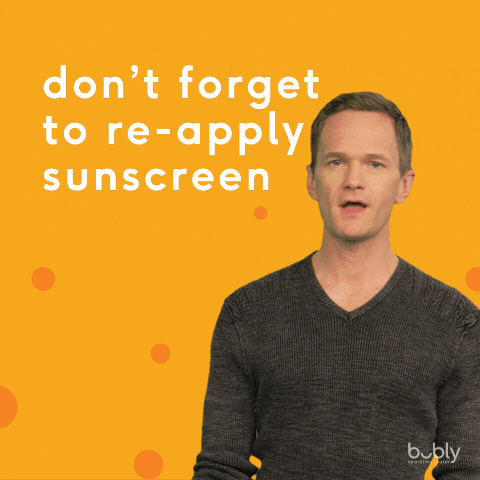 Conclusion
Though finding effective eco-friendly sunscreens is a bit tricky, brands are making headway to both protect the skin and environment.
If you do get sunburned, though, be sure to treat your skin immediately.
To do this, get out of the sun and under some shade.
Next, drink plenty of water (always carry a water bottle with you) and apply over-the-counter hydrocortisone cream or aloe.
You can then take a cool bath and medication such as aspirin.
If problems persist, consult your doctor.
Let me know which is or are your favorite sunscreens and what you like to use while outdoors.
Have fun out there, but always remember to protect your skin!
Recommended Read: The Ultimate Hiking Items Checklist [PDF]