Though summer's on its way, there are plenty of mountain skiing tracks were those who love the fast-paced downhill descent. Whether you are an advanced, pro, or beginner skier, the only problem is the type of ski that best suits your needs. Where to start? Well, we've compiled this top ten best skis for beginners list, paying attention to the quality of the core material, the tail profile, and usability, which we used as criteria.
So just read our list and choose if any of these skis for beginners is for you.
5 Best Skis for Beginners – Editor's Pick
Here is an overview of the top 5 skis for beginners that are a sure buy, guaranteed to last and, what's more, perfect for any newcomer to the sport of skiing.
| | | | | | |
| --- | --- | --- | --- | --- | --- |
| Product Name | Rossignol Smash 7 with Xpress 11 Bindings | Volkl RTM 75 + 4Motion 10 Bindings | K2 Strike Skis with Bindings | Atomic Nomad Blackeye Skis with XTO 12 Bindings | Nordica Avenger 75 Skis |
| Tail Profile | Flared |  Flared | Flared | Flared | Flared |
| Tip/Waist/Tail Widths | 119/92/109 | 120/75/105 | 112/70/97 | 129/81/109 | 127/75/105 |
| Core Material | Wood & Composite | Wood | Wood | Wood with metal laminate | Wood with carbon |
| Editor's Rating | 5 stars | 4.9 stars | 4.7 stars | 4.8 stars | 5 stars |
10. Rossignol Experience 75 Carbon w/Xpress 11 Bindings
Ideal for: All Mountain
The Rossignol Experience 75 comes with a frontside carver and easy freeride feel. These skis on our best skis for beginners list are made with Rossignol's Air Tip technology benefiting from a blend of rocker and camber. The lightweight construction offers superior mountain performance for easier progression across all types of snow.
These skis for beginners offer powerful edge grip with maneuverability and speed control. As such, they are the best skis for beginners which are worth every penny.
Pros:
Lightweight & easy to maneuver
Suitable for all snow conditions and all-mountain performances
Cons:
Cannot choose the binding mounting position
When bindings begin to wear out it is much harder to find source replacements
9. Salomon QST Skis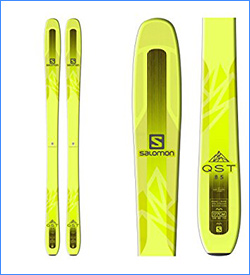 Ideal for: All mountain
The Salomon QST 85 are the best skis for beginners thanks to their fiber reinforcement on top of edges. It improves durability, edge grip, and resistance to shock. What's more: a combination of ABS sidewalls under the foot and monocoque construction at the tail and tip offers smooth contact of these skis on a ski-to-snow contact.
Pros:
Slight rise to the tail of the ski and basalt fiber layer across the length of the ski for dampening and vibration absorption.
Cons:
Floppy tips that experience frequent chatter
8. Atomic Vantage 75
Ideal for: All mountain
Lightweight and versatile, the Atomic Vantage 75 is a pair of skis perfect for beginner skiers. They have a layer of rigid carbon tank mesh which confers strength. On top of that, they have firewall sidewalls for a powerful grip.
Pros:
Rockered tip keeps things simple and skiing playful.
Light woodcore.
Cons:
7. Line Supernatural 92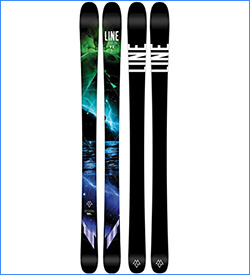 Ideal for: All mountain
The Supernatural 92 skis from the Line manufacturer has – unlike its predecessors – a slimmer waist which makes it feel more approachable on-piste. With titanial laminate, these skis will help you, as a beginner skier, to reach new heights on the hill.
Pros:
Offers 2 full-length Maple stringers enclosed by Aspen to offer the best of both super-snowy terrain and less-snowy terrain
The P-Tex plastic walls that surround the edges absorbs vibrations for a smoother feel
Cons:
The metal component will make skiing a bit heavy & slow. This will make skiing a bit slow and hard to handle when encountering bumps on the track.
6. K2 Press Skis
Ideal for: All mountain
The Triaxal braiding is one of the trademakrs of the K2 press skis for beginners. Along this triaxal braiding, the skis feature park flex and an aspen core, whle the cap constructions offers some weight off for rapid progression and ease of turns.
Pros:
These skis are lightweight
They offer a smooth ride
Consist of durable material
The skis offer a good carving ability
Good grip
Cons
5. Rossignol Smash 7 w/Xpress 11 Bindings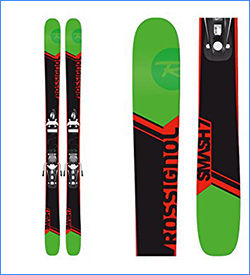 Ideal for: All mountain
These are worth mentioning because these are the best skis for beginners who want to test their skills on the mountain. These Rossignol skis have a 92mm waist width, thus giving you ample support as you are cruising down a groomer with light moguls.
Pros:
With a RossiTop cap construction, which offers plenty control and responsiveness.
A built-in powder turn rocker offers ease of turning, lots of vibration absorption and floatation.
Cons:
We were not able to find any cons. So these are truly one of the best skis for beginners.
4. Volkl RTM 75 IS SKIS + 4MOTION 10.0 BINDINGS
Ideal for: All mountain
The RTM 75 skis with 4Motion bindings are the best beginner skis that offer the perfect support to transition from the mellower groomers toward the base and moving upward, to the more aggressive terrain above.
Pros:
The Volkl RTM 75 skis have a subtle tip rocker
They have a dual wood core which makes them run straight
Cons:
We did not find any cons regarding these skis.
3. K2 Strike Skis with Bindings
Ideal for: All mountain
The K2 strike skis with Fastrack3 bindings are affordable and reliable. They use MOD technology. This type of technology envelops a carbon weave through which the carbon strands are assembled at pinpoint precise angles for supplementary torsional rigidity on the secondary core. As such, the skis are light, yet they still offer the necessary torsional strength when you need it most.
Pros:
The use of the Hybritech, which combines accuracy and power performance, offers a lightweight and smooth turn initiation of cap construction.
The twin tip shapes of the skis enable skiing in both directions.
Cons:
We were not able to find any cons regarding these skis. This makes them a sure buy on our best skis for beginners.
2. Atomic Nomad Blackeye Skis with XTO 12 Bindings 2016
Ideal for: All mountain
On our second place, the Atomic Blackeye skis are best for beginner skiers all the way up to intermediate skiers. They offer stability and a solid edge hold on the snow. With one single mounting position on the center of the ski, thanks to the ARC technology, the skis can bend and flex in a natural manner when turning, while offering a more solid edge contact and pressure on the snow.
Pros:
Titanium stabilizer, which improves shock absorption while also increases the torsional strength
A cap construction in the tips and tails improves maneuverability
These beginner's skis have an 81mm waist which is wide enough for stability, but not too wide to become cumbersome.
Cons:
They might feel a little heavy at some point, which will put more effort on the beginner skier.
1. Nordica Avenger 75 Skis
Ideal for: All mountain
Our top spot goes to the Nordica Avenger 75 skis. A fine learning tool for the absolute beginner up to the intermediate skier which is easy to steer and control. With a rocker—camber—rocker profile with the widest point being 2" wider than the traditional ski. Thus improving the balance for the beginner skier.
Pros:
Two wood stringer provide stability
Multiple carbon layers make the ski easy to control with minimum effort needed
Cons:
Not one con was found when testing and researching for user feedback regarding these Nordica Avenger skis.
Conclusion
Here it is. Our list of the best skis for beginners has come to an end. We did our best to offer you only top-quality and affordable skis to choose for your next skiing trip. Their pricing won't break the bank, but their quality will ensure that they last for as long as you keep learning skiing. After that, naturally, you'll have to move on.
Tell us your thoughts about our list. Do you find it comprehensive? Do you think that there are other skis that would have deserved to be on our list? Let us know; also, don't forget to subscribe to our Reviews Outdoors newsletter for up to date info about outdoor clothing, running shoes, and much more.