Everyone knows how vital helmets are to your safety when riding a motorcycle. With the dozens of helmets on the market, it's easy to get lost when searching for the right one. In order to limit your search, we reviewed top 10 products to find the best motorcycle helmet of 2018. In order to conduct our reviews, we looked at the negatives and positives of each helmet. A few of the features we kept in mind were safety certification, comfort, design, and more.
Top 5 Best Motorcycle Helmets – Editor's Pick
In the chart below, you'll find the top 5 motorcycle helmets on our list, along with their specs.
| | | | | |
| --- | --- | --- | --- | --- |
| Product Name | Type | Shell Material | Color | Editor's Rating |
| Bell Qualifier Tagger Splice | Street/Full-Face | ABS/Polycarbonate | Gloss White/Black/Red | 4.3 |
| YEMA YM-915 Helmet | Full-Face | ABS/EPS | Matte Black | 4.5 |
| Daytona Helmets Cruiser Slim | Three-quarter | Polycarbonate | Dull Black | 4.5 |
| 1Storm Motorcycle Modular Full Face Helmet | Modular | Thermoplastic Alloy | Carbon Fiber Black | 4.6 |
| Conquer Snell Full Face Racing Helmet | Modular | Fiberglass composite | Matte Black | 4.7 |
10. Fuel Helmets Full Face Helmet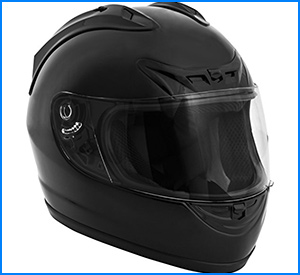 Ideal for: Beginning riders, short trips, average speeds
Available in four sizes, this helmet from Fuel Helmets has some comfortable, removable cheek padding inside. It has a thermoplastic shell that doesn't weigh you down, and it has UV clear coated paint as well. There are closeable forehead and chin vents, and a snap to stow aside excess chinstrap. For certification purposes, it is DOT approved. However, this may be better to be used at lower speeds, as it can get loud.
Pros:
Fits true to size
Lightweight
Cons:
9. VCAN V531 Half Helmet
Ideal for: Passenger, light riding
The VCAN Half Helmet may be the best motorcycle helmet for those on a budget. It is DOT approved thanks to its ABS thermoplastic resin shell. There is also a removable, washable cheek padding along with another interior padding. It's compact and light enough that it won't cause fatigue while wearing for longer rides. This works well with gloves due to the spring-loaded chinstrap buckle and smooth visor hinge.
Pros:
Comfortable
Good retention straps
Cons:
8. ILM Full Face Motorcycle Street Bike Helmet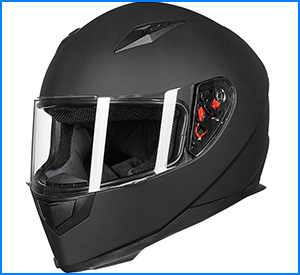 Ideal for: Beginners, colder weather, street riding, passenger
The ILM Full Face Motorcycle Helmet comes in a handful of color styles, and it features two different visors: clear and smoked. It is ideal for those colder riding days as it comes with a comfortable neck scarf. The helmet meets DOT and FMVSS-218 standards as well. It's light in weight and features a durable ABS shell. To cut down wind noise, it has a streamlined aerodynamic design. You can also look at these best bike helmets recommendations.
Pros:
Cons:
Difficult to change visors
7. Triangle Full Face Street Bike Motorcycle Helmets
Ideal for: All-around street riding
Next in our search for the best motorcycle helmet, we have this street bike and motorcycle helmet from Triangle. This full-face helmet has an entirely removable inner liner that can easily be washed. It uses multi-density EPS liner, and its exterior is an advanced ABS shell that has a high-pressure thermoplastic technology. Along with the ventilation system comes rear and top extractors liner. With it being DOT approved, this Triangle Helmet is a reliable, all-around helmet to use during street riding.
Pros:
Low wind noise
Feels stable
Cons:
6. AFX FX-39 Unisex-Adult Full Face Helmet
Ideal for: Motocross, off-road, casual street riding
The AFX helmet can be used with or without the visor so you can experience open-face riding or put on a pair of goggles. It is DOT certified, and it is constructed using an aerodynamic shell design with poly-plastic. This provides it enough strength to be reliable without being too heavy. The cheek padding is removable and the liner is made from antimicrobial nylon. Moreover, this helmet is available in multiple colors.
Pros:
Breathable
Good visibility
Cons:
5. Bell Qualifier Tagger Splice Full-Face Motorcycle Helmet
Ideal for: Entry-level, all-around street driving
This may be one of the best motorcycle helmets that comes with a multitude of design choices for those who care about aesthetics. Concerning safety, it is DOT and ECE certified. The ABS/polycarbonate shell construction is durable to withstand punishment while keeping you protected. There may be wind noise, but the padded wind collar helps reduce it. The shield is anti-fog, anti-scratch, and UV protected.
Pros:
Quality venting
Aerodynamic
Cons:
Cheek padding can be tight
4. YEMA YM-915 Motorcycle Helmet
Ideal for: Casual off-road, beginners to experienced
This professional-grade helmet meets or exceeds both DOT and FMVSS 218 standards. It can be used by a variety of people with various skills, from teens to adults. The ventilation system is easily adjustable to keep you cool. With the other materials, there's the ABS shell and multi-density EPS. Though you may have to size up, when fitted correctly, there's enough space for glasses.
Pros:
Easy to remove padding
Light and easy to wear
Cons:
3. Daytona Helmets Cruiser Slim Line Shell Helmets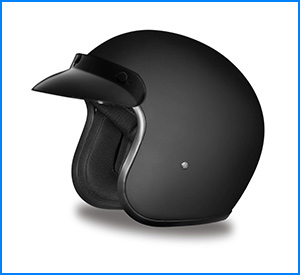 Ideal for: All-around street riding, high speeds
Next on our best motorcycle helmet list, we have the Daytona Helmets Cruiser Slim Line. When wearing this helmet the wind is usually not a factor as the helmet sits snug. There are several different sizes to assure most people can fit it. It has a quick-release lock that can be managed with one hand, and for comfort's sake, it has moisture-wicking fabric. The shell design meets DOT standards accordingly.
Pros:
Sleek design
Stays in place
Cons:
Could use better ventilation
2. 1Storm Motorcycle Modular Full Face Helmet
Ideal for: All-around street riding, various experience levels
The 1Storm Helmet is DOT approved and made of a thermoplastic alloy shell that is aerodynamic. It has removable and washable padding. The helmet is made with a quality modular design, and it features dual lens (inner smoked and outer clear shield). It is yet another one of the best motorcycle helmets available in a multitude of color choices to personalize it.
Pros:
Good vent controls
Fits well
Cons:
1. Conquer Snell Full Face Racing Helmet
Ideal for: All-around streetwear, high speeds
Rounding out the list for the best motorcycle helmet is the Conquer Snell Full-Face Helmet. It is SNELL SA2015 certified safe. The helmet features a lightweight fiberglass composite shell that fits comfortably. On the inside, there is fire retardant material. Additional features include a flame-resistant shield, removable cheek pads, and anti-scratch tech.
Pros:
Excellent durability
Comfortable ventilation
Cons:
Conclusion
In order to stay safe whether you ride on the street or off-road, you need the best motorcycle helmet. They should also be comfortable enough to wear, and having a nice design is an added bonus. In the end, what truly constitutes as the best product will depend on what kind of driving you do and your experience. Do you agree with the 10 helmets on our list? Let us know in the comments.