Longboards are a useful alternative to traditional skateboards for those who mainly want to use their board for transportation. Longboards move swiftly, making them perfect for cruising on flat or downhill surfaces. In this article, we'll review 10 of the best longboards of 2018. We'll describe each longboard, highlighting any important features, pros, cons, and recommended uses. We've chosen these 10 items based on user reviews, material, durability, and affordability.
Top 5 Best Longboards – Editor's Pick
This table highlights the top 5 best longboards and compares them based on some of the important criteria described above.
| | | | | |
| --- | --- | --- | --- | --- |
| Product Name | Material | Length | Deck design | Editor's Rating |
| Wiisham Professional Speed Longboard | Maple | 42″ | Downhill | 4.2 |
| Magic Union Maple Drop Down Longboard | Maple | 41″ | Downhill | 4.4 |
| Ten Toes Board Emporium Zed Longboard | Bamboo and maple | 44″ | Cruiser | 4.5 |
| Volador Freeride Longboard Complete Cruiser | Maple | 42″ | Downhill | 4.6 |
| The Quest Super Cruiser Longboard Skateboard | Bamboo and maple | 44″ | Cruiser | 4.8 |
10. Sector 9 Highline Complete Skateboard
Ideal for: Beginners

First on our best longboards is this Sector 9 longboard that is the shortest on our list and the closest to a traditional skateboard. It has a classic cruiser shape and is 34.5" long. It comes in 3 pleasant designs. The deck is made from maple wood, which is a common staple in skateboard deck design since it's reliably sturdy. It has a taco mold and a top mount, which offers leverage and control.
Pros
Wonderful deck designs
Taco mold
Top mounted trucks
Cons
9. Karnage Drop Through Longboard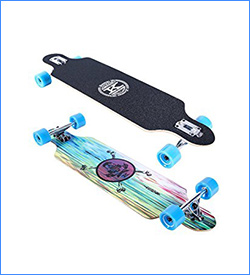 Ideal for: Beginners, downhill riding

The Karnage longboard is made from Canadian maple wood. The trucks are drop through. Though it's designed as a downhill board, it's suitable for beginners. The only part that may need to be upgraded is the bearings. The board is 38 inches long and comes in 5 bright, attractive colors.
Pros
Maple wood deck
Drop through trucks
Several colorful designs
Cons
Trucks are quite loose initially
Bearings can become squeaky
8. Rimable Pintail Longboard
Ideal for: Long-distance riding, commuting

The Pintail longboard from Rimable comes in a classic cruiser design. It uses drop through trucks and has a 9-ply maple deck, which is a sturdy and reliable material. This board is over half off right now, making it affordable even for budget buyers. While the wheels and bearings are not the highest quality, the board itself is a great value. It's perfect for experienced and novice riders alike.
Pros
Maple laminated deck
Cruiser design
Easy to ride
Cons
Wheels and bearings could be upgraded
7. Puente Pro Drop Through Complete Longboard
Ideal for: High-speed or downhill riding
The Puente board has drop through trucks, which offer greater stability though they are less responsive. This board also features ABEC 9 bearings and a maple laminate deck. It's 41 inches long and is designed for high-speed and downhill riding, also it has a low center of gravity.
Pros
Low center of gravity
Designed for downhill longboarding
Drop through trucks
Cons
6. White Wave Bamboo Longboards
Ideal for: Any rider
This White Wave longboard is made from lightweight bamboo with sturdy Canadian maple. It has a simple look, with matte black trucks and bright colorful wheels. This board is not on sale, but it's still reasonably priced. Different colors of this board also come in different styles, some of which are lower to the ground for smooth downhill rides and others which have an ideal cruising shape.
Pros
Bamboo and maple deck
Durable and sturdy
Different designs available for different riding purposes
Cons
5. Wiisham Professional Speed Longboard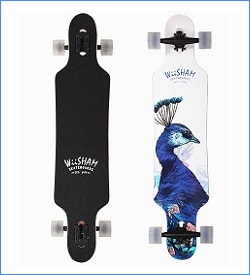 Ideal for: Intermediate riders
Wiisham Professional longboard is available online and it comes in 6 different colors and designs. It's 42 inches long and made from Canadian maple. Though the paint quality isn't the greatest, this is a great bargain for the money. It's great for downhill riding and has an aluminum alloy stent.
Pros
Steady at high downhill speeds
Made of Canadian maple
ABEC 9 bearings
Cons
Low paint quality, chips easily
4. Magic Union Maple Drop Down Longboard
Ideal for: Downhill riding

This Magic Union longboard has a downhill-riding shape, so it's ideal for intermediate riders who can handle high speeds. This board has shock absorption, chrome bearings, and durable wheels. It remains steady during high downhill speeds and can accommodate riders of up to 330 pounds. It's made of durable maple wood.
Pros
Maple deck
Steady at high speeds
Affordable
Cons
Bearings need to be updated
3. Ten Toes Board Emporium Zed Longboard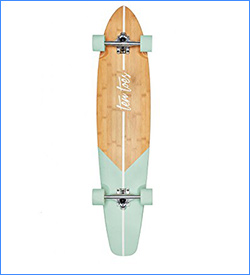 Ideal for: Cruising
The Ten Toes longboard has a rare combination of style and quality. It has the look of a vintage cruiser but is well-made, durable, and modern. It's made of bamboo and maple, so it's durable and sturdy. It's perfect for cruising on mostly flat surfaces, and though it's a bit on the heavy side, it's a wonderful board for beginner or intermediate riders.
Pros
Lightweight trucks
Stylish vintage designs
Cons
2. Volador Freeride Longboard Complete Cruiser
Ideal for: Beginner downhill riding
Next on our best longboards list is this Volador downhill-style longboard for those who are new to longboards. It's affordable and well-made for the price, though you may want to switch out the trucks and bearings for something more durable. It comes in various colors and is made of maple laminate. It's lightweight and great for learning.
Pros
Maple board
ABEC 9 bearings
Drop through trucks
Cons
Difficult to tighten trucks completely
Average bearings
Board not quite as durable as other models
1. The Quest Super Cruiser Longboard Skateboard
Ideal for: Beginners

The Quest longboard has a great medium length of 44 inches. It's made of hardwood maple, which is sturdy and durable, along with bamboo for lighter weight. The trucks are normal top mounts, unlike many of the drop down or drop through longboards on this list. This allows for a smooth, surfing-like ride. Since this board is a great value for the price, it's perfect for beginners, especially if you're willing to update the trucks and bearings.
Pros
Maple and bamboo deck
ABEC 7 speed bearings
7-inch aluminum trucks
Cons
Sub-par trucks and bearings
Wheels are not the most durable
Conclusion
These 10 best longboards are incredibly affordable, making them perfect for the beginner longboard user. They're also durable, lightweight, well-designed, and easy to maintain. If you generally love sports, you can also check out our best snowboards list. If there are any other affordable best longboards that we missed here, make sure to let us know in the comments section below!