Selecting your kayak paddle is as important as choosing the kayak itself.
Something that is uncomfortable for you to hold will lead to you having difficulty paddling. Other considerations you should take into account are the material of the shaft and blades, the overall design, and the durability.
We looked into those features and more when determining our list in order to find the best kayak paddle.
Top 5 Best Kayak Paddles – Editor's Pick
In the table below, you will find details and specs about our top 5 picks for the best kayak paddle:
| | | | |
| --- | --- | --- | --- |
| Product Name | Material | Design | Get It At  |
| Airhead Kwik Tek | Aluminum shaft/ABS blades | Curved | |
| Carlisle Magic Plus | Fiberglass shaft/Polypropylene glass blades | Asymmetrical spooned | |
| SeaSense X-Treme II | Aluminum shaft/Polypropylene blades | Feathered | |
| Bending Branches Whisper | Aluminum shaft/Fiberglass nylon blades | Asymmetrical | |
| Werner Camano | Carbon fiber shaft/Fiberglass blades | Asymmetrical dihedral | |
10. Shoreline Marine Kayak Paddle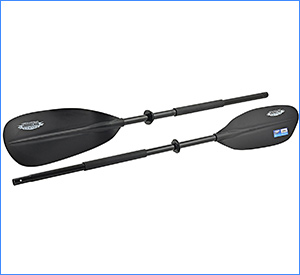 Ideal for: Entry-level, casual riding, short trips
The Shoreline Marine Kayak Paddle is seen as by many as the best kayak paddle for beginners.
It's simple to use, weighs just over 2lbs, and it has a 3-position system to allow for a more customized fit.
The straight shaft is aluminum and corrosion resistant, while the plastic blades are contoured and molded to help them be more reliable in the water.
For comfort, there are foam grips and drip guards to keep you dry.
Moreover, you can disassemble it into two separate pieces for simpler transportation.
Heights:
Sturdy shaft
No hand fatigue
Plains:
Blades may snap around the pole
Grip moves too easily
9. Naviskin 5-Color 2-Piece Construction Kayak Paddles
Ideal for: Light to heavy use, recreational
This symmetrical feathered paddle is made using corrosion-resistant aluminum.
It's lightweight so that you can use it for longer rides without experiencing too much fatigue.
The paddle also has three separate locking positions. Once you assemble the two pieces it is 87in long. T
here is a ridge molded into the grip in an effort to help you hold on better.
The Naviskin is available in five colors if you're interested: black, yellow, blue, orange, and white.
Also, if the paddle is ever dropped in the water, it has minor floating capabilities.
Heights:
Easy to store
Sturdy blades
Plains:
Connects can become loose
May cause blisters
8. Carlisle Day Tripper Kayak Paddle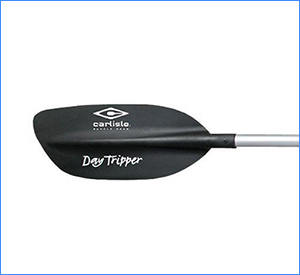 Ideal for: Small water, casual light use
With the Carlisle Day Tripper, you get a tempered aluminum paddle that doesn't weigh much.
The blades are made from polypropylene, and they are sturdy enough to hold up against light usage in average waters.
This 2-piece paddle is available in three different sizes.
With a simple push of the button, you can use the blades feathered 60-degrees for either left or right-handed use, or use it in-line.
Storing this paddle is simple as well thanks to its design.
It's a good inexpensive option for those who need a spare paddle or are just starting out.
Heights:
Well-balanced
Can be used straight or angled
Plains:
Doesn't float well
Water can get into blades
7. Leader Accessories Marine Kayak Paddles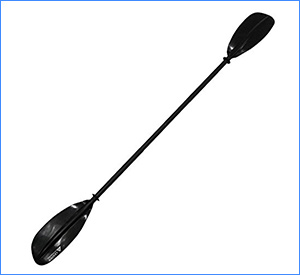 Ideal for: First-time to seasoned users, recreational
The Leader Accessories Marine Kayak Paddle utilizes an enforced push-button connection, and it also has three locking positions.
For the blades, they are feathered-designed using plastic material, and it is easiest to use them in light to medium waters.
However, there is not much flexibility to them, so they may not be the best at handling obstacles.
The material of the shaft is aluminum, and there are two different size options available to choose from.
This lightweight paddle comes in five colors: white, black, blue, orange, and yellow.
Heights:
Easy to handle
Assembles/disassembles easily
Plains:
Questionable longevity
Seems too short for some
6. SeaSense X-1 Kayak Paddle
Ideal for: Beginners, spare paddle
By using the SeaSense X-1, you get what many claim to be the best kayak paddle that is inexpensive.
It is completely light in weight, and it is made with an aluminum shaft and molded plastic blades.
This is only available in a single color: black, and it comes in one length of 84in.
There are not many customization options, but it manages to get the job done.
It is constructed as a 2-piece. In this case, you can disassemble to stick it in the car so it won't take up space during transportation.
When you're using this, there are adjustable drip guards to help you stay dry.
Heights:
Maneuvers easily
Comfort cushion grips
Plains:
Can wear on your hands
A little short
5. Airhead Kwik Tek Kayak Paddle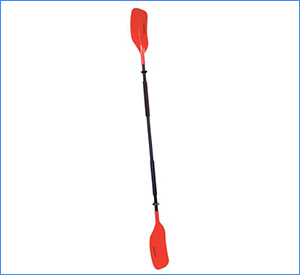 Ideal for: Recreational, casual, entry-level
Another best kayak paddle for beginners is the Airhead Kwik Tek Kayak Paddle.
It is relatively easy to use, and the blades are adjustable for three different positions so you can personalize it to your own individual style.
The material in the blade is ABS plastic, and they are curved to help with efficiency.
With the shaft, it is made from durable, yet lightweight, aluminum.
This paddle is good at staying afloat long enough for you to grab it in the event you ever drop it.
It can break into two pieces easily for both storage and transport.
This is available in a single size of 49.5in.
Heights:
Drip rings work well
Comfortable grip
Plains:
Slightly heavy
Could be smoother in the water
4. Carlisle Magic Plus Kayak Paddle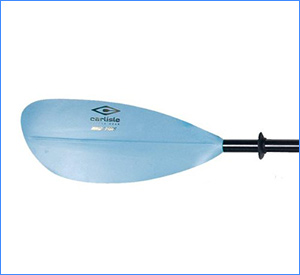 Ideal for: Recreational, casual, beginner to advanced users
The Carlisle Magic Plus Kayak Paddle uses polypropylene, fiberglass-filled blades.
Coupled with the flexible fiberglass shaft, this has a good weight to it that is easy enough for entry-level users yet still solid enough for heavier users.
It offers a balance between stiffness for harder waters and a stronger stroke, and flexibility to ease stress off your joints.
The blades have an asymmetrical, slightly spooned design with a straight shaft.
It comes in three different sizes, you can detach them for storage, and is available in cloud/black and sunrise/black color styles.
Heights:
Easy to adjust
Feels solid
Plains:
Water can leak into the shaft
Grip seems too wide
3. SeaSense X-Treme II Kayak Paddle
Ideal for: Casual, intermediate to advanced users
A good, budget-friendly option that doesn't sacrifice value, the SeaSense X-Treme II has a feathered blade design with a straight shaft.
The shaft itself is aluminum while the blades are polypropylene.
It comes with adjustable drip guards as well as a support ridge to aid in your comfort and strength.
If dropped, it manages to float well so you won't lose it even in rough waters.
Moreover, it has three locking positions, and you can detach it into two pieces.
You can find this paddle in two different sizes.
Heights:
Grips stay in place
Provides good reach
Plains:
Not for heavy use
Grips can get slippery
2. Bending Branches Whisper Aluminum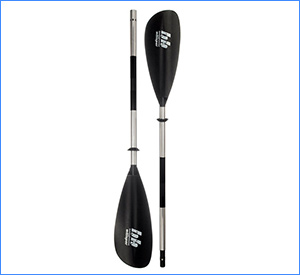 Ideal for: Recreational, entry-level, heavy users, long trips
The Bending Branches Whisper is designed with an aluminum shaft that provides it with a good, light feel as to not overwhelm you even during long rides.
The fiberglass nylon blades are sturdy and strong enough to offer a smooth ride.
It is overall well-balanced whether you are lounging on the lake or roughing it through hard waters in the river.
With a 2-piece construction, you can take it apart easily to store wherever you need.
You have four sizes to choose from to find the one that works best for you.
Heights:
Good floating strength
Durable shaft/blades
Plains:
Could use stronger locking power
Can feel raw on the hands
1. Werner Camano Straight Paddle
Ideal for: Entry-level, advanced users, recreational, touring
The Werner Camano Straight Paddle is dubbed the best kayak paddle for numerous reasons.
To start, it offers incredible smoothness entering and exiting the water, much of this thanks to the dihedral blade design.
The carbon fiber shaft is light enough that you hardly feel fatigued even after paddling for hours.
Beginners can use it just as easily as experts. This can pull you through the water at great speeds.
It offers a good balance between flexibility and strength, and it will hold up through numerous uses.
Heights:
Handles well on the water
Ultra-lightweight
Plains:
May oscillate too much during light use
Not for extremely rough use
Conclusion
You may go through numerous variants of paddles trying to find the best kayak paddle.
However, with our extensive review, you can easily find what works best for your specific kayaking needs.
Have you used any of the paddles on our best of list? If so, feel free to share with us your thoughts.
Recommended Read: You can also look here at our best inflatable kayak recommendations.