An easy way to quench your thirst if you're hiking, mountain biking, or doing any other physical activity on-the-go is with a hydration bladder. They come in a variety of sizes and contain an assortment of features, so finding the best hydration bladder isn't a quick task. To help you find the right hydration bladder for your needs, we came up with 10 of the top-rated picks for 2018. While conducting the reviews, we examined features such as how easy it is to use and carry around, how easy it is to clean, and more.
Top 5 Best Hydration Bladders – Editor's Pick
Below is a quick breakdown of the specs of the top 5 hydration bladders in our review.

| | | | | |
| --- | --- | --- | --- | --- |
| Product Name | Size/Capacity | Material | Opening | Editor's Rating |
| Platypus Big Zip LP | 5L, 2L, & 3L | Polyethylene/Silicone | Ultra-wide, zip topped | 4.3 |
| BONL Hydration Bladder | 3L | Microban antibacterial/GlassAS | Hybrid/screw cap & zip topped | 4.5 |
| CamelBak Antidote™ Reservoir | 2L | Polyurethane | Leak-proof cap | 4.5 |
| U'Be Water Hydration Bladder | 2L | Neoprene/Silicone | Wide cap | 4.6 |
| Deuter Streamer 2.0 | 2L & 3L | Polyethylene | Zip topped system | 4.8 |
10. SportsTrail Hydration Bladder
Ideal for: Light, occasional use
First on our best hydration bladder list is this product from SportsTrail that comes along with an easy-to-use cleaning kit. The hydration bladder itself features a large fill holder (2L) so it can be filled with ice cubes along with water or any other drink. It has a large cap also, but it can be tricky to get off sometimes. Additional features include a quick-release auto-lock system.
Pros:
Easily detachable hose
Large water opening
Cons:
9. Hydrapak Reversible Reservoir
Ideal for: Recreational use, hiking
The Hydrapak Reservoir utilizes a reversible design to help dry the bladder out after use/cleaning. It is constructed of a good durable material that's also flexible so it can fit well in backpacks during journeys like hikes. There is also a baffle added to help lower the profile. For the opening, it uses a wide slide-top.
Pros:
Simple to clean
Easy to seal
Cons:
8. Geigerrig Pressurized Hydration Engine & Reservoir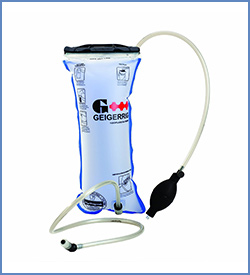 Ideal for: Light to medium hiking/running
This next hydration bladder on our best hydration bladders list utilizes a pressurized system that makes it overall easy to use. You can spray to drink or spray to cool down. It is reversible as well, making it simpler to clean and dry, and it is even dishwasher safe. Filling it is straightforward in its simplicity as well, just remove the slide top and go.
Pros:
Cleans and dries well
Can share water
Cons:
7. CHERAINTI Hydration Bladder
Ideal for: All-around light to medium activities
Next on our search for the best hydration bladder is this CHERAINTI product that has a wide opening that makes it not that easy to fill, but it's also easy to reach in and clean. The liner is smooth in a way to prevent germs to keep the bladder and yourself safe and healthy. They used a double-sealing side system to prevent leaks and provide durability when they made this hydration bladder. Moreover, the soft mouthpiece comes with a cover to keep dirt out.
Pros:
No noticeable plastic taste
Easy to fill
Cons:
6. WACOOL Hydration Pack Bladder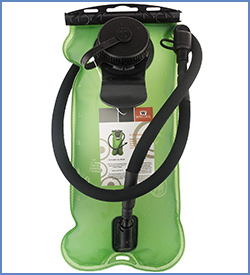 Ideal for: Heavy activity use
As it is designed with an extra thick liner, this hydration bladder from WACOOL is pressure-proof as well as wear-proof to last you through rigorous activity. There is a double-opening design to help you fill it up in any condition. It features military insulation, a sliding mouthpiece, and a self-lock socket as well to minimize leaks when the hose disconnects.
Pros:
Durable components
Good water flow
Cons:
The mouthpiece may not close properly
5. Platypus Big Zip LP Reservoir
Ideal for: Light-medium duty activities, backpack use
One of the best hydration bladders on the market is the Platypus Big Zip LP, and it earned its spot due to several features. For one, it's available in three different sizes. It utilizes a low-profile design to fit easier into a pack, and it's durable and flexible enough that it won't misshapen or get crushed. There's also a nice shut-off valve on the bite valve.
Pros:
Quick disconnect
Clear and durable plastic
Cons:
4. BONL Hydration Bladder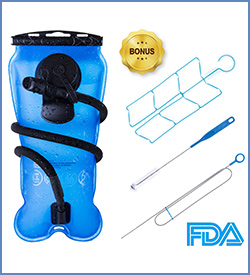 Ideal for: Robust physical activity, backpack use
The BONL Hydration Bladder uses a military quality material in order to make a long-lasting, durable product that can withstand rough use. It is able to fit into most hiking backpacks (normal and hydration packs alike). The mouthpiece is taste-free and also has a high flow and locking system. It comes along with a cleaning kit.
Pros:
Top piece easily slides off/on
Insulated hose
Cons:
Can come undone when completely filled
3. CamelBak Antidote™ Reservoir
Ideal for: Light to heavy activity, biking/hiking, backpacking
Another contender for the best hydration bladder title is the CamelBak Antidote™. This product has an easy-open ¼ turn valve cap. It is light in weight and makes it easier to fill the bladder. The low-profile design makes it better to pack up. You can also disconnect the tube relatively easy and quick, and the bite valve self-seals.
Pros:
Large reservoir
Can lie flat well
Cons:
2. U'Be Water Hydration Bladder
Ideal for: Longtime use, hiking, running, bicycling
The U'Be Water Hydration Bladder is made with a wide opening to make it easier to clean and add ice cubes if interested. Another way this bladder is simple to clean is thanks to the detachable tubing. It has quality insulation so you can use it for a long time and it will remain cold. Also, as it' lightweight, it's easy to carry no matter what you're doing.
Pros:
Easy to carry
Quality material
Cons:
1. Deuter Streamer 2.0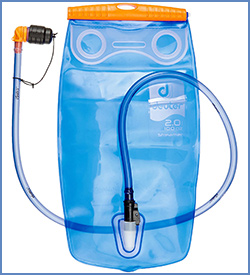 Ideal for: All-around purposes, light to heavy use
Lastly in the search for the best hydration bladder is the Deuter Streamer 2.0. This bladder uses ion antimicrobial grunge-guard technology to keep it lasting longer and your water safe. It uses a leak-free manual shut-off system as well. Generally, it doesn't have a strong plastic taste, but there can be some taste from the actual mouthpiece.
Pros:
Attached mouthpiece cover
Built to last
Cons:
Conclusion
The best hydration bladder is one that provides practicality. It should be simple enough to use while out and about and also should be able to maintain its temperature, limit leaks, and be easy to clean. If you have tried any of the hydration bladders in our list, we'd enjoy hearing your opinions on them.