Camping on the floor isn't always pleasant – you could sleep on the ground, on stones, hard soil, or even a tree root. So why not go for the best camping cots instead? 
Some people vouch for airbeds, but they can deflate. Or yoga mats will offer a little extra spring, but not a whole lot. So instead, some people opt to get a camping cot!
Originally designed for luxury camping (or glamping) these cots have become a great accessory for those that don't want to completely rough it in the great outdoors.
They can also be used indoors for when you have guests staying over, especially for Thanksgiving and Christmas.
So continue reading to discover the best camping cots that will make your camping trip that much more comfortable!
7. DESERT WALKER Camping cot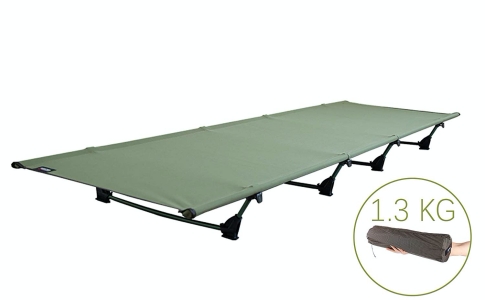 Taking a camping cot on a hike or through the grounds of a festival field can sometimes make it not worth bringing it along with you – mostly due to their weight.
Well, this Desert Walker Camping cot only weighs 3.1lbs. so there are no complaints in that department.
Plus, as it only measures 19.7" x 4.7" when compacted, it can be included in any backpacking inventory.
It measures 72.8" x 23.6" x 5.9" when unpacked – which is a little smaller than others you will see on this list of the best camping cots.
Also, it is very low to the ground – this can be good for those looking for that little extra luxury but not so good for people with mobility issues.
The only problem with this cot is that it has been reported to be difficult to assemble.
Heights:
Very low to the floor – for that conventional camping style
Padded feet – it shouldn't ruin any tent flooring
At only 3.1lbs. it is very lightweight and easy to carry
Plains:
The legs have been known to separate from the base of the bed if there's too much movement on top
6. Mountain Trails Base Camp Cot
There's a reason this is called a Base Camp Cot – and that's because it's better off being used as a more permanent fixture.
Despite it's being one of the best camping cots around, it is not an easy piece of equipment to set up. In fact, it can take two people about fifteen minutes to put together.
So if you're looking to accommodate someone for a few days over the holidays, then this should be a more than suitable option.
Plus, at only 9lbs., it is a very lightweight cot. It folds down for simple storage too.
As there are no bars underneath, there is space to put a bag. Also, unlike with older folding beds, there's no uncomfortable crossbar in the middle as everything is held taut by the supports on the side.
At full exposure, this measures 74.8" x 30.3" x 6.7" – so it can easily support people up to 6ft.
Heights:
Additional space underneath for storage
Very lightweight and easy to transport and store away
Quite low to the ground – this makes it easier for kids to use as well
Plains:
Quite low to the ground – which might make it more difficult to use by older adults
5. TETON Sports Outfitter XXL Camp Cot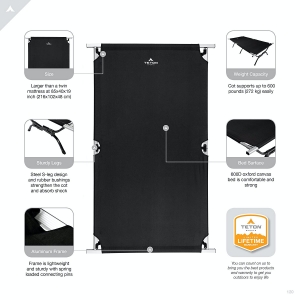 Size is very important when considering which of these sleeping cots to get. This is even more important for people that are taller or heavier than average, which is why TETON manufactured the Sports Outfitter XXL Camp Cot.
This measures a burly 85" x 40" x 19" – so it is a lot longer and wider than others on this list.
It is also a lot higher than the others – so people with limited mobility should find it easier to get on and off this camping cot.
Thanks to the strengthened steel S-leg construction, this can hold a weight of up to 600 pounds.
Nonetheless, this cot does weigh 26lbs. – so it's not good for dragging around on a hike.
But if you want a solid structure for a weekend away car camping or spent at the campsite or even as something for guests over the holidays, then this is one of the most comfortable and best camping cots out there.
The feet of this cot are very small though, so if it was placed inside a tent and moved around, it could damage the floor of the tent as all the weight is concentrated on those six legs. however if it was coupled with a mattress, this might be better.
Heights:
Very high for a camping cot
Can hold a lot of weight
Steel supports and bars mean this is a very stable bed
Plains:
Difficult to set up – the last corner piece is hard to get into place
Suggested: The Best Air Mattress for Camping Picks 
4. Alpcour Folding Camping Cot – Deluxe Collapsible Single Person Bed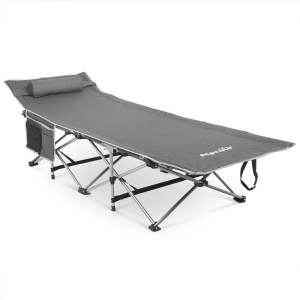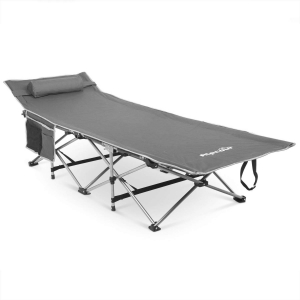 Measuring 75" x 26" x 15" and with a weight limit of up to 300 lbs., this camping bed can keep just about anyone comfortable over the night.
It has a slight incline for the head – so you can elevate it – and also comes with a detachable pillow. It's worth noting that not everyone found this pillow pleasant – many people stated they either disposed of it or just used it as a headrest for reading.
The cot also comes with a side pocket so you can store your wallet and glasses while you sleep without fear of losing them.
It is also very easy to assemble. Simply unfold it out of the bag and click everything into place. There's no extra pegs or attachments to fiddle around with.
Apart from the pillow problems, the only other concern to this Alpcour Folding is the elevated headrest. This is quite flimsy due to the incline and could do with better supports.
Heights:
Gentle incline for head support
Easy to set up and collapse
Includes a side pocket organizer
Plains:
No space underneath for storage bags
3. Coleman ComfortSmart Cot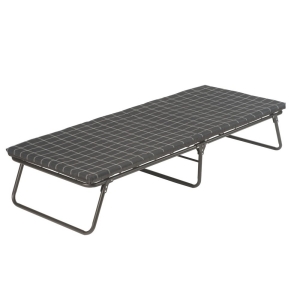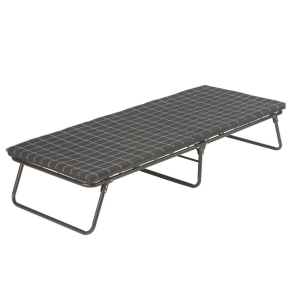 From one of the biggest names in outdoor pursuits, this ComfortSmart Cot from Coleman comes with an included camping mattress for extra comfort.
There is a base underneath the mattress that's attached to the steel frame using individual spring coils as cushioning.
When it's all set up, the cot measures 80" x 30" x 15"  – but reports state that it doesn't really accommodate anyone over 5.7ft.
When collapsed, this cot measures 25.6" x 5.5" x 37.4" which is still pretty large for a camping cot.
While this probably isn't the best for backpackers, it can be perfect for luxury campers or those looking to add guest beds.
Reports have stated that it is incredibly comfortable but there are some issues with the quality of the base cover, as it has been known to split and the springs to pop out which is a serious quality control concern.
Heights:
Includes removable mattress for added comfort
Comes with ComfortSmart coil suspension for a bed-like feel
Plains:
The middle support bar doesn't lock in place which makes the foot of the bed raised when it's not in use
The mattress does slip about during the night
2. KingCamp Strong Stable Folding Camping Bed Cot with Carry Bag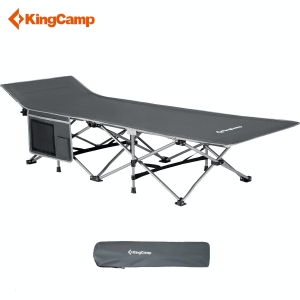 Trying to keep comfortable while camping can be incredibly difficult so these camping beds do offer that next level of comfort.
Slightly elevating the head can really help too, and this KingCamp bed does exactly that.
It measures 74.8" × 26.8" x 15" so it can accommodate most people.
Also, it collapses very easily (in a similar way to a camping chair) to fit in a 41.3" × 9.1" × 6.7" bag.
One of the best features of this cot is the side pocket – this comes with three compartments to fit your immediate essentials so you won't be struggling to look for them in the morning.
The only problem with this cot is that the head elevation doesn't recline. It's stuck in that position, so it's not possible to lie flat or might not work if you're a stomach sleeper.
Heights:
Elevated head for extra comfort
Includes side organizer pockets
Plains:
Due to the X style frame under the cot for stability, there's no storage space for bags
1. BYER OF MAINE Easy Cot, Single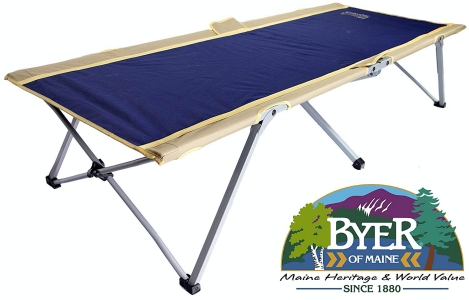 Setting up a camping bed should be simple and fairly quick to do and this model offers exactly that.
There is nothing to click into place and nothing to slot into anything else, simply unfold it, and you're ready to rest; it's held into shape by the bodyweight on top.
It measures 78″ L X 31″ W X 18″ when unfolded, so people of most heights should find it a comfortable fit.
Plus, with its only measuring 39" x 6" when all packed away, this can easily be included in any camping weekend checklist. As long as you account for the 21lbs. weight, that is.
Heights:
Simple to set up
Has an up to 300lbs. weight capacity
No bars at the top or bottom – taller people can use this if they are willing to let their feet hang over the end
Plains:
Some people reported received damaged goods
Conclusion
Whether you're having guests over for the holidays, or don't want to sleep on the cold, hard, and sometimes even wet ground anymore, make sure everyone is comfortable, get one or any of the best camping cots!
What do you think of these camping cots, have you tried any yet? And if yes, what can you tell us about them? 
Recommended Read: The Best Sleeping Bags For Cold Weather