We're sure you already have a trusty sleeping bag which you take with you on every adventure.
Still, while it might be hard giving it up, it is important to upgrade and have the best backpacking sleeping bags you can get.
The following top choices were chosen based on their characteristics, ratings, reviews, (and Carley took a look at them too).
Before we start, you should know that the main criteria for choosing the best backpacking sleeping bags include the following:
Temperature rating
Type of Insulation
Weight
Roominess
Affordability
Top Backpacking Sleeping Bags
~And Don't Forget to Scroll for the Rest~
The table below will highlight our top picks so that you will find it easier to compare them (we recommend using the criteria above when doing so).
Product Name

Temperature Rating
Weight
Fill type
Get It AT 

Kelty Tuck

22°F

-5°C

3 lbs
Synthetic
Teton Sports Trailhead

20°F

-7°C

2 lbs, 13 oz
Synthetic

Mountain Hardwear HyperLamina Spark

35°F

2°C

1 lb, 13 oz
Synthetic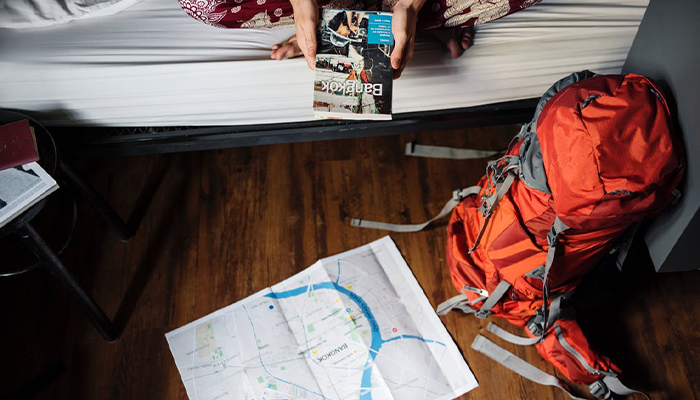 10. Coleman North Rim Adult Mummy Sleeping Bag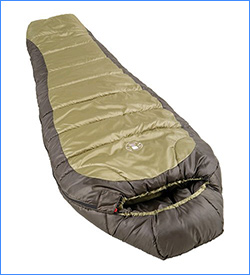 Ideal for: Short Backpacking Trips

The Coleman North Rim sleeping bag is comfortable and has a rating for 0 degrees and above, and with its synthetic Coletherm fill, this bag will truly keep you warm and insulated.
Currently, it's also one of the most affordable bags on this list.
The main downside to this sleeping bag is that it's very heavy for a backpacking sleeping bag as it weighs nearly 4 pounds.
It's also bulkier when packed, than other higher-end backpacking sleeping bags.
Thus, this bag is ideal only for short backpacking trips when weight is not as much of a priority.
Heights
Its ZipPlow system prevents snagging
Well-insulated and warm thanks to the Thermolock draft
Comfortable, quilting construction
Plains
9. Kelty SB20 Sleeping Bag

Ideal for: Cold Climates

This sleeping bag weighs just 2 pounds and is rated for 20 degrees and above.
Users say it helps keep them warm and toasty, and also that it is soft and comfortable.
The down is also treated to remain dry longer than the common such insulation, which basically whisks away one of the main downsides of getting a down sleeping bag.
Heights
DriDow- treated down filling
Waterproofed at both the hood and foot of the sleeping bag
Lightweight
Plains
While waterproof at the hood and foot, this might affect its breathability
8. Nemo Disco 15 Insulated DOwn Sleeping Bag 
Ideal for: Backpackers Looking for a Roomy Sleeping Bag
Specially designed for side sleepers, the Nemo Disco and Rave (for men and women) offers enough room for tossing and turning, while also keeping you warm and comfortable throughout the night.
Nemo's unique spoon shape will also offer you more room around the elbows and knees.
The Nikwax Hydrophobic water resistant 650 fill power down means that the down won't lose its loft at the first sight of dampness.
Vertical baffling ensures cold spots won't develop over time either.
This bag also features Thermo Gill vents for warmer nights.
While this Nemo model is specifically targeted for male users, its sister model, the Nemo Rave is smaller, lighter, and aimed at female users.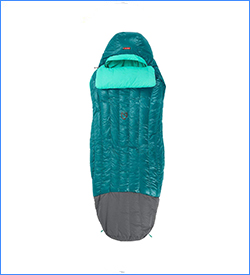 Heights
Roomy enough to turn and with elbow space
True to its temperature rating
Its spoon shape also makes it great for side sleepers
Plains
The zipper snags sometimes
7. Mountain Hardwear HyperLamina Sleeping Bag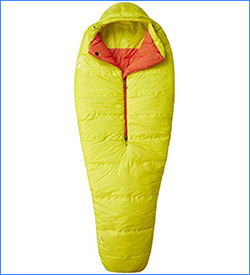 Ideal for: Fall Camping

The HyperLamina is a tried-and-true choice and remains one of the best backpacking sleeping bags you can get.
It easily compresses to an impressively compact size, weighs a mere 1 pound and 12 ounces, and still provides comfort and warmth.
This sleeping bag has great insulation and is snug enough to keep you warm while not being suffocating either.
You can confidently pair it with a camping tent, and, as this Mountain Hardware is rated for 35 degrees, also be sure that you won't be shivering throughout the night.
Heights
Synthetic material – not down
Compact and lightweight
Its ultralight shell is also wind-resistant and soft
You get a mesh storage sack and a sil-nylon compression stuff sack
Plains
It's made with a half zipper to save weight, feature which not everyone likes
6. Outdoor Vitals Summit Down Sleeping Bag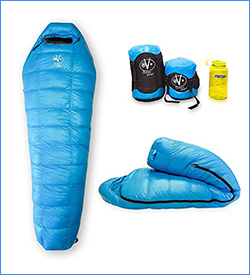 Ideal for: Dry, 3-Season Backpacking

Outdoor Vitals Summit resembles many more expensive bags in its materials and style.
It weighs 2.5 pounds and is made with a ripstop shell and a down interior.
This is a mummy-shaped sleeping bag with a face drawstring for added warmth.
Rated for 20 degrees and 3 seasons, it's outer shell is also water-repellent.
Heights
Lightweight, warm, and well-insulated
Comfortable shape and just roomy enough
Made of high-quality materials
Comes with a compression bag and several other such features
Plains
It's down is not waterproofed or water-treated
Flimsy-feeling shell
5. Marmot Trestles Mummy Sleeping Bag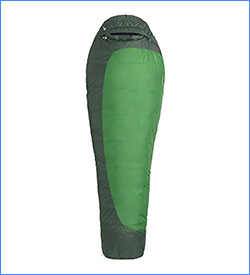 Ideal for: 3-Season Backpacking

Next on our best backpacking sleeping bags is this Trestles bag made from synthetic materials with no down filling.
This means it's appropriate for a range of conditions, and it's rated for 30 degrees and above.
The foot box is roomy, a feature which might add a little weight but still make it worth it for some backpackers.
This sleeping bag also has zippers on both sides, so, in warmer weather, you can unzip it and increase its ventilation.
Heights
Designed for maximum durability and warmth thanks to its SpiraFil high-loft insulation
Roomy foot box
Suitable for warmer temperatures as well as mild cold
Plains
Not as compressible as some other similar sleeping bags
4. Klymit KSB 20 Down Sleeping Bag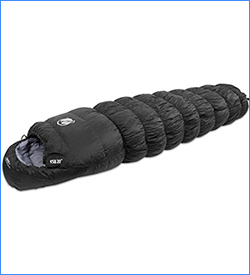 Ideal for: Dry Cold Weather
The Klymit KSB 20 uses a synthetic ripstop shell and can repel water while still remaining breathable.
Its filling is made with down and its baffle system allows this sleeping bag to stretch for comfort and still be snug enough to keep you cozy in cold weather.
The foot box is roomy and the bag packs down relatively small and weighs 2.5 pounds.
You can pair it with a sleeping pad, to make the ground less bumpy and cold, and enjoy looking at a crisp, clear night sky.
Heights
Stretch baffles to lock in warmth
Compact and easy to carry
Minimizes heat loss
Plains
Might not stretch enough for very tall people
3. Hyke & Byke Mummy Down Sleeping Bag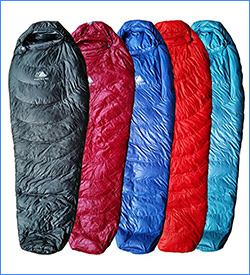 Ideal for: Mild Weather

The Hyke & Byke imitates higher-end bags with its mummy shape, face drawstring, down insulated filling, and water repellent ripstop shell.
It has a rating for 32 degrees Fahrenheit and above and weighs an impressive 1.94 pounds (only that).
This sleeping bag is an ideal choice for beginners or adventurers who will be sleeping in mild or warm weather.
It's not the most durable bag in the world, so you might want to pair it with some good ol' trusty thermal socks, but it is a long-lasting, durable option.
Heights
Comfortable shape and size
Lightweight and compact
Comes with a lifetime warranty
Made of waterproof and water-repellent fabrics
Plains
Its fabrics are not that durable
Will likely not keep you warm below 50°s
2. Kelty Tuck Sleeping Bag
Ideal for: Spring, Summer or Fall Backpacking

This Kelty Tuck sleeping bag has a rating for 22 degrees and above and will work well during summer, spring, and fall.
It has a mummy shape with a comfortable foot box, and can fit people up to 6 feet tall.
The insulation is synthetic, made with "ThermaPro" insulation to trap heat while remaining packable.
Still, it weighs 3 pounds, so it's among the heaviest bags on this list.
Heights
Retains warmth and has a thermal-comfort hood
Compresses easily
It comes with a media-integrated storage pocket and has a zipper draft tube
Offset quilt construction
Plains
Less durable stitching than expected
1. Teton Sports Trailhead Ultralight Mummy Sleeping Bag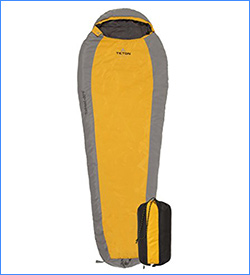 Ideal for: Spring or Fall Backpacking

The Teton Trailhead is an affordable option that will offer you a super lightweight yet warm sleeping bag.
It uses "PolarLite" insulation, a synthetic fabric that is thin yet retains heat.
The interior is relatively spacious, and it includes a mummy-style hood and face drawstring.
Its ripstop shell is also water-resistant.
Despite the low-temperature rating of 20 degrees, users say this bag is better for 40 degrees and above.
Heights
Compact, lightweight, and lofty (thanks to its innovative microfiber insulation)
Comes with a durable stuff sack (for storage) so that you won't have to roll it up
Water-repellent shell
This is a survival-rated sleeping bag
Plains
Tall or bigger people might not find it that comfortable
Inaccurate temperature rating
All Ready to Pack Your Bags Now?
These best backpacking sleeping bags meet every price point and will help you stay warm and dry throughout several seasons and varied weather conditions.
Getting a good sleeping bag is a great investment because after all, it's going to be your new bed on the next adventure!
We know we're really looking forward to our next night of sleeping under the stars (without freezing toes or hands, we still like our comfort).
So hopefully, this list will help you choose the best backpacking sleeping bag for you to take next time you go backpacking, and do tell us what you choose!
We're really interested in hearing what you have to say about these sleeping bags (and even ones that aren't on this list)!
Recommended Read: Check out these best backpacking backpacks or some hiking backpacks to carry your gear.