One of the most vital things needed to go backpacking is, as the name suggests, a backpack. As there are numerous options out there with a range of different styles, shapes, and features, we have compiled a list of some of the best backpacking backpacks you could get nowadays.
However, before we get to talking about the best backpacks, here are a few things you should know about them!
5 Quick Tips on How to Choose a Backpacking Backpack
There are a few things that you need to look out for when deciding what you will wear on your shoulders.
For the size of the bag, check out the handy guide below.
Also check the style of the bag, how it opens, and how you can pack belongings.
Don't forget about support either, and how comfortable it will sit on your shoulders.
You'll find more information about backpacks + a short guide on their size at the end of this article!
Now that we've established this, let's check out the best backpacking backpacks on the market today!
7 Best Backpacking Backpacks Today!
Below is a list of the best value, top-equipped, and generally best traveling and backpacking backpacks on the market today:
7. Loowoko Hiking Backpack 50L Travel Camping Backpack w/ Rain Cover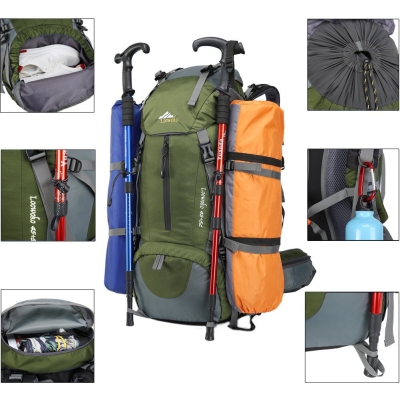 This unisex backpack, originally produced as a hiker's daypack, can also double as a smaller sized backpack, suitable for a shorter trip.
It's a top loading bag but the numerous pockets around the outside, including on the waist belt, can be used for essentials that are needed more often such as passport or phone.
The well-padded shoulder straps and back support are made from a mesh fabric to let the skin breath.
However, the fabric straps are the only form of support. High-end packs tend to have stiff plastic or metal ribs either internally or externally to transfer weight off the back and onto the hips for comfort and stability.
Ideal for: Shorter trips
Capacity: 50L (45L+5L)
Size: 25.6 x 13.8 x 9.8in / 65 x 35 x 25cm
Heights:
With 8 straps on the outside of this bag, it's great for attaching all that extra gear
Lots of compartments for storage of a water bottle, phone, and passport
Rain cover included with the pack
If it's not packed too tightly, may even fit into the carry-on of the plane
Normally used as a 45L pack, but the bottom can be unzipped to provide an extra 5 liters at the base
Plains:
Shoulder straps have been reported to easily slip so would need to be adjusted often
No solid frame
Has been reported to have faulty zippers and poor quality stitching
6. OUTLIFE 60L Hiking Backpack, Lightweight Waterproof Travel Backpack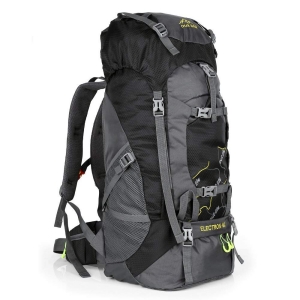 Wearing a backpack, especially in hot weather can really make your back sweat, so it's always good to find a breathable mesh fabric on the underside.
So this backpack has tried to provide this to a degree.
It has water-resistant nylon on the outside to ensure your belongings don't get too wet in the rain.
Still, it would still be a good idea to purchase a separate rain fly.
This backpack has adjustable straps so people of all heights and sizes can use this.
However, the straps are not sewn back in themselves so there are reports of the buckles tending to fall off if this is not repaired.
The backpack boasts with a number of pockets all around the bag, in a range of sizes suitable for a laptop, water bottle, and even small waist pockets.
At the base, there is even a dedicated space for a pair of shoes which can be useful as this is a top loading backpack.
Ideal for: People that need a lot of space
Capacity: 60L
Size: 29.53 x 13.78 x 9.84 in / 75.00 x 35.00 x 25.00 cm
Heights:
Adjustable shoulder straps for comfort
Numerous pockets all over in a range of sizes
Safety whistle included on the chest strap
Plains:
Not the best quality, the ends of the straps are not folded back and stitched
No solid frame, only supported by the fabric underside so can cause discomfort for some
5. Thule Versant Men's Backpacking Pack 50L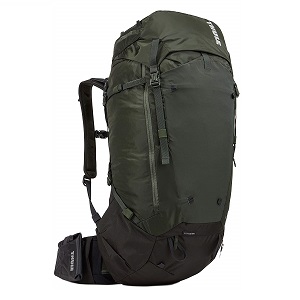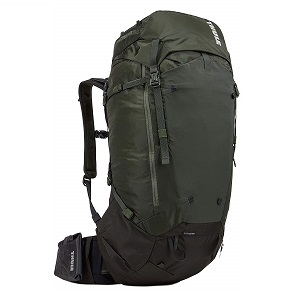 As you will see below, a front-loading backpack is great so all your belongings are easily available.
With all its large zipper at the front exposing the main interior, this is the first on this list.
This is also the first bag here to have a secondary bag available.
The top of the backpack actually separates and can be used as a small messenger bag for day use while the rest of the backpack can stay safely in your accommodation.
This backpack is also very comfortable as the back straps and the waist belt can be adjusted to fit a range of body sizes.
Thule also have considered the weather and provided a rain cover with the bag.
The bottom is also waterproof so you should have no issues even when resting the bag on the wet floor.
Ideal for: Multiple Uses
Capacity: 50L (but also available in 60L/70L sizes)
Size: 21.6 x 15 x 13.4 in / 55 x 38 x 34 cm
Heights:
High level of adjustability ensures the weight is transferred throughout the whole body and not just on the shoulders
Front loader, so the interior is readily available as well as two pockets around the waist and a water bottle holder
Rainfly included
Plains:
The extra clip on pockets, camera holster, accessory pouch, are all sold separately so this adds to the price
4. TETON Sports Scout 3400 Internal Frame Backpack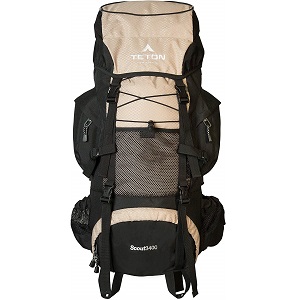 With a fully adjustable back support, including an internal frame, and ergonomic shoulder straps, this backpack can easily provide the comfort necessary to carry all your belongings.
When it gets too hot, there is a space available to fit a 3L water bladder to rehydrate.
Like other top loaders, this also has numerous straps around the backpack to fit accessories such as a sleeping bag, or a tent.
Ideal for: Novice travelers
Capacity: 55L
Size:  30 x 17 x 12 in / 76.2 x 43 x 30.5 cm
Heights:
High amount of comfort adjustability options to fit a wide range of people
Space for a 3L water bladder (sold separately)
Rain cover included
Plains:
Small issues in the sewing
The sleeping bag pocket at the bottom can only fit a tiny summer sleeping bag
3. Gonex 55L Hiking Backpack Outdoor Trekking Camping Backpack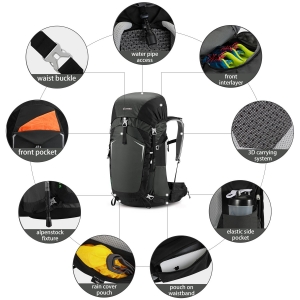 The Gonex 55L has a hybrid opening with both top loading access for the items at the top of the bag.
It also has another opening so you can access the middle and lower half of the backpack.
It also has a storage compartment at the top of the bag for essential items and a number of pockets hidden around the bag.
Regarding stability, this backpack has an internal support pad, with a metal rod, that can be removed so the bag can be washed.
The back panel and straps are well padded for comfort.
Ideal for: Easy access
Capacity: 55L
Size: 27 x 12 x 9 in / 68 x 30 x 22 cm
Heights:
Dual access to the interior
Well-designed internal support system
Rain cover included
Plains:
The waist belt doesn't have any padding on the front so it could be uncomfortable after long periods of use.
Too big to acts as a carry on
2. Kelty Redwing 50L Backpack
With only 1 zipper, the Kelty Redwing can actually be used as a top loader and a front loader.
The zip originates at the top but if the clips are undone, the zips can continue down the bag.
Unfortunately, it does not go all the way though, so the very bottom is still not completely accessible.
There is an aluminum rod in the center of the back that provides stability and transfers the weight throughout the body.
The mesh back and shoulder straps also provide ventilation, making this one of the best backpacking backpacks.
Also, the thick padding across the backpack ensures the straps don't dig in while being carried.
Around the exterior, there are 4 pockets for the essentials and even a space for a water bladder.
Ideal for: Easy access
Capacity: 50L
Size: 24 x 15 x 12 in / 61 x 38 x 31 cm
Heights:
High stability from the aluminum rod and solid back panel
The rod can be removed if preferred
The waist straps are removable so can be stored for flights
Hybrid zip can offer both top and front loading options
Plains:
The front panel doesn't go all the way down to provide full access
1. Osprey Packs Farpoint 55 Travel Backpack
Probably the most discussed backpack on social media, and there's a good reason for that.
This is actually 2 bags in one and really one of the best backpacking backpacks there are! The front bag can be removed for use as a day bag while the large one can stay at your accommodation.
There is a panel on the rear that can be used to hide away all the transport straps.
The mesh back also provides ventilation so it's not uncomfortable when traveling.
This is a true front loader so all the interior is available at once.
As a plus, there are straps inside to ensure belongings don't move around too much when carried.
Ideal for: Traveling
Capacity: 55L
Size: 25 x 13 x 13 in / 64 x 33 x 33 cm
Heights:
Two decent sized bags
Day pack can also be attached to the front of the straps so weight is evenly distributed throughout
The zips go all the way to the bottom to open up the large interior
Depending on the airline, and how full the bag is, this may even fit in the overhead compartment on flights
Plains:
There are no exterior pockets so all belongings must be stored inside the bag
As is it a very deep backpack as opposed to high, it can give a turtle-like appearance when it's being carried
Conclusion
AUTHOR'S NOTE: As the backpack I actually use myself has been discontinued I was unable to review it and include it on this list of best backpacking backpacks. However, the Osprey Farpoint 55L is the most similar bag on the market today, up to and including the internal straps and the separate day pack.
Depending on what you would be using a backpack for, what and how much you would be carrying, that is a list of some of the best backpacking backpacks currently on the market.
Which one did or would you choose? Comment and let us know!
Don't forget to check out the rest of our backpacking info guide!
A Backpack Size Guide
When it comes to size, there are two factors to consider:
The size of the bag in capacity.
The size of the person carrying the backpack.
If the bag is too long, the hip straps and/or the chest straps will not sit in the correct position and will eventually become incredibly uncomfortable to transport.
The way to fit yourself is not from your total height, but instead, measure from the top of the hip bone to the base of the neck. Once you have that measurement, you can estimate the size of the pack you will need.
One of the primary considerations when looking at buying a backpack is what size bag to get, so here's a rough guide:
Less than 25 Liters – not really enough space, this size is decent as a day bag.
25 to 45 Liters – only really suitable for short trips, or those that can pack incredibly light. This size tends to hold a couple of outfits and only the essentials. One thing about a smaller bag, however, is that they can usually fit into the carry on when flying. Most carry-on luggage are billed from around 21x13x9 inch (53x33x22cm), but of course, check with the airlines themselves.
45 to 65 Liters – best for those traveling for a while, or those traveling for a few weeks to a few months. At this size, it's possible to fit a good amount of clothes, toiletries, and even another pair of shoes.
Over 65 Liters – most useful for the most hardcore backpacker, or those who desire a lot more belongings on their travels. This size can be beneficial for anyone on long hikes, those who need to take a tent and sleeping bag, or people who just can't live without the whole wardrobe.
Backpack Openings
There are two types of openings for backpacks: top load and front load.
Top loading is the typical, classic style of backpack with a drawstring at the top of the pack and a cover over the top to stop rain getting in.
This style can be great for backpacking while hiking and camping. This is because they tend to have a multitude of external straps perfect for a tent, sleeping bag, and maybe an extra pair of shoes.
However, if you're in a rush, trying to find that toothbrush that has slipped down to the bottom can be a real pain.
A front loader opens more like a suitcase.
It has a long zipper across the whole pack to open fully so all belongings are available at a moment's notice.
This can be incredibly beneficial for those staying in hostels as that clean pair of shoes at the bottom of the bag can be available in seconds instead of having to scramble around or take everything out.
Now that you've got at least one of the best backpacking backpacks there are and know more about them, it's time to take a look at some great backpacking tents and sleeping bags too!