Space is a valuable commodity in a backpack and if you carelessly sling all your clothes into your bag, or if you are an avid over-packer, it can really take up a lot of room.
Room that could've been used for other items such as toiletries or even an extra outfit.
So how is it possible to pack everything into your bag?
Well here are some of the best backpack accessories that will save you space and help better organize your backpack.
Top Backpack Space-Saving Accessories – Nick's Picks
5. Travel Storage Bags for Clothes – Compression Bags for Travel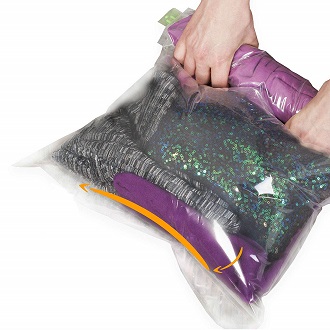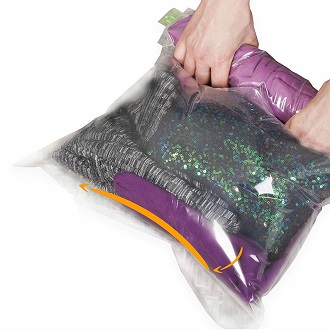 One of the best solutions is to release all the air out of your clothes using Vacuum Seal packs.
These work by compressing all the air from your clothes so they shrink to the smallest size possible.
With a Ziploc seal on one end and a single-way valve on the other side, all you have to do is:
Seal the clothes inside the bag
Roll it up so the air is pushed out the other end
In seconds, you will have a load more space available, no vacuum or pump needed
These can then stay rolled up, or laid flat inside your bag and you will have more than enough space.
These Compression Bags are also brilliant for separating your belongings so you can organize your clothing at the same time as well as save space.
The only downside to these packs is that if you are taking dress shirts or other glamorous garments, you will need to air them out for a while or iron them before wearing.
This is because they will get creased in the packs, but in all fairness, they would most likely get creased in your bag anyway.
Heights:
Great for saving space
No vacuum or pump needed
12 bags in this pack so numerous items can be packed away tightly
Plains:
Can be very noisy to roll up
Only for clothes and malleable fabrics, not for solid items
4. AmazonBasics 4-Piece Packing Cube Set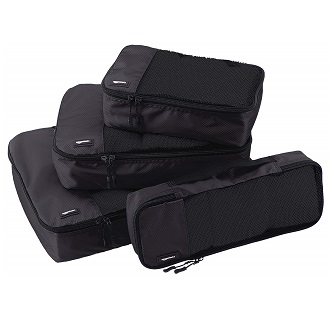 Another option to save space and organize your belongings are Packing Cubes.
If you don't want your belongings to be displaced and cluttering up your bag, these packing cubes are ideal.
They come in four different sizes for separating your things.
For example:
One can be used for toiletries
One for electronics
And another for shoes
Any combination you might want
Also, with the mesh front, it's easy to see which cube contains what items.
So you won't need to rummage through everything to find what you want.
These Packing Cubes are similar to the Vacuum Seal bags above, but these are more often used for items as opposed to clothing, (not that you can't pack clothing in them).
Still, even combining the two can really organize a backpack and make for some of the best backpack accessories you could get.
Heights:
Flexible yet durable material
4 different sizes so a range of items can be in each one
Mesh windows to see contents
Plains:
Have to be washed separately, on a cold cycle
Can't be machine dried, have to air dry them
3. YAMIU 4 Pcs Shoe Bags with Transparent Window
It's all well and good taking multiple pairs of shoes away with you.
But what do you do if they're dirty or are starting to smell?
You could hang them on the outside of your pack, and risk getting them wet or even losing them.
Or you could put them in a plastic carrier bag to stop the dirt from contaminating the rest of your belongings.
But then they won't be well ventilated, they would start to build up moisture and before you know it, your spare set of shoes need to be washed or even replaced.
With these YAMIU shoe bags, however, you won't have to deal with any of that.
They're made of cotton and are incredibly breathable to aid ventilation so your shoes won't develop an odor.
As they have a little window in them, if you are taking a couple of pairs, you'll easily be able to distinguish which pair you've picked.
The YAMIU Shoe Bags come in 2 sizes and have two types of closure options: zipper and drawstring.
Unfortunately, they aren't the biggest bags.
So people with high-top hiking boots or those with large shoes may not find these the greatest fit.
Heights:
Drawstring or zipper options
2 sizes in the pack
You can use them for shoes of different sizes/styles
Great for ventilating shoes
Plains:
Not particularly suitable for high top hiking boots or large shoe sizes
Zipper seam has been known to be a little unreliable
2. BEARZ Outdoor Quick Dry Microfiber Towel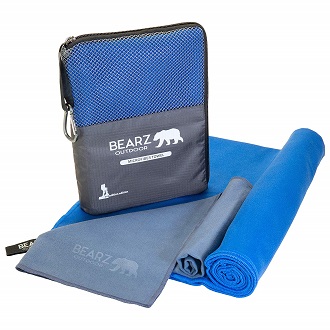 One of the worst feelings when traveling is lugging a wet towel around with you.
It can get smelly, moldy, and oftentimes will even get your other belongings wet too.
Waiting for a towel to dry can take hours too; sometimes waiting overnight is still not enough.
To avoid this, one of the simplest things to do is to get a microfiber towel.
These BEARZ towels are incredibly thin and lightweight and will dry in a couple of hours.
As they are so thin, they can be packed tightly to save space in your backpack.
They also have two small clips on to hook it somewhere to dry.
Once it's dry, it can be folded into the small carry case (included).
This definitely makes them some of the best backpack accessories that shouldn't miss on your next adventure!
Heights:
Quick and easy to dry
Clips attached to hook the towel onto a line to dry
Small carry case included to keep it packed away from other clothes
Plains:
Has been known to be a little uncomfortable compared with 100% cotton towels
Might have a bit of a chemical smell upon delivery and should be washed thoroughly before the first use
1. FREETOO Waist Pack Bag Fanny Pack for Women&Men
One of the best backpack accessories and a great way to save space? A fanny pack!
An alternative to saving space in your backpack is to get another secondary bag and it just so happens that the latest retro trend in backpacking is the waist pack.
Due to the high rise of pickpockets in the big touristic cities, people want to keep their essentials within close reach and unavailable to others.
One of the best ways to do this is by using a fanny pack.
A waist pack such as the FREETOO Waist Pack has 5 zipped pockets.
These are perfect for putting a phone, wallet, and keys in. Or actually anything else you want close at hand and safe.
FREETOO do also produce different sizes to cover different people, so make sure you measure your waist and pick the right one to fit.
Heights:
Great little bag to carry the absolute essentials
Keeps all items within close reach but still out of the way of others
A high number of pockets mean that different items can be kept in different places to avoid confusion
Plains:
The zipper has been reported to be a little uneasy to use due to the curved design
The belt has been known to be a little short so those with larger waists may need to purchase the extension belt separately
Conclusion
This is the end of this list of best backpack accessories that will help you save space in your packs.
As they save you space, they can give you extra room for more belongings.
They may even give you the option to use carry-ons during flights and not have to actually check-in the backpack.
In the long run, this will also save you some traveling money.
Utilizing a combination of two or more of these can produce even more results and might ultimately save money as well as space.
Which of these best backpack accessories is your favorite and a must on every trip? 
Recommended Read: Best Sunscreens that Are Also Eco-Friendly