Regardless of your travel plans, regardless of where you are going, regardless of what form of transportation you use to get around, you will always need somewhere to get some sleep for the night.
If you are camping, it can be sometimes difficult to find a safe and legal place to set up your tent.
If you are in a motorhome, it can be a struggle to park up in a place where you can access electricity or gas.
Or if you are using private accommodation, it can often be a hassle to find a comfortable hostel with available beds.
To help you with this, you can turn to the numerous mobile apps on the market that are specifically designed to fill in this gap.
But which actually work and are the best?
I've put together a list of the best accommodation apps that will help you get a good night's sleep!
You'll find this list useful for every accommodation from camping to RV parking, hostels or hotels. 
Let's see!
The Best Accommodation Apps – My Picks
Working in collaboration with their own website, the Gamping application offers tented and motorhome accommodation. 
It works all across the world thanks to some help from local hosts.
The system connects you to a host who has availability in their campsite, their farm, or even their back garden.
It comes with premade camping spots variant, so all you have to do is arrive.
Also, it usually offers space for you to set your own tent and even provides the space to park a motorhome.
It's a very simple interface.
You get to see all the available locations and then contact the host in order to book a space.
It's very easy to see how much each host charges, what facilities they offer, and there are also reviews to see how other campers reacted to their lodging.
Heights:
Unique and unusual locations available

Premade tents or motorhomes are available in certain locations – no need to bring a tent

Slowly gaining more users – thus, the number of available locations is steadily increasing
Plains:
In some countries, there is a limited number of available hosts – most likely due to the fact that it's still a relatively unknown app 

It doesn't list public campsites or wild camping spots – private locations only 
Available on iOS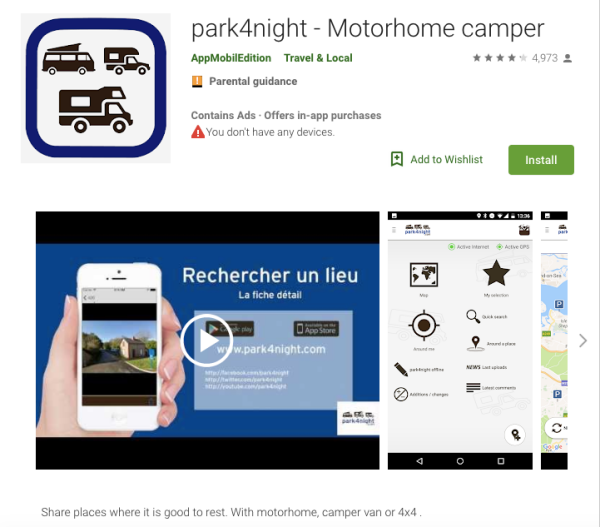 If you are traveling in a motorhome or an RV, then you need to look for places to park it up at night. 
It's usually not a good idea to just park just anywhere. It's even forbidden in some countries.
park4night will find the best places for you to put the brakes. 
You can find campsites, nature spots, and even places on the side of the road thanks to it.
As you can expect from one of the best accommodation apps, park4night has a very active community.
People in it are constantly reviewing the locations they stay in. So you'll know what to expect when you arrive at your stop.
The app currently works in two modes: Free and Pro.
As usual, the Pro version removes ads and also offers you the ability to use offline maps. 
Heights:
Includes both campsites and also parking spots on the side of the road and places within nature to park up for the night

Loads of options available across Europe, Asia, and the USA
Plains:
The inbuilt GPS function might not be particularly reliable

Roadside parking which is not always a safe option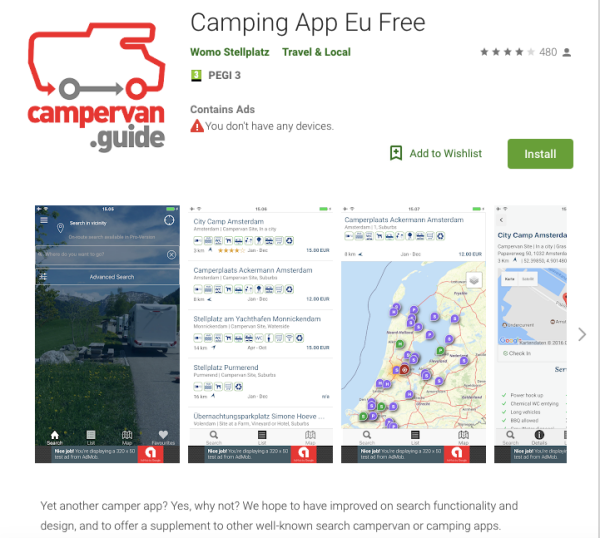 In a very similar vein to park4Night, this app is designed for motorhome owners. 
It will help them find a place to park up for the night.
However, this one only offers actual registered campsites and long stay car parks.
Unlike most applications, this app has two different membership option that depend on which version you download. 
To put it bluntly: there's no internal upgrade option available. What you download is what you use. 
The Pro version comes with offline features similar to standard offline maps and also offers the possibility to search for sites while on route. 
Heights:
Only offers actual campsites and parking lots – no unsafe roadside parking

Simple user interface with clear prices, ratings, and in-site facility details  
Plains:
Only available in Europe thus far 

The opening hours and seasonal times aren't always correct due to the flexibility of the sites themselves
Available on iOS
Usually, the best accommodation apps are designed by the community itself.
This is because they usually know best what others of their ilk are looking for in an application. 
Well, iOverlander has been designed by overlanders themselves.
It has maps available in a number of countries including Canada and Mexico.
The app details all the facilities on each site including water, gas, electricity, and Wi-Fi.
There are also descriptions of each place and it shows the date when each site was last visited by a user. 
It also offers a sharing function so you can contact other members of your group and inform them of where you are staying. 
This is done using coordinates – so it's more precise as to where exactly you actually are.    
Heights:
Stores data offline

Wild camping spots + campgrounds

Displays all facilities for a site

You can easily share coordinates with others you just by adding your coordinates to the map
Plains:
Location sharing can be difficult as you have to add coordinates to the map – it's not just a simple case of dropping a pin
Available on iOS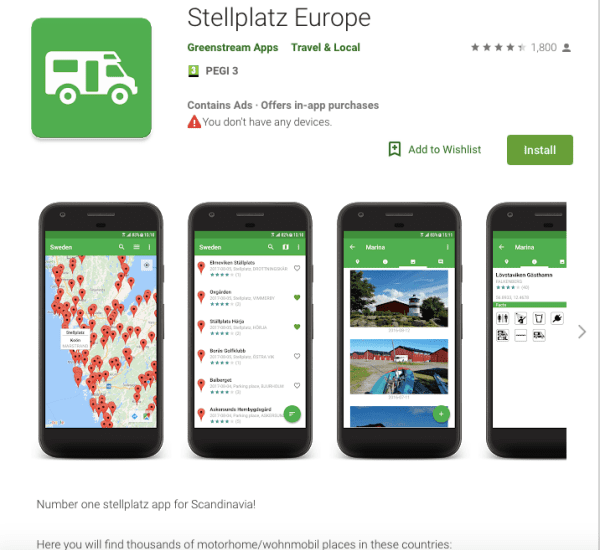 If you've ever been up to Scandinavia, to Sweden, Norway, or Finland, (or looked it up) you know just how cold it can get.
In such cases, it's plain to see how much better it is to find comfortable accommodation rather than just parking up anywhere.
Well, this app will show you all the available spots where you can park a motorhome.
It's primarily targeted towards the Nordic states. 
But it's also been expanding its range as it now covers most of Western and Central Europe too.
As with most of the options on this best accommodation apps list, you'll get access to specific information.
For example, you can see the price of the campground, all its available facilities, and the opening hours.
You can also share your location with others or even send the details to another navigation app.
Actually, thanks to this, you can find the place with an offline map too. 
Heights:
It's very detailed for Northern Europe – this is somewhat uncommon so useful

Displays the available sites in list or map forms – you can work out where the closest site is

Shows all available facilities 
Plains:
It's rather complex to add new facilities to the map 

Only available in Europe thus far 
Available on iOS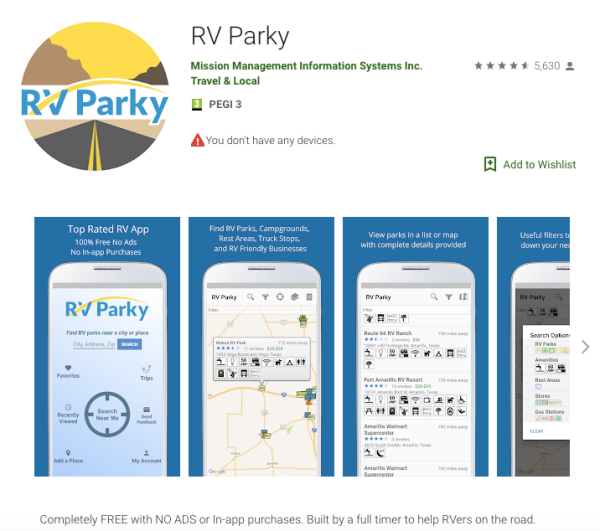 If you are only traveling across North America, then RV Parky has all the information you need!
This is definitely one of the best accommodation apps for RV-ing. Why?
Because it was built, designed, and is maintained by an experienced RV user. 
It has basically been created specifically with RV capabilities in mind.
RV Parky has a lot of useful information for an RV trip including parking grounds, gas stations, and even RV friendly stores.
It does have an inbuilt route planner (although not the greatest one).
Also, be warned that it doesn't always account for tall vehicles.
Until it will, even the manufacturer suggests using a dedicated GPS suitable for an RV.
The interface is very simple to use and is still packed with lots of information on the campsites including reviews from other users.
The app is also completely free and has no adverts either.
Heights:
Designed specifically for RV users

Packed with info on campgrounds, gas stations, and RV stores

Comes with an inbuilt route planner

Great customer support with constant updates and the ability to contact the actual designer
Plains:
Only available in the United States, Canada, and Mexico
Available on iOS
For a number of years, people have been renting out their apartments or available rooms privately.
So in comes Airbnb that now makes it easier to do so. Not to mention safer for both the host and the guest.
The platform supports a large number of hosts around the world in both large cities and smaller habitations.
You can even become a host yourself if you have the available space.
Airbnb usually lists private accommodation, but it is also possible to find hotels and hostels on its apps.
Unfortunately, one of its biggest drawbacks is the accounting system. 
This isn't the most reliable one and can sometimes even falter as you are creating an account or making a payment. 
Still, Airbnb is undoubtedly one of the best accommodation apps you can use while traveling.
Heights:
You can find some incredible apartments – sometimes even houses 

Great for groups to stay as usually the places have a large number of beds or sofa beds

Great for both short and long term stays
Plains:
The user interface isn't particularly easy to use and can bring up a few issues between host and guest

As it's only a platform to connect the host and guest, availability is incredibly flexible and the host may not even reply to accommodation requests

The payment system is sometimes incredibly faulty
Available on iOS
If you're looking for reasonably priced shared dormitory accommodation, then Hostelworld is the ideal app for you.
Thanks to it, you can find available hostels within a few minutes.
Hostelworld has a great interface and it's very easy to filter the options and find your bed for the night.
The app only really lists shared dorms, so the prices are lower than for most others.
But you will most likely have to share a room with strangers.
As it's primarily used by travelers or more experienced backpackers, the reviews tend to be more honest and detailed.
Hostelworld takes a deposit directly through the app.
You usually have to repay the remaining price difference after arriving at your chosen hostel.
All the terms regarding their deposit fee and refund options are clearly laid out in the app itself though.
Heights:
Easy to find very cheap accommodation

You can also sometimes find incredible atmospheres, unique, and interesting places

The app is very simple to use and clearly laid out for ease of use
Plains:
Only really shared accommodation – uncommon to find hotels or private rooms
Available on iOS
This website and application is probably the world's biggest and most recognized site in terms of accommodation providers.
It provides you with the most extensive amount of hosts in comparison to any other platform. 
You can find anything from small pensions in tiny towns, to incredible hotels in capital cities.
Booking has loads of filters to help you find the perfect night's stay for your holiday. 
But they can also make it very difficult if you decide to cancel with its various fees.
You also have to cancel everything with the accommodation providers themselves. 
Heights:
Loads of accommodation providers all over the world

Usually lists the cheapest prices available

Plus, if you use your account often enough to become a "Genius Booker" you can get even better prices
Plains:
Oversaturates the market, hard to find the best accommodation elsewhere

Sometimes falsely promote prices (not including taxes or extra fees)
Conclusion
This is my list of the best accommodation apps you can use to find a good place to rest at night.
No matter where you're traveling, no matter how you choose to get around, it's always possible to find somewhere to spend the night safely, comfortably, and legally.
Which one of these best accommodation apps are you using (or planning to use)?
Recommended Read: Learn How Not to Overpack: 5 Things to Ignore/Reduce/Repurpose