Scrambling is when a hiker uses their hands to climb over rocks and boulders. While it takes climbing skills and can expose you to significant drops, it is done without ropes. While you don't need much climbing experience to create a scrambling route, scrambling might be dangerous. That is why I have created this beginner's guide to scrambling. Hopefully, it will help elucidate many questions and help enthusiasts to become better at this activity. 
Scrambling Might Be for You If…
You Are an Experienced Hiker
Want to start exploring mountains off the beaten path? You should be familiar with backcountry safety and ethics, as well as navigation – most scrambling peaks do not have established trails, so you'll need some experience in navigation.  Rock climbing experience is certainly an asset.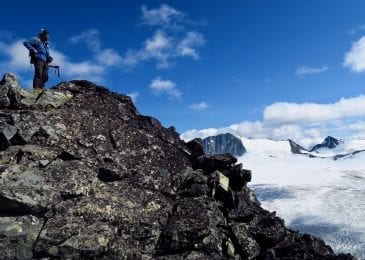 You Are Reasonably Fit
I've noticed that while scrambling leaves me less winded than simply hiking up a steep trail, it requires coordination, flexibility, and upper body strength. Of course, the scrambling portion of a hike is usually near the top, and you will often have to walk up the rough trail (or route find and bushwack) a large portion of the hike. I am usually more tired after a day of scrambling than a day of hiking.
You Are Only a Little Scared of Heights
A little fear is healthy. Some scrambles require quite a bit of exposure with long drops if you fail, and fear can stop you from making dangerous decisions. On the other hand, finding yourself on a rock ledge petrified with fear is not a safe situation either.
How Are Scrambles Ranked?
If you've found yourself a guidebook, it will likely clarify the system it uses. All three of my guides at home use their own easy, moderate, or difficult ranking. In the United States and Canada, when you see a Class 1-5 used to describe a trail, scramble, or climb, it's probably referring to the Yosemite Decimal System (YDS).  I'll elaborate briefly.
Class 1 and 2
Not considered scrambles, though you might need to use your hands to balance on a Class 2 trail.
Class 3
Considered an easy or moderate scramble.  Hands need to be used to pull you up, but it's easy to find holds. Most people can downclimb Class 3 facing outwards. There is some exposure and falling could possibly result in injury or death.  
Class 4
Considered a difficult scramble. Climbs can be close to vertical, but holds are still easy to find. Most people downclimb Class 4 scrambles facing inwards. Some steps will be exposed and falling could easily result in serious injury or death. Some people may wish to use ropes.
Class 5
Vertical or mostly vertical climbing that requires ropes. Climbs are ranked within Class 5 for climbers. Some routes advertised as very difficult scrambles may have a bit of easy Class 5.
You might also see Grade 1, 2, 3, and 3s to describe scrambles in the UK. In Europe, the UIAA might be used, but those are used more to describe sports climbs. Grades I and II are the only ones you'd likely see describing scrambles.
How I Prepare for Scrambling
Start Easy
Use a local guidebook or internet resources to find an easy scramble.If you can find a hiking club or other group that scrambles, join up with them for extra safety and motivation.   
Choose the Best Time
Summer and fall are the best time for scrambling. Look up local hiking blogs to gauge when the snow is typically gone. Unless you are trained in avalanche rescue and experienced in winter mountain travel, wait until the snow is gone. Earlier in the summer will give you long days, while late summer will give you spectacular colors and fewer bugs.
Watch the Weather
Check the forecast before you leave. Rain and snow can make rocks very slippery and rather dangerous. Perhaps opt for a hike if bad weather is in the forecast.
Plan the Route
Research the route that others have taken and decide what the best route for you is using Google Earth and topographic maps. If you can download the route onto a phone app or GPS. Don't use having a digital copy as an excuse to leave your topo map at home, though. Technology fails sometimes!
Leave Early in the Day
It's hard to gauge how long a scramble will take. You will travel much slower than hiking, and even close inspection on Google Earth will not get you a great estimation of travel time.  
How Do I Scramble?
Keep Three Points of Contact
Always keep at least three points of contact on the rock – either two hands and a foot, or two feet and a hand. Imagine one hold failing. Would you be able to catch yourself? Feel free to use your other body parts to get your way up (bums and knees are particularly useful), but maintain three points of contact with your hands and feet.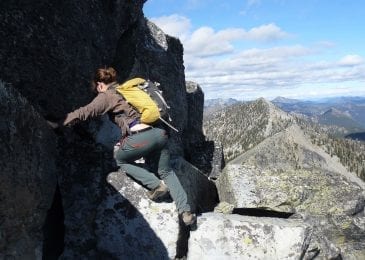 Check your Holds and Footing
Hold's that look solid can often break off or fall when you apply weight. Test it by giving it a good hard wiggle. Bits of shale or other rock over bedrock can be like marbles on a floor. Use caution when stepping on them, especially if they are on a slant.  
Look Down
This might be instinctual when you are on tricky parts, but if you are on a spot where you are able to walk, you might be tempted to look around and enjoy the view. The ground will be rocky, even in the easy sections, and it's very easy to trip or slip on loose gravel, especially if you're fatigued. Of course, the views are what you came for, so by all means, look at them – just stop to make sure you are well balanced before soaking in the vista.   
Watch Where You Are Going and Plan Your Route  
As I just mentioned, when you are in the climbing mode, your instincts will be to watch your feet and hands for holds. That's great! Keep doing that. However, if you only look at your hands and feet, you just might climb yourself into a corner.  It's important to stop periodically and plan out your route. Just make sure you are stable and have at least three points of contact (ideally four) when you do.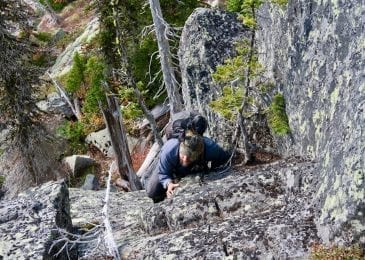 Don't Knock Rocks on People
This should seem obvious, but it's a very common cause of scrambler injury. Avoid knocking rocks down, and if do, yell "rock." If you are in the back, do not climb directly below the folks in front of you.  
Don't Be Afraid to Say No
Getting to the peak isn't worth your life or a broken bone. If your gut is saying to not do it, don't do it. It's usually harder to scramble back down, so if you are on the edge of your limit going up, you might be past your limit going down. Don't be afraid to tell your group you aren't comfortable. This is not the time to cave into peer pressure.
What Should I Bring?  
Trekking Poles
Poles are useful for preventing fatigue and joint strain on the approach the approach, as well as balancing as you boulder hop through rock gardens. Once you are scrambling, they can get in the way. Bring poles that can fold up small so you can attach them your pack. Make sure the poky bits are tucked in somewhere that they won't stab you if you fall.
Also, take your baskets off if you can. They can get tangled in bushed and caught on rocks. If the route is at all rough or steep, take your hands out of the wrist straps. If a pole gets caught, it could hurt your wrist, or trip you up and send you tumbling.  It's better to lose a pole than your life.
Communication Device
Scrambling routes are usually more remote than your typical hike and you may not be able to get cell reception.  A SPOT or DeLorme in reach can be lifesavers, and well worth the money if you venture out of cell service often.  
First Aid Kit
This is a good time to beef up your first aid kit. A couple of bandaid and alcohol swabs aren't going to cut it if you take a bad fall.  Some heavier bandaging, a tourniquet (if you're trained to use one), and SAM Splints, are all great additions. A wilderness first aid course is a great idea too.
Other Emergency Supplies
Emergency supplies should always be in your pack, but it is extra important in the mountains. If you are hurt, you'll likely be in a hard-to-reach spot and might be there a while, not to mention that mountain weather is unpredictable.  An emergency blanket, emergency tarp (like the Sea to Summit Ultra Sil Nano Tarp Poncho or a really big garbage bag), headlamp, a fire-starting kit, cordage, and water treatment should all be in your back.  
Navigation
GPS and mobile mapping apps are great, but be sure to pack a paper topo map and a compass (and learn how to use them). Technology fails, especially in the cold and wet.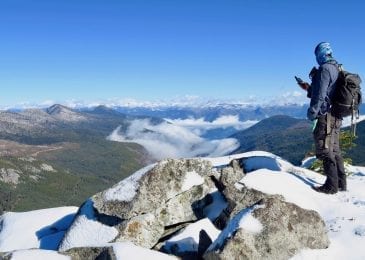 A Friend
Use the buddy system. Not only can one person apply first aid or go for help if there's an emergency, but you can bounce ideas off each other for the best route and give each other a helping hand on tricky spots.  
Lots of Water and Food
Mountaintops and water don't exactly come together very often. Bring at least two liters – more if you tend to drink a lot. You will also burn through calories fast. Bring lots of calorie dense food, and throw in a couple extra bars in case you need to spend an emergency night in the mountains.  
Warm Clothes
Even on the hottest summer days, the wind at the top of the mountain can be pretty cold, and rainstorms can appear out of nowhere. At the very least, bring a fleece and a rain jacket. Take a look at our favorite rain jackets here. In fall, you'll want to pack something warmer like a light puffy jacket, gloves, and warm hat.  
Sturdy Hiking Boots
Leave your lightweight hiking shoes and trail runners at home. The ideal boots will have plenty of ankle support and stiff Vibram soles.  
A Climbing Helmet
More and more scramblers are bringing their climbing helmets. This can be a lifesaver. You might notice that the folks in the pictures aren't wearing helmets. Please don't follow our example. We are counting on newcomers to scrambling to shame us into being safe.
Conclusion
Scrambling is not for the faint of heart or the beginner hiker, but for experienced hikers who love a challenge, it can be a great way to explore more peaks and get away from the crowd. If you are a beginner hiker and want to get into scrambling, start slow. Local guidebooks will often rate trail difficulty so start easy and work your way up. You could also ask for the best starter scrambles in regional forums or Facebook groups. Try to find a local hiking or climbing club to help get you started. Scrambling may not be for everyone, but if you've read the whole way through this, it just might be for you.
Carley is a teacher and nature nerd with a passion for helping people get outside. Apart from teaching, she leads nature programs and outdoor trips for people of all ages. Carley also manages her own YouTube channel, The Last Grownup in the Woods. Before becoming a teacher, Carley worked as a fisheries technician and backcountry park ranger.