The Alocs Spirit Burner Alcohol Stove is a lightweight alcohol stove, ideal for solo backpacking. 
This is another gem sent to me by Gearbest.com, and I'm happy about it.
As in my review for the BeamDay LED Light, this is all my honest opinion. 
I like finding good deals on good gear, and I think I've found one here with the Alocs Spirit Burner.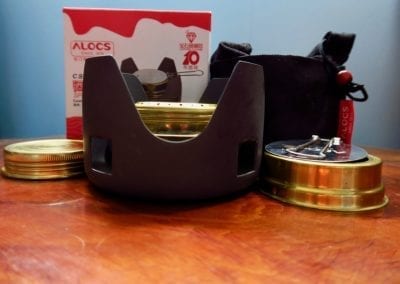 It's hard to review an alcohol stove without drawing comparisons to the Trangia, the leaders of the alcohol stove world.
As far as my tests can deduce, it's boil times and fuel efficiency are comparable to a Trangia's.
It's also lighter, at 5.1 oz compared to the Trangia mini's 5.7 oz. 
The Alocs Spirit Burner comes with a screw cap for sealing fuel in, a snuffer/simmer cover, and a pot stand/windscreen.  
Plus, the Alocs is more affordable than most backpacking stoves on the market, including the Trangia.  
Before I begin my review, a few things to know about alcohol stoves:
How Can You Fuel an Alcohol Stove?
Alcohol stoves use high concentration alcohol (Alocs recommends 95% or higher). 
You can use two types of fuel for it:
1. Denatured alcohol is the best fuel.
While denatured alcohol can be denatured with a number of additives, methanol is the most common fuel source.  
It is known as methylated spirits in much of the world. It might also be sold as marine stove fuel.  
2. Methanol is another top choice, though it is much more toxic. 
It is used as a solvent and for preventing gas line freezing.  
Yellow HEET is nearly pure methanol and a popular choice for alcohol stove fuel in North America.  
Methanol and denatured alcohol can be found in the paint section of a hardware store.  
In a pinch, you can also use high alcohol rubbing (isopropyl) alcohol or hand sanitizer.  
How to Use an Alcohol Stove:
To use an alcohol stove, simply pour a bit of fuel in and light it.
This produces a blue flame that is hard to see in the daylight.
Because of this, always wait until it's cooled before moving it or packing it away after use.  
The fuel vaporizes within the double walls of the stove and shoots the flames out of the jets.  
Why Use Alcohol Stoves? 
1. They are simple!
There are no moving parts in an alcohol stove.
It's simply a double layer of metal with some holes in it. 
You are a lot less likely to have to deal with backcountry repairs than with an isobutane canister stove or a white gas stove.  
They are also simple to use.
All you need to do is light it!  
It may not be the greatest for elaborate backcountry meals, but for one-pot meals, it's great.
2. They are Environmentally-Friendly 
Denatured alcohol is mostly made from ethanol (the methanol is added to prevent people from drinking it).
Ethanol is derived from organic materials and is, therefore, a renewable fuel.  
Buy denatured alcohol labeled as 'green' for the highest ethanol content.  
Methanol can be derived from fossil fuels or organic matter, but there is a shift towards using organic matter. 
Other backpacking stove fuel include white gas and butane. But these are made from fossil fuels.
You can also buy it in large quantities!
Most hardware stores will sell them by the quart. 
Compare that to canisters that come, at max, in 16 oz canisters.
Most people prefer to pack the 4 oz or 8 oz canisters.
Discarding them:
In theory, you can puncture them and recycle them where mixed metals are accepted.
But that can be easier said than done and may require a trip to the actual recycling facility.  
Also, you may be tempted to discard a cannister early. 
Carrying around a whole canister for 5 minutes of burn time may seem like a waste of pack space and weight.  
3. Cost 
Alcohol stoves, in general, are cheaper than other backpacking stoves. 
We can thank it's a simple design for that.
Even the cheapest canister stove at REI is $25, and you could easily drop over $100 on some systems. 
It's not just the initial cost, but the fuel.
I'll explain more as I break down my test results.  
4. Easy to Find Fuel
A huge drawback to canister stoves is that fuel can be hard to find.  
You can't bring the canisters on a plane, so you might find yourself scrambling for a canister in a developing country or a small town. 
If hiking isn't popular where you are going, it'll be tough to find what you need.
On the other hand, denatured alcohol, or some sort of substance with high enough alcohol, should be available in most places.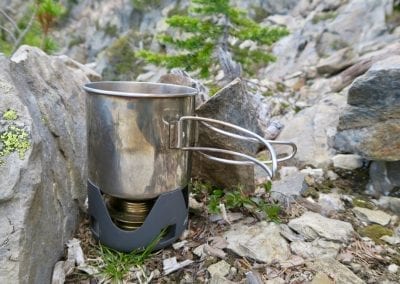 Testing the Alocs Spirit Burner Alcohol Stove
I'd like to note that I did the testing a few times.  
At first, I used the cup that I take on solo trips, as it fits nicely on the stand. 
However, the flame was finicky and went out a few times.
Finally, I thought that perhaps, since my cup sat a bit lower than a bowl would have, it might affect the airflow. 
As soon as I tried with a pot, the boil time and fuel efficiency improved a lot.
Albeit, this could just be because the stove was clearing out the various fuels I had tested with it.
I did the test with the pot at night, so most of my pictures are with the cup.  
So, for the tests, I compared my homemade alcohol stove (made from a couple of beer cans), my Optimus Crux (a mid-high range canister stove), and the Alocs Spirit Burner. 
I timed how long it took to boil two cups of water.
Then, I compared it with numbers given on Trangia reviews.
I also looked at fuel efficiency in term of weight and money.  
So, here goes: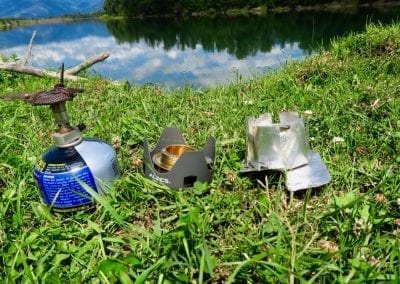 I. Boil Times: 
Alcos

: 9 min and 14 seconds for 2 cups

Trangia

: Around 9 min for 2 cups

Homemade:

12 min and 54 seconds for 2 cups

Crux:

2 min and 20 seconds for 2 cups
One thing alcohol stoves are known for is their slow boil times.
So it's no surprise that the Crux outdid the alcohol stoves. 
I threw the Crux in here more because I was curious about how fuel weight and costs compared.  
II. Fuel Efficiency:
Alcos

: 1 fl oz boiled 2 cups and allowed an extra 3 minutes of simmering.

At $2.60 for 17 fl oz of methanol, t

his gives us less than $0.15 per boil.  

Trangia

: Approx. 1 fl oz per 2 cup boil. 

It's comparable to the Alcos.  

Homemade:

More than 1.5 fl oz per 2 cup boil. 

That would give me 11 boils per a 17 oz bottle and cost $0.17 per boil (with no simmer time).  

Crux:

Approx. 60 2 cup boils per 8 oz canister.

Given the 1-2 hour burn time on the label, that gives me 10-20 boils. 

If the canister cost $4.00, then the cost for a boil would be $0.20 – $0.40 per boil.
The Alocs and the Trangia are the clear winners here. 
Since the fuel, regardless of what you're are using, has other uses, you are less likely to have to throw it out.
Whereas, a half-used canister might never get used. 
III. Weight 
Alcos

: I weighed the Alcos at 5.1 ounces including the lid, snuffer, and bag. 

Ditch the bag and you can be down to 4.5.

One night's worth of fuel (2 boils) with a small bottle is 2.5 oz, making a total of 7.6 oz, or 6.9 oz without the bag.  

Trangia

: The weight is listed at 5.75 oz for the burner and windscreen only.

Add one night's fuel to that, and we are at 8.25 oz.  

It's unclear whether this weight includes the screw cap and simmer ring.

Homemade:

My homemade stove was just 3.2 oz, but the fuel would be at least 3 oz.

Crux:

The Crux weighs 2.9 oz. 

However, since a full 4 oz fuel canister weighs 7 oz, you may end up hauling 9.9 oz into the woods.

Even if it was nearly empty, it would still mean an extra 3 oz of the canister itself.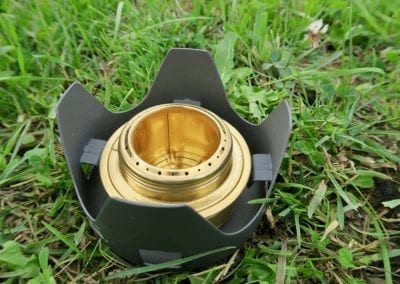 IV. Cover and Simmer Ring 
The stove also came with a screw-on cap to seal in the fuel.
I put it in a Ziploc on my hike, so I could catch anything that did leak before it evaporates. 
Some 6 hours later, there was no leaking.
The simmer ring:
The simmer ring acts as a snuffer when completely closed. 
When it's open, it partially blocks the jets and slows down the burning.
It works, which is more than can be said for the Trangia's simmer ring.
Trangia doesn't have a full handle on the simmer ring, which makes taking it off or adjusting it impossible without a tool (or a burned hand).
When I used one throughout my travels in Australia, I never bothered with it.
The Alocs simmer ring, however, effectively slowed down the burn enough to finish cooking my hypothetical ramen.
It also allowed me to take it off when I was done.  
The handle doesn't, however, allow the simmer ring to be used when it's fully open. 
It's not perfect, but at least it's functional.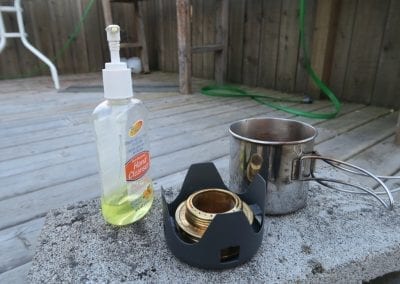 V. Other fuels 
I tried to burn hand sanitizer and 70% isopropyl alcohol. 
The hand sanitizer did work, but needed to be relit a couple of times. 
It was an older bottle so some of its alcohol might have evaporated. 
The isopropyl alcohol would burn very briefly – not surprisingly because it was quite a bit below Alocs' recommendation. 
It took a few burns to get the stove back to normal after playing with different fuels.
This is something to bear in mind if you feel like experimenting. 
VI. Altitude
Alcohol stoves are known for not performing great at high altitudes.  
I decided to take the Alocs stove on a hike to 7900 ft.
Unfortunately, I brought the cup, so I can't make a great comparison.
The flame did go out a few times.
It not only had the lower pressure from the altitude working against it but also the wind.
Without the pressure that canister or white gas stoves have, the Alcos (along with other alcohol stoves, are prone to blowing out.
1.5 oz made my water hot enough for tea, but not hot enough to boil.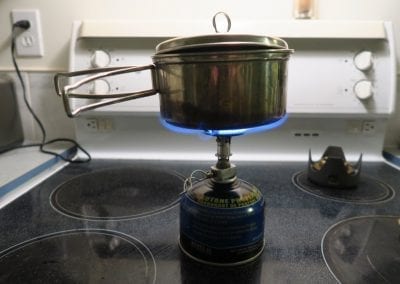 VII. Stability
Of the stoves I tested, the Alocs was by far the most stable.  
One of the things that always distresses me the most about canister stoves is the possibility of tipping my top-heavy cooking setup.
Conclusion 
I will be using the Alcos stove for shorter, low altitude trips.
It's adequate for two people eating simple meals, but probably best for solo trips. 
When I head for an alpine camping trip, however, I'll stick to the Crux.  
I may have not done a very complete alpine test with the Alocs, but the Crux has made a name for itself for high altitude performance and has proven its worth in the alpine many times in my travels.
If you don't camp at high altitudes and want to save some money – both on a stove and on fuel – then the Alocs Spirit Burner might be your best bet. 
It's lightweight and easy to use.
It's also a fairly environmentally friendly option.  
Have you used the Alocs Spirit Burner Alcohol Stove for Outdoors too? What did you think of it?
Recommended Read: The 9 Best Camping Stoves for Warm Meals