Okay, before I get started on this review, full disclosure here: Gearbest sent it to me to try out. I checked out the listing and: "Ya, I could use that."
A couple of weeks later, it arrived on my doorstep for my reviewing and lighting needs.
I promise honesty though. My honor isn't that cheap.
Some General Beamday Camping Light Specifications:
The

Beamday T1 LED Camping Light

boasts with 350 lumens, a magnetic base, touch stepless dimming.

It is water resistant.   

The light itself can be set to warm, cool, red, or SOS mode.

At full brightness, it can last up to three hours.

At 1 lumen it can last 450 hours (or at least they claim).
I'm not always kind to reviewed items, and I wondered if this was a tad too gimmicky to earn my seal of approval.
But this little doohickey turned out to be more than expected and stood up to my not-so-scientific testing.  
The GIMICKINESS Test 
So were all these stepless dimming and magnets gimmicky, or useful??  
I vote useful, or at the very least cool.
As someone who has a headlamp that I have to battle with every time I turn it on, I love the touch feature.
The touch spot is isolated to a little patch of metal at the top to reduce accidental touching.
But it's still probably a good idea to flip the batter around before showing into your backpack – it's pretty sensitive.  
The first tap gives cool light and the second warm.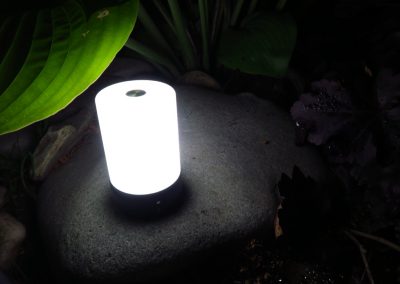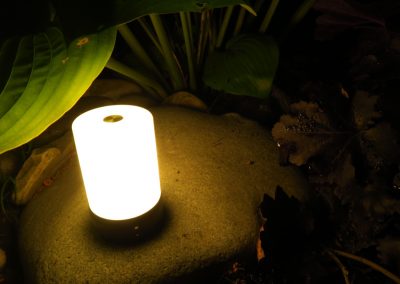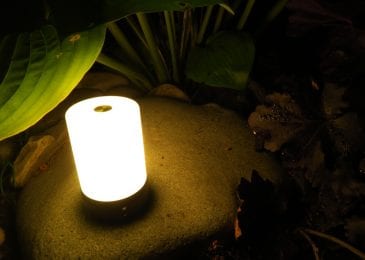 The stepless dimming just requires keeping a finger on the metal bit.  
The light set also has a memory, so if I turn the light off while the light is dimmed, I don't blind myself when I turn it back on with full light (as long as warm and cool are both set to dim).  
As for the magnet, it'll stick to my fridge, but it slid a bit. Why I would want to stick a camping light on my fridge is beyond me.
It would be useful for sticking it onto the hood of a parked car, I suppose. That feature might be on the gimmicky side, but I may find it handy some day.  
The LIGHT Test 
BATTERY LIFE
So does the battery hold up?  
At full power the light lasted around 3.5 hours on both warm and cool light – a full half hour longer than promised. It lit up a large room pretty well.
At the lowest setting, it is slightly less than the brightness of a candle.
It would be enough to find the zipper of the tent without waking your partner, but not much else.  
The claim is that it can last for 450 hours at 1 lumen.
I didn't have the patience to test that one, but I did leave it on red overnight (eight hours), then turned it down all the way down and went to work.  
It was still going strong 10 hours later.
Again, I wanted to play with it, so I turned it back up to the max. It lasted around 45 minutes after that.
I wanted to experiment with it at mid-brightness, like enough light for one person to write a journal by.
So, after the above experiments, I charged it up for half an hour and left it overnight, this time with about 1/3 of the maximum light.   
It lasted at least until 6:00 AM when I woke up. It was dead by the afternoon.
Given a 3.5 hour charge time, it stands to reason that it had 1/7 of its maximum juice.
My method may not be totally scientific, but that's a long time for a partially charged battery.  
RED LIGHT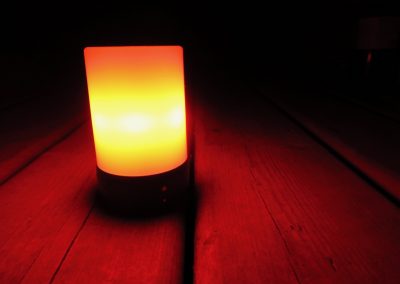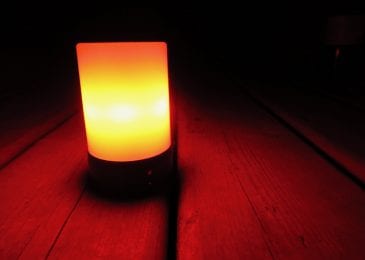 The red light supposedly lasts for 10 hours.
I turned it on before going to bed and it was still on eight hours later when I left for work.  
Since I couldn't monitor it at work, I switched it to the lowest setting on cool light.
You know the story from there.  
I could add that the light was bright enough that I had to shut the office door to stop the light from pouring into the bedroom.
Of course, I managed to lock the cat in the office along the way. She wasn't too pleased about this particular test.  
In case you're wondering, red light reduces the loss of night vision and is less likely to wake people up or bother pets.
The red light is activated by a button on the bottom. One press for red, and one for SOS (which is also red).
The WEATHER Test 
RAIN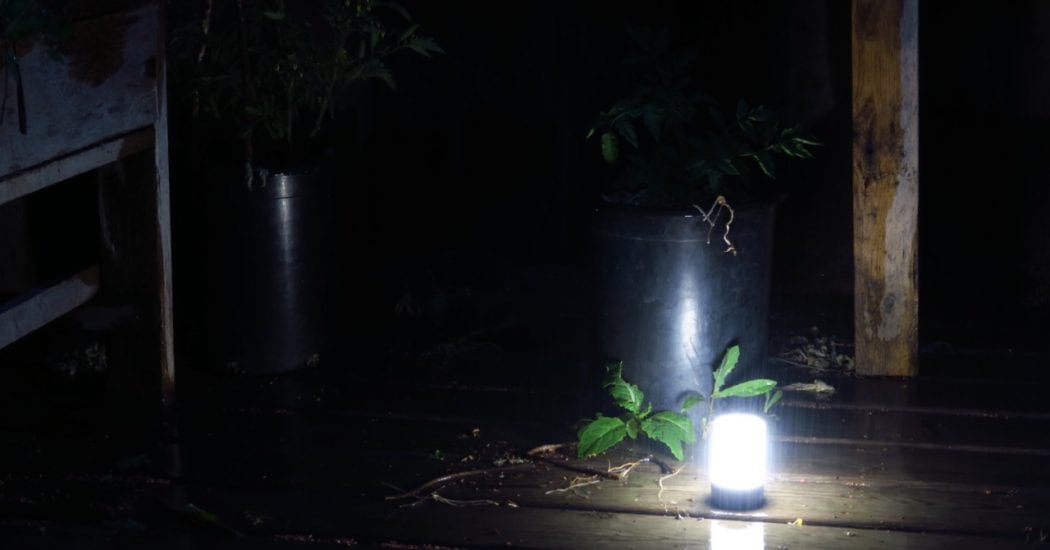 The light came with a claim of water resistance, so of course, I had to test it.  
I'm a scattered, forgetful person, so the chances of me leaving it out overnight are pretty high.
Without a raindrop in the forecast, I set it under my sprinkler hose with my tomatoes and lettuce.
I gave it a good hour of "rain," then left it in the puddle overnight.  
If the light was out in the morning (I'd left it on full blast), but with a quick recharge, it was good as new.
The red light button and battery hatch on the bottom suggest that dropping it into a lake may not be the best thing for it.  
Water resistant is key here, not waterproof.
COLD
I live in Canada, so I also thought it would be helpful to test it in cold.
Anyone who has tried to use their phone or camera in sub-freezing temperature will tell you that cold is hard on batteries.  
So, I threw it in the freezer at full blast to see how long it would last – which was about 3.5 hours.
That's a pass on the freezing test!
BEST USES
(Personal Take)
1. Power Outages:  
These are a fairly frequent occurrence in my neck of the woods, and a something that lights up the whole living room will come in awfully handy.  
2. Car camping:
This will be where it'll get the most use from me.
Our car camping is usually pretty minimalist – often we car camp en route to somewhere, rather than as a destination – so we want fairly compact gear.  
Setting this on a table as we play a late night game of cards or read our books seems like a great way to end the night, especially since fire bans are starting earlier and earlier every year.
3. Group Backpacking:  
I won't be taking this on regular backpacking trips – my headlamp with the stupid on switch is smaller and more practical.  
However, I will be taking it on an upcoming Leave No Trace course I am teaching.
Part of LNT is to go easy on the fires or omitting them altogether, so we'll be sitting around this tent light discussing proper waste disposal and soil compaction.  
LIMITATIONS
(Personal Take)
1. It doesn't fade before dying:
One thing I'm not a fan of is that it doesn't slowly fade as the batteries die.  
I tried to track the progress with my camera at identical settings, but there was no change until it just went out.  
That's not a big deal, and I suppose some people might even like it.
I just wouldn't want to lose my light midway through a game of cards.  
2. Shipping:
This item ships from Belgium, so it does have an ocean to cross.
They shipped it immediately though. It took around two weeks, which is about what I'd expect coming from Europe.
Bear in mind that I also live in the Middle of Nowhere, Canada.
That tends to add a few days to package arrivals.
3. Recharge time:
3.5 hours seems a tad long, or maybe I'm spoiled with everything that charges so fast.  
Once I start using this for actually camping, I'll be charging it at home, so the charge time won't really matter.
Conclusion
This pretty much wraps up my review of the Beamday T1 LED Camping Light. I pointed out my tests and testing methods, what I like about it, what I'm not so happy about, and how I'm planning on using it.
How about you? Have you used or are you planning on using this Beamday camping light model?
Suggested: For more articles from Carley, don't forget to check out her Author Page.